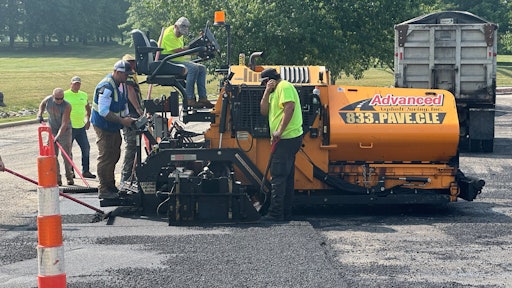 Brandon Noel
Some people who go into the family business, they come in an indirect way. Sometimes it's the plan from the start, to hand it down from grandparent, to parent, to child. In other cases, that pathway isn't as clear, and when the opportunity to follow in the family's footsteps finally does come, the decision is all the more important. That being said, deciding to go into the asphalt pavement maintenance business isn't for the faint-of-heart.
"My father was in the asphalt business pretty much since he was out of high school," said Dave Martin, the owner of Advanced Asphalt based out of Twinsburg, Ohio. "My uncle, too. He was a foreman at a different paving company."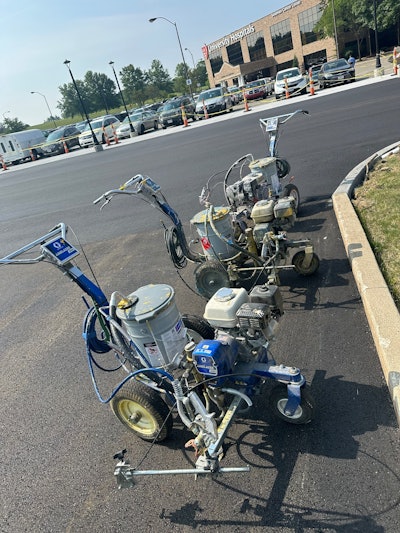 As is normally the case, Dave's father, Jeff Martin, didn't stay put for long. He worked hard, and eventually was the foreman of a couple other paving crews across the area doing driveways, parking lots, and other maintenance work.
"In June of 1992 he decided to start his own company," said Dave. "That was the beginning of Advanced Asphalt Paving Inc., and it was originally just a four man outfit."
That first group spent most of their time completing a lot of residentially based jobs, patching up small damaged areas, working on people's driveways, and some sealcoat work, at times. Dave's dad was the epitome of the owner/operator, the founder, and the foreman. He was out on the job site every day there was work to do.
Once the work day was done, it didn't always mean Jeff was ready to stop for the night. Sometimes, he piled his family into a blue Dodge mini-van loaded full of ad flyers, and drove around in a mini van sticking them in mail boxes and on car windshields. He was determined to get the word out, and it resulted in a lot of the driveway and residential jobs Advanced Asphalt were hired to do in those early days.
And when Jeff was out on the jobsite, he was there every day putting his blood, sweat, and tears into it. All these things together started to form a reputation for quality and hard work. People started to take serious notice.
"Over time my dad just slowly grew the namesake of the business," said Dave. "It was an evolution, and it grew into what we are now, because of him, but also because of guys like Wayne Layne, who worked with my dad for twenty years, and are still with the company today. He's not an employee, he's truly apart of the family. I've known him my whole life. " Out of the 32 years Advanced Asphalt has been a company, Layne has been coming to work there for a total of twenty-seven of them.
When you talk to Dave Martin, one thing becomes extremely clear: He's a man with a humble perspective. I got the sense while talking to him that if I could've written about the company, barely mentioning him, he would've preferred it that way.
"You know they started off with driveways on some smaller commercial and residential jobs," he told me. "And without the group of people who work here, it couldn't have become what it is today, doing full scale large commercial paving jobs."
Like a lot of young boys who's dads owned and operated paving businesses, he, also, spent a lot of summers and time off from school working on the blacktop for and with his dad.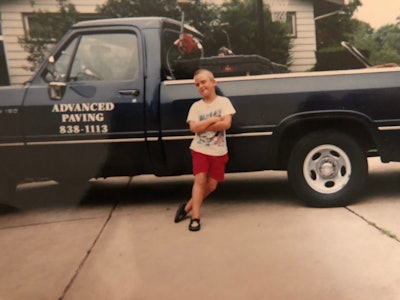 "I would work in the summers and here-and-there with my dad. Throughout high school mostly," he said. "But then I went off to college, moved up to Chicago, and did a corporate job for about seven years."
The call of the blacktop was too strong, however, and eventually Dave returned to those roots his dad and his uncle all spent their lives worked on.
"In 2017 My dad was in the process of stepping back a bit," he said. "That's when I purchased the company from him and started the transition of taking over. The first thing I had to do was just get acclimated to the business itself. I wasn't involved in the day-to-day things before, so just getting to know the people and the process while trying not to break anything was my goal."
Making the transition from the corporate environment, back to the family line-of-work would obviously be challenging to anyone. That's true of those who've had prior experience in the industry or not. The good news for Dave and Advanced Asphalt, is that the continuity of the support staff ensured a smooth transition.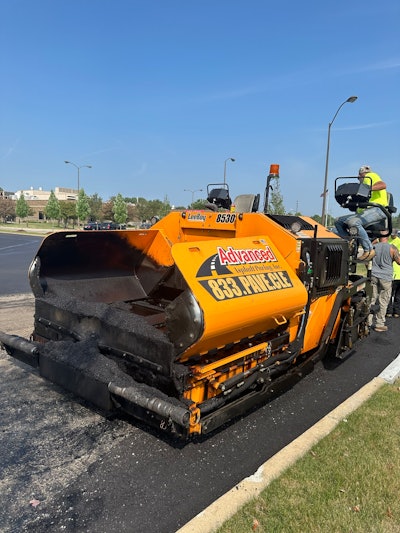 "It was a very easy transition on my part, but not because I know-it-all, actually the opposite," he said. "I had a number of people in the office, and incredible workers out on the jobsite, and our success is really owed to all of them. We succeeded because of the team here, really. Everyone helped fill in the gaps for me as I was getting accustomed to the business. It was a pretty big relief knowing I didn't have to do or know everything all at once."
Advanced Asphalt became the preferred paving company for one of Ohio's biggest hospital networks, University Hospitals, as well as doing service for other large commercial projects in the northeast region of Ohio.
Even though the post-pandemic labor market has been difficult for many, Dave says they haven't struggled like others have. The reason he gives, though, is once again a reflection on the humble character he presents.
"It sounds bad to say it, and I hesitate to--but we just have phenomenal guys. And it's a close knit group that take pride in their work. Everyone's on the same page, working together. To me, everyday I come into work, is a day I feel a tremendous amount of pride and gratitude. I never want to get so big that I don't know the names of our employee's kids or where they like to go on vacation. We do everything we can to stay as tight nit a group as possible. I believe that's a large reason for our success."
Without a doubt, the secret to Advanced Asphalt Paving Inc. lies in the team effort and hard work of everyone involved at every position.