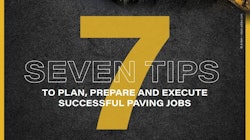 The success of a paving job starts even before the asphalt hits the hopper. Well thought out and executed plans and preparations set the stage for a successful pave.
Whether you pave residential, commercial or both, following pre-paving best practices will lay the foundation for success.
Incorporate these seven best practice tips from LeeBoy Territory Manager Brian Hall to help start each project on the right foot.