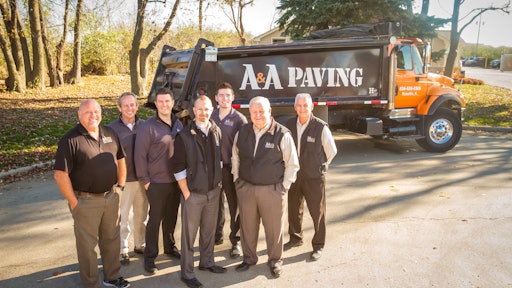 National Pavement Expo and Pavement Maintenance & Reconstruction Magazine have established nine industry awards to recognize individuals and companies who have enhanced the paving and pavement maintenance industry through their professionalism, dedication to education, pursuit of excellence, and development of equipment, tools or materials.  
The Pavement staff, in conjunction with the Pavement Advisory Board, evaluated the nominations and presented the 2017 award winners with plaques and recognition at National Pavement Expo, Feb 1st in Nashville. Pavement's February issue will profile these industry award winners.
Please join us in congratulating these industry leaders! 
2017 Contractor of the Year:
A & A Paving Contractors Inc., Roselle, IL
That 55-year-old A & A Paving Contractors, Roselle, IL, has been named Pavement's 2017 Contractor of the Year is the result of a transformation co-owners Todd Eichholz and Bob Olson directed over the last three years. The 23-person firm, which does paving, sealcoating, striping and repairs, has streamlined its operation by substantially upgrading their day-to-day estimating, bidding and job-costing technology – and achieving the successful "buy in" of all employees through an aggressive incentive program. A & A Paving relied on industry specialists to ease estimating and developing proposals, and has upgraded its website to draw from 18 specific communities, increasing website traffic 25X over 2015 levels. The result has been an average of 132% growth over three years, a more-than-doubling of sales, and a complete change in market presence.
Read more about the 2017 Contractor of the Year here.
2017 Sweeper of the Year:
Commercial Power Sweep, Napa, CA 
California can be a rough place to operate a business. Not only is it competitive, but business owners also have to deal with increasingly stringent regulations. These challenges however, have created opportunities for Napa, CA-based Commercial Power Sweep Inc. (CPSI), celebrating over 50 years in business.
To stay a step ahead of their competition, CPSI began expanding the services the business offered in 1997 when the company received a phone call from the Federal government about leasing a sweeper. They didn't offer that service then, but since that opportunity, the sales and rental portion of the business has tripled as CPSI now leases, rents, buys, refurbishes and sells sweepers to contractors across the country.
Starting in 2010, fleet owners in California were required to comply with yearly smoke opacity testing for each diesel vehicle in their fleet. At a cost of $75-$100 per test, Lindsey realized those costs were going to get out of control and fast for their fleet of 60+ sweepers. Seeing another opportunity, CPSI invested in an opacity testing machine for his company. The machine paid for itself within two years and now CPSI is able to make money from the device, offering the testing service to the general public.  
CPSI is also heavily involved in philanthropic efforts donating money and time with Lindsey traveling globally to support charities the company is passionate about. Lindsey has participated in mission trips to Africa and Turkey and the company regularly donates to charity golf outings. 
Read more about the 2017 Sweeper of the Year here.
2017 Pavement Hall of Fame Inductees:
Jim Scherocman
An independent consulting engineer since 1986, Jim Scherocman has been a fixture at National Pavement Expo (NPE) every year since 2000 and for the entire 11-year run of NPE's sister shows in Las Vegas and Phoenix. He has written numerous papers and articles, authored the Hot Mix Asphalt Paving Handbook, presented sessions on dozens of topics, and through NPE alone has guided thousands of contractors on paving-related "best practices."
Scherocman's path through the paving industry gave him insights into paving work from just about every standpoint. Following a stint as Asphalt Institute field engineer, he was chief engineer for asphalt paving contractor Shumaker Bros., Indianapolis, IN, and then chief paving engineer from 1979 to 1983 for the Barber-Greene Company, manufacturer of asphalt paving equipment. That was followed by three-years as director of marketing/asphalt additives for the Carstab Division of Morton Thiokol. Since 1986 he has been a self-employed consulting engineer, working with contractors individually, serving as an expert witness in paving-related litigation, and presenting training sessions at national and international conferences.
His accumulation of on-the-job knowledge combined with his equipment and materials background and his engineering training enable him to connect with and convey paving and paving-related practices to non-engineers in a language everyone can understand.
John Ball
John Ball started his Top-Quality Paving consulting firm in 1998 to bring his plant-to-paving expertise and unique video-training approach to the paving industry. An instructor at National Pavement Expo since 1998 and at NPE's West Coast events from 2005-2011, Ball spends more than 40 weeks a year on contractor jobsites, working a week at a time with each contractor. He monitors crews, digitally records their process, then in a classroom setting analyzes the video for everyone to see, identifying strengths and weaknesses to improve job quality, production rates, and to provide consistency throughout the paving process. (And he's known for grabbing a shovel or hopping on a roller or paver as needed.) The recordings then form the basis of his conference training.  "I like to bring to everyone's attention, 'Where do we mess up and where can we improve?' And if they can view it on a video they can actually see it. That's where they really learn it."
The Puckett Family
Contractors looking to boost production in the early 1970s usually had only one place to turn: Puckett Brothers, which is why the Puckett brothers Richard and Otis (and by extension their nephews Bob, Bill and Paul, all still active in the industry) are welcomed into the Pavement Hall of Fame.
During the winter of 1968-69, Richard and Otis, Puckett Brothers Paving Co., Snellville, GA, developed the Power Box paver (PB1) when tinkering to improve their drag box. The PB2 followed and the PB3 was the first Power Box model marketed to other contractors. The PB3 was a rubber-tire, 9-12-ft. self-propelled paver that ran on a 16-hp Briggs & Stratton engine, was driven by hydraulics, and had a 4-ton hopper. The Power Box enabled contractors to get into hard-to-work corners where before they had to do the work by hand. Contractors could fill it with mix, drive it where they wanted, and pave a mat that was more uniform in density and thickness. At its peak in 1987-88 Puckett Brothers sold 400 pavers. In 1990 the company was sold to Gehl Co., West Bend, WI. In 1996 Otis started Basic Mfg. Co. and built 6-wheel motor graders. The Basic line is now part of Shannon Chastain. Richard began manufacturing the T655 paver under the Puckett Bros. name in 1997.
Bob Puckett worked for Otis and Richard in their paving business, stayed through the Gehl sale, then worked at Gehl until 1993 when he joined Neal Mfg. He was recruited by skid-steer manufacturer Mustang Manufacturing, rejoined Neal Mfg. in 1999 after working as a specialty paver and joined his current company, Reid Manufacturing, in 2014.
In 1993 Bill Puckett joined brother Paul to start a parts supply business, running Puckett Mfg. Inc., Loganville, GA, for three years before developing their own self-propelled paver, models 560 and 580. 
Full information on the 2017 Pavement Hall of Fame inductees can be found here.
2017 Alan Curtis Industry Service Award:
Don Rooney, Pioneer Paving & Grading, Albuquerque, NM 
Don Rooney started in the industry in 1966 working a Miller spreader box and Buffalo Springfield roller for Shoemaker & Jennings outside of Boston, moved to Albuquerque, NM, in 1978 to run a heater scarifier and shoot Reclamite rejuvenator for Cutler Repaving, and started his own company, Pioneer Paving, in 1985 doing driveways, parking lots and county roads. Since joining the Pavement Advisory Board in 1994 he has become an influential "contractor voice," providing guidance and direction to growing or established companies that are encountering challenges he's already solved – all on an informal, unpaid basis. He's attended 26 consecutive NPEs and all 14 of NPE's West Coast events, has consulted on dozens of articles, has helped develop and refine topics for National Pavement Expo seminars, has presented numerous NPE sessions (topics include Concrete Basics, Warm Mix Asphalt, and Superpave), was ringmaster for the 2014 NPE outdoor demonstrations, and has moderated the Pavers Roundtable for more than 15 years. "I learned a lot from the old, original asphalt paving people," Rooney says. "I got a lot of good experience passed to me from people who had been in the industry a long time, and now I try to pass on what I can." Officially retired in 2011 from Pioneer Paving & Grading, now run by his son, David, Rooney occasionally estimates for Pioneer Paving and regularly estimates for Salem Paving Corp., Salem, VA, where he now lives. 
See more about Don Rooney here.
Good Neighbor Award
Southwestern Ohio Services, Fairfield, OH
As a former educator, Southwestern Ohio Services owner Laura Hrnyak felt compelled to participate in her community's "Adopt-A-Class" program. 
The playground at Norwood Elementary was in desperate need of an upgrade and Southwestern Ohio Services was happy to help. The project consisted of crack fill, sealcoating and striping of playground games. Hrnyak and her crew were given four days in April to complete the work.
Hrnyak and three other team members filled approximately 1000 lineal feet of cracks and sealed 5400 square yards of playground surface. Once that was complete, they completed the striping with 20 gallons of paint.
The company donated material, time and labor and Neyra Industries contributed as well by donating the sealer.
Runners Up:
Caldwell Paving & Grading Co., Charleston, TN.
Finley Asphalt & Sealing, Manassas, VA
Paving: Non Parking Lot
Asphalt Contractors, Inc., Union Grove, WI 
When Asphalt Contractors, Inc. was contacted to install a running track at Union Grove High School, they were faced with more work than they planned. As they installed the track's stone base, they realized the adjacent tennis court was in desperate need of attention as well. Due to the topography of the site, repaving of the tennis courts would be almost impossible in the future once the running track was complete.
Since the school could not afford to complete both projects at once, Asphalt Contractors, Inc. donated the tennis court paving, coloring and striping, including paving fabric, in the name of owner Bob Kordus' mother, S.M. Kordus, an avid tennis enthusiast.
A difficult project requiring less than a 1% inward slope to a drainage system, Asphalt Contractors Inc. used Cat Grade & Slope control to achieve the stringent track specifications.
The full story can be found here.
Runners Up:
Bituminous Roadways, Inc., Mendota, MN – Vaughan Field Project
Park Construction Company, Minneapolis, MN – U.S. Bank Stadium Project 
Paving: Parking Lot
Kai Total Pavement Management 
Competition is steep when bidding for a national retailer like Target and Kai Total Pavement Management won the bid to reconstruct the local Target parking lot in Kalispell, MT. The complex project required asphalt cutting, patching, milling and overlay; concrete cutting and patching; sidewalk, ramp, and curb improvements; and striping and full ADA parking adjustments with correct signage and striping.
Kai worked with an engineering firm to coordinate the full scope of work and ensure the project was completed in the short time frame.
See the entire project story here.
Runners Up:
Exterior Maintenance Service, Nashville, TN – Highland Ridge Project
Asphalt Contractors Inc., Union Grove, WI – HWY 50 Plaza Project 
Seal & Stripe: Large Job
Rose Paving, Bridgeview, IL 
Rose Paving Pacific Division's project at the Esplanade Shopping Center in Oxnard, CA required 950,000 sq. ft. of two coats of sealer, striping of 1,981 double-line parking stalls, installation of 65 ADA handicap stalls, 35 directional arrows, 31 STOP bars, 275 linear feet of speed bumps, as well as striping 2,200 linear feet of 4-in-wide lines and 5,400 linear feet of red FIRE LANE curb.
But the challenge was that the shopping center has more than 40 big-name tenants, each of whom has needs and requirements specific to their business and to their lease agreement. That meant negotiating a potential minefield of store hours, high-traffic days (and hours) that varied from tenant to tenant, required store access and parking availability, and basically making sure all tenants were on board with the plan.
Rose's Pacific Division strategically positioned 27 work areas, got all tenants on board, then sealcoated and striped 160,000 sq. ft. of pavement each day for six consecutive days.
The entire project profile can be found here.
Runners up:
Accurate Pavement Striping, Pflugerville, TX – Dell Diamond Stadium
Alpha Paving Industries, Round Rock, TX – Dell Parking Lot Rehabilitation  
Seal & Stripe: Small Job
Straight Line Southern, Orlando, FL
After the Pulse Nightclub shooting in June, Straight Line Southern was contacted to help create a memorial for the victims. The Downtown South coalition chose to have a rainbow painted on a roundabout outside of the nightclub and Straight Line Southern owner Mark Letourneau took it upon himself to make the vision a reality.
When the rough Stampcrete surface wouldn't allow for the rainbow to be painted in circles, Letourneau measured out different straight line sections around the roundabout, snapping chalklines and came up with the idea to make 102 different rectangular sections come together.
When finished, the layout had 17 sides and 6 colors for a total of 102 individual sections. The sections represent the 102 victims of the shooting (49 dead, 53 injured).
Runners Up:
Rose Paving, Bridgeview, IL, - Naper Aeropark Project
Southwestern Ohio Services, Cincinnati, OH – Florence Shopping Center Project