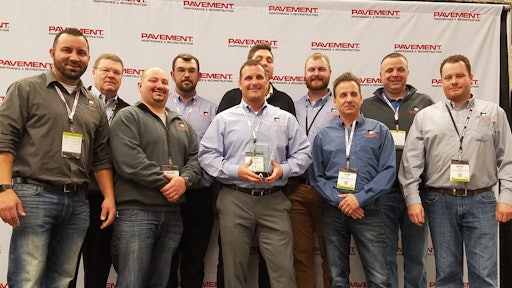 For the past three years, Pavement Maintenance & Reconstruction and National Pavement Expo has recognized individuals and companies who have enhanced the paving and pavement maintenance industry through their professionalism, dedication to education, pursuit of excellence, and development of equipment, tools and materials. This year, two new awards have been initiated, Best Marketing Video and Best of the Web, totaling 11 industry awards presented. 
The Pavement staff, in conjunction with the Pavement Advisory Board, evaluated the nominations and presented the 2018 award winners with plaques and recognition at National Pavement Expo, Feb 7th in Cleveland. Pavement's February issue will profile these industry award winners.
Please join us in congratulating these industry leaders!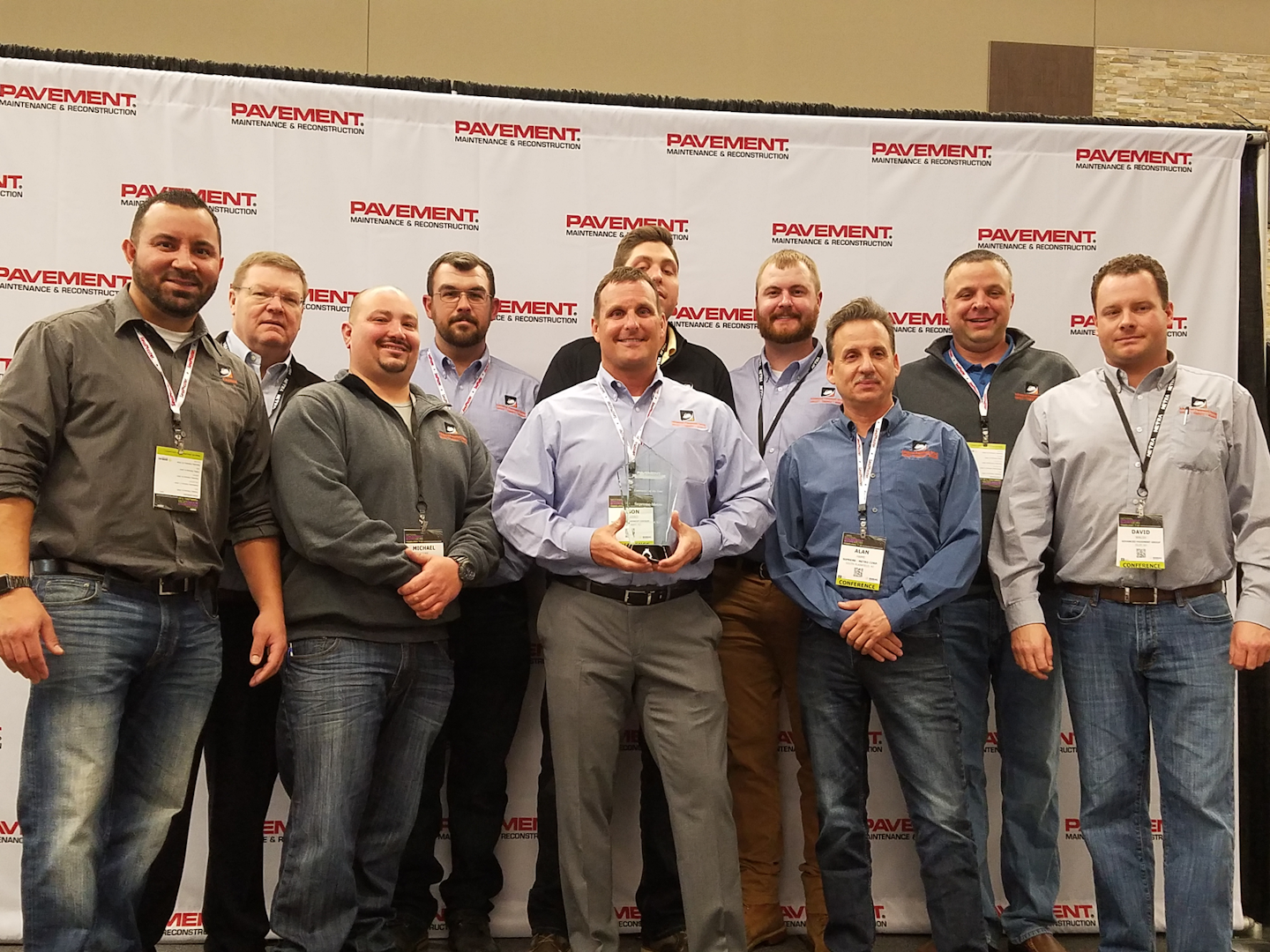 2018 Contractor of the Year: Advanced Pavement Group, South Plainfield, NJ
A company built on strong core values, dedicated employees and a culture it reinforces daily, Supreme-Metro Corp. measures its success by monitoring employee turnover and customer retention – and turnover is low and retention is high. Supreme-Metro has created an employee-focused environment that makes working for the company a career and that provides employees a path for professional growth. On-the-job training is supplemented by formal training sessions, and salary is tied directly to skills mastered. Customer retention starts with creating a memorable and positive experience from the first customer contact through invoicing and beyond and is integral to the core values and culture.  In 2017 after being approached by private equity firm Dubin Clark, Supreme-Metro entered into a strategic alliance by joining and forming Advanced Pavement Group, a family of companies that serving the Mid-Atlantic and Northeast regions. 
2018 Sweeper of the Year: Jacketta Sweeping Services West Valley City, UT
Celebrating 50 years in business this year, Jacketta Sweeping Service, West Valley City, UT, is a family-owned company that over the years has demonstrated the management initiative to "change its stripes" based on market demands, and is pro-active in supporting and developing the sweeping industry.
Started by Neil and Bonnie Jacketta as a part-time business out of their house, Jacketta Sweeping Service is now run by daughter Debbie, who was president in 1998 of Contract Sweepers Institute, a precursor to the North American Power Sweeping Association. Jacketta Sweeping Service is a NAPSA Inaugural Member and a founding member of 1-800-SWEEPER, and Debbie has served several terms on NAPSA's Board of Directors.
A long-time focus on street and construction sweeping (as much as 70% seven years ago) gave way to pursuit of parking lot sweeping to provide a better balance and improve cash flow. Due to market demand the flexible company is now pursuing more construction sweeping and is constantly testing new approaches to find qualified operators.
Alan Curtis Industry Service Award: Ranger Kidwell-Ross WorldSweeper.com
One of the industry's most-knowledgeable advocates for power sweeping, Ranger Kidwell-Ross has been a visible and impactful presence in the sweeping industry since 1987. He became the driving force and editor/writer behind the Schwarze SuperVac newsletter and American Sweeper magazine, he is the author of the "Fundamentals of Power Sweeping" book, founder of WorldSweeper.com, and founder and executive director of World Sweeping Association. Over the last 25 years his publications and website have received 26 APEX Awards for Publication Excellence. In addition to supporting sweeping contractors, Ranger is a strong and vocal supporter of sweeping to improve water quality and works to educate municipalities of the value of regular sweeping as a pollution control "best practice."
Please congratulate Ranger Kidwell-Ross, the 2018 recipient of the Alan Curtis Industry Service award and new member of the Pavement Hall of Fame.
2018 Hall of Fame Inductee: Guy Gruenberg, Grow Consulting
Grow Consulting's Guy Gruenberg brings to his consulting practice the unique combined perspectives of contractor, manufacturer and distributor (with RAE Products), and industry analyst. A "sales and marketing guy" who consults and instructs on virtually any aspect of a business, Guy is also a "first adopter" of cutting-edge technology that can be used to make a company "operationally excellent." He is a proponent of what he terms "integrated consulting" and has helped dozens of contractors by embedding himself in their management structure to better analyze and see through the implementation of his consulting suggestions. In addition, Guy has helped thousands of contractors through his presentations at National Pavement Expo West and National Pavement Expo, where he has been a presenter on a broad range of sales, marketing and management topics.
SEAL & STRIPE: SMALL JOB
Winner: GARRETT PAVING, Athens, GA
Oconee County's Malcolm Bridge School is surrounded by a dozen parking lots serving the gym, football stadium, teacher parking, student parking and two primary entrances. When Athens, GA-based Garrett Paving tackled sealcoating the 176,545-sq.-ft. facility they encountered a beehive of activity. From parents dropping off and picking up kids for summer school to band practice and sprinklers that weren't turned off, the job presented significant time-management challenges as well as last-minute changes of plans. Founded in 1957, the contractor relied on decades of experience to juggle sealcoating schedules and work around the school's many activities, completing the work well before the school year started.
Runners-Up:
U.S. Asphalt Maintenance, Richmond, VA
ACI Asphalt & Concrete Maple Grove, M
SEAL & STRIPE: LARGE JOB
ACI Asphalt & Concrete Maple Grove. Maple Grove, MN
It's not every day a contractor wins a bid on a project that's more than twice the size of something its ever tackled. That's the opportunity ACI Asphalt & Concrete Inc. was afforded last spring by Manheim, a vehicle auction house, but it was the site's frenetic activity – not the job size –  that proved to be the most challenging aspect of the job. The job involved 5,800 sq. ft. of asphalt patching, 21,000 linear feet of cracksealing, and 830,000 sq. ft. of sealcoating. ACI completed the work in two phases – first the 315,000-sq.-ft. front parking lot, then the 515,000- sq.-ft. back lot – while balancing the relocation of thousands of vehicles for each phase, keeping the entrances open for daily auction traffic, and completing the entrance phase in time for a Memorial Day charity event. Manheim also used the opportunity to do a new striping layout.
Runners-Up
Midwest Parking Lot Maintenance, Eastlake, OH
All County Paving Delray Beach, FL
PAVING: PARKING LOT
Asphalt Contractors Inc. Union Grove, WI
During a final inspection two days before the grand opening of Burlington Coat Factory and Ross Dress for Less at Highway 50 Plaza in Kenosha, WI, the local inspector told the property owner the property needed more than a small asphalt patch. He said the entire 300 ft. x 600 ft. parking lot required a 2-in. mill and overlay and it had to be striped to spec before the two stores could open. After rearranging its schedule, Asphalt Contractors Inc. put two milling crews on the job and they milled, swept, tacked and paved more than 500 tons in just over a very long day. Then Asphalt Contractors striped it in a driving rain, relying on their knowledge that an airless machine would blow water from the surface long enough for an oil-based paint to adhere. Despite the rain and an unusually persnickety inspector, the lot was paved and striped to spec in time for the Grand Opening.
Runners-Up
ACI Asphalt & Concrete Maple Grove, MN
Advanced Asphalt Recycling dba Metcalf Paving Waterbury, CT
PAVING: NON-PARKING LOT
Bituminous Roadways Mendota Heights, MN
Minnesota's Shakopee Public Schools needed an upgrade to Vaughn Field, including the track and event surface, the east parking lot, and the trails leading to and from the junior high school. Over 25 days Bituminous Roadways installed more than 8,000 tons of aggregate in multiple phases, along with more than 4,000 tons of asphalt comprised of six different mix designs, also in multiple phases. As with all track and event surfaces, there was little room for error in the tolerances of the aggregate base and asphalt pavement. Working in three phases due to the site construction schedule of other subcontractors installing electricity, erecting bleachers, and constructing a building among performing other renovations, Bituminous Roadways completed the project on time and within budget.
Runners-Up
Geesey's Rock and Block Designs, Reading, PA
Brahney Paving Wilmington, DE
GOOD NEIGHBOR AWARD
Asphalt Restoration Technology Systems, Orlando, FL
For the last four years Asphalt Restoration Technology Systems, Orlando, FL, has dedicated personnel, funds and materials to Sunshine Foundation Dream Village in Davenport, FL. Since 1990 Sunshine Foundation has provided children and their families with all-expense-paid, one-week vacations to Orlando-area theme parks and attractions – as a getaway from their routine of hospitals, therapies and medical treatments. Asphalt Restoration Technology Systems' employees and their families annually donate time and effort to maintaining the Dream Village including rebuilding a cottage, decorating annually during Christmas, repairing roadways, constructing paths and in 2017 installed a new walkway.   
Runners-Up
U. S. Pavement Services Woburn, MA
Asphalt Contractors Inc. Union Grove, WI
BEST MARKETING VIDEO
U.S. Asphalt Maintenance, Richmond, VA
U.S. Asphalt Maintenance does not make a broad-based marketing effort, relying instead on word-of-mouth-support. But the Richmond, VA-based contractor has been using drones to capture video of the before, during, and after of its projects. They then send the edited videos to each client, showing how the job progressed and the finished look. U.S. Asphalt Maintenance is getting more involved in social media and adding to their company website, so the company decided to put together a marketing video using the drone footage to showcase their services to a national market. Reaction has been extremely positive and the marketing video has generated extensive interest on the website. In fact, after only one month on the company website the video resulted in at least one significant mall job that could be tied directly to the video. 
Runners-Up
Asphalt Maintenance Systems South Beloit, IL
ADC Paving, Louisville, KY 
BEST OF THE WEB
Bituminous Roadways Mendota Heights, MN
In February 2017, Bituminous Roadways Inc. began redesigning its website to create a more user-friendly experience through a simpler, bolder design. Information was reorganized, content was simplified, the site's popular "asphalt calculator button" was highlighted, and Bituminous Roadways created a section specifically for customer education. The redesign highlighted a "call-to-action" to make it easier for customers to call for more information or complete a more detailed consultation form. As users scroll below the "fold" on the site they see three main areas Bituminous Roadways felt were important to highlight; employment, company information and customer resources.
You can check out what they've done at www.bitroads.com.
Runners-Up
Asphalt Maintenance Systems South Beloit, IL
Asphalt365, Kissimmee, FL