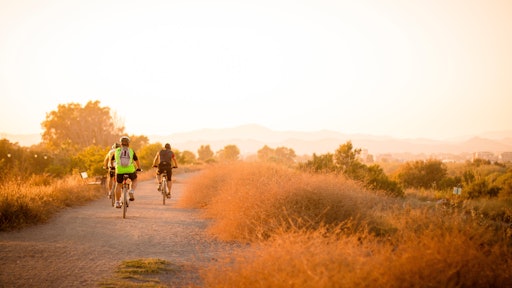 Adrianna Calvo/Pexels
Rails-to-Trails Conservancy (RTC) released findings from "Active Transportation Transforms America," a comprehensive analysis of the quantifiable impact of trails, walking and biking on the places we live.
The study, which aggregated data about the health cost savings, climate protection, mobility and direct economic value of trails and active transportation, found that currently active transportation infrastructure contributes more than $34.1 billion to the U.S. economy annually. As infrastructure connectivity improves, the economic contribution of active transportation infrastructure has the potential to be more than $138.5 billion each year, a return that's nearly seven times greater every year than the cumulative investment of $20 billion that's been made in trails and walking and biking projects via federal programs over the past three decades.
"The findings of Active Transportation Transforms America are motivating," said Kevin Mills, RTC's vice president of policy. "RTC first analyzed the potential economic benefits of trails, walking and biking more than 10 years ago, and while those numbers were promising, we didn't have the data or the methodology to truly understand the economics of trails at a national scale. Now we can prove what we've always known. Connecting trails and walking and biking infrastructure can change our communities—urban, suburban and rural—for the better. And as the connectivity of trail networks improves, so does the health of people and places."
Key findings from the report that provide quantitative evidence underscoring the value that active transportation delivers and the power of every dollar invested in active transportation infrastructure include:
Return on investment (ROI): The current ROI of active transportation infrastructure, which accounts for fuel savings, CO2 reduction, net spending impact of rail-trails and health cost savings, is $34.1 billion annually and has the potential to grow to $138.5 billion annually.
Mode shift and environmental benefits: The value of fuel savings from shifting short car trips to walking and bicycling trips, using walking and bicycling to access public transit, inducing mixed use, and reducing congestion is currently $3.3 billion annually, which could increase to nearly $22 billion annually. The amount of CO2 saved annually could grow from 13 million tons to 54 million tons annually.
Calculations of economic impact: The total local spending impact of the nation's 2,218 rail-trails is $10.6 billion annually, which could grow to as much as $21 billion annually.
Health cost savings: Health cost savings from increased physical activity due to active transportation is currently $20 billion annually and could grow to nearly $92 billion annually.
Download the "Active Transportation Transforms America" report and learn more about RTC's efforts to inspire a visionary transportation reauthorization bill at railstotrails.org/trailstransform.