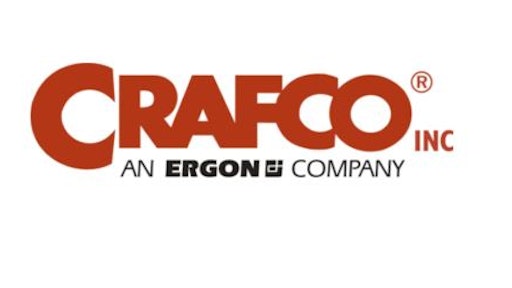 Recently, the senior leadership team of Crafco, Inc. announced the retirement of vice president and director of international sales group, Charley Grady and regional sales manager, Cheryl Jones.
Charley Grady
"Before coming aboard as a one-man show establishing an international sales division from the ground up, Charley distributed Crafco products overseas and helped build the brand as Vice President of Sales for TWT International, a role he held for nearly a decade. It has been a great honor knowing Charley personally and professionally. His knowledge and understanding of pavement preservation technologies and processes will undoubtedly be missed," stated Don Brooks, President of Crafco.
Grady began his decorated and influential tenure with Crafco in 1991 as Director of Crafco's International Group and transitioned into the role of Vice President and Director of Crafco's International Group thirteen years later. Prior to joining Crafco, Charley was responsible for the development of international activity for Crafco as Vice President of Sales for TWT International. A problem solver who believed in making his contribution greater than his reward, Grady made his mark early on by growing what was initially a solo operation into an international division that now employees over 20 personnel within manufacturing assembly operations and offices throughout China, Europe and the world over. With presentations in over 100 countries throughout his career, Grady is credited with launching modern-day pavement preservation practices around the world, paving the way for the pavement preservation industry to enter into China in the early 90's, and introducing TechCrete to U.S. markets.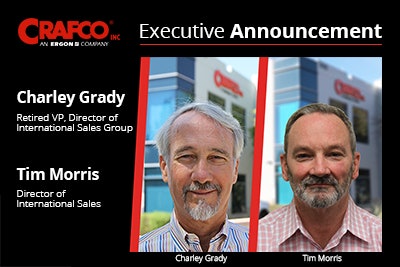 "The honor that I have felt being part of the Crafco/Ergon family for the past 36 years cannot be overstated. I know that I will not adequately remember or give appropriate thanks to all whom I've had the great pleasure of interacting with along this journey, but I would be remiss in not specifically thanking Don Brooks, Mark Manning and Jim Chehovits. It has been an adventure, one that I will always cherish and never forget, stated Charley. With that said, I am excited to pass the baton to Tim Morris who will set ever higher standards in his new role as Director of International Group," he added.
Tim Morris has been a Regional Sales Manager for Crafco International Group, overseeing Sales and Relationship Management for Asia, the Middle East, Africa, and Canada as well as a liaison for the US Military outside of CONUS since 1983. Morris will be assuming Charley's previous responsibilities as Director of International Group effective March 1, 2021.
Cheryl Jones
"From being hired as a customer service representative, working her way up in our sales organization into outside sales and advancing to become a regional sales manager, Cheryl by far succeeded in a male-dominated industry," stated Don Brooks, President of Crafco. "Cheryl's development and rise over the last 38 years has been truly remarkable. Without question, she will be missed," he added.
Jones began what would become a remarkable career with Crafco when the company was quite small in February 1983 as one of two customer service representatives serving all of our customers from our single location in Chandler, Arizona. Soft spoken, but with an unrivaled determination and dexterity, Jones quickly rose through the ranks as an Inside Sales Representative expanding Crafco equipment and materials, to an Outside Sales Representative where she continued to promote the Crafco brand from west of the Mississippi and into Canada. In addition to furthering the brand, Jones was responsible for the sale and promotion of Crafco's concrete products for the entire U.S. and eventually became the Manager for Specialty Products for both asphalt and concrete. Over the last six years, Jones has been responsible for a team of five as the Regional Sales Manager for Texas, Mississippi, Louisiana, Arkansas, southern Missouri, and western Tennessee.
"As the day nears, the thought of retiring becomes ever more difficult to fathom. It's never easy articulating what it feels like to leave a great company and family that you have been a part of for so long. Having said that, I would like to begin by thanking Don Brooks for welcoming me into the Crafco family all those years ago. I would also like to thank Tom Kelly for guiding me during my later years at Crafco. To all the individuals who have helped me advance into each new arena during my tenure, thank you from the bottom of my heart. Last, but surely not least, to my amazing sales team in the southcentral area and all the wonderful individuals in operations, thank you for growing and developing the territory into what it is today. You cannot imagine how much I will miss you all. To my good friend and incredibly wise colleague, Bryan Darling, I wish you all the success in growing the business," she added.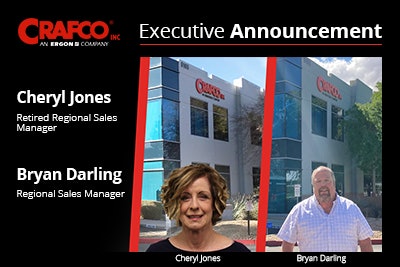 Bryan Darling has been with Crafco for 21 years and a Regional Sales Manager since 2007. A well-known, and established manager, Darling possesses the necessary knowledge and experience to succeed in assuming Cheryl's previous responsibilities as Regional Sales Manager effective March 1, 2021.