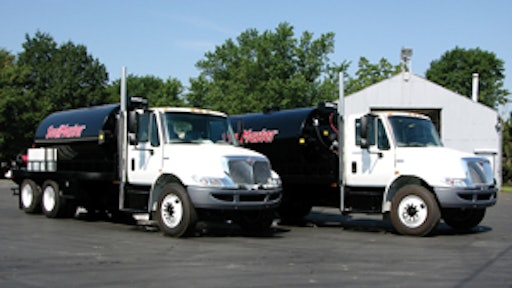 Once you've made the decision to upgrade to a big sealcoating rig, say 1,500 gal. or more, you've made only the first of many decisions. But the industry's manufacturers of big rigs say that with early guidance from your equipment supplier of choice it's easy to add a sealcoating big rig to your fleet.
Not surprisingly, one of the first questions to ask is "how big?" Manufacturers such as Able Industries, Nealco, Neal Mfg., and SealMaster all produce a variety of large skid- or truck-mounted sealcoating systems, and Seal-Rite produces a 1,500-gal. skid-mounted unit. So options are plentiful.
"When your company is growing, when you're getting more parking lots and more work that one truck can handle, that's when you need to think about adding a larger unit," says Brian Dye, president of Able Industries. "You know when you're ready to upgrade depending on how many times per week you're getting your sealer. That depends on where your supplier is located, but if getting a larger tank enables you to travel less and sealcoat more then it's time to think about a larger tank."
Steve Rapp, equipment division, SealMaster Inc., agrees. "You know you're ready when you're getting the size of job where your 500- and 1,000-gal. tanks are just going to cause you too many trips to your supplier. It's important to get as much material on the jobsite as possible."
He adds that having a larger tank reduces mix times, which results in more time to sealcoat. "When you have a large tank you mix in sand and additives one time. When you have a small tank you have to measure, add, and wait each time the tank runs low," Rapp says. "You have to stop and mix, stop and mix, and that cuts down on the time for you to seal."
So, how big a tank do you need? Hard to say, but Dye, who runs a sealcoating business in addition to a manufacturing operation, says this: "When I add a truck it's never the same size as the ones I have; it's always bigger."
Skid- or chassis-mounted?
Most sealcoating equipment manufacturers offer trailer-mounted systems holding up to 1,500 gal., but once you approach that size of tank you should at least begin considering truck-mounted systems.
There are two types of truck-mounted systems available: skid-mounted systems and custom chassis-mounted systems. Skid-mounted tanks are self-contained sealcoating systems attached to a skid, and that entire skid is then attached to the flatbed of a truck. Dye says most contractors who want a skid-mounted system already own a truck with a flatbed, so that type of system can be less costly for them. Nealco Equipment's Jason Mixell says most of the tanks Nealco sells are self-contained systems mounted to a flatbed or mounted to the chassis, but not as a part of the truck. But other manufacturers offer customized chassis-mounted systems that are designed into and mounted directly onto the truck chassis.
Rapp says SealMaster almost always recommends truck-mounted units over skid-mounted systems, especially as the tank volume reaches 1,500 gal. and more. He says SealMaster's 1,000-gal. tanks are low and long in design so they work fine when mounted on a skid and attached to a flatbed. He says SealMaster prefers to mount anything larger than 1,000 gal. directly to the chassis.
"The 1,500-gal. tanks and the larger tanks are shorter and bigger around. They have a higher center of gravity so it's best if they are mounted directly to the frame," Rapp says.
Rapp says the contractor needs to look at how the tank is sitting on that chassis to make sure it is safe. "The tank needs to be as close to the truck frame as possible, rather than sitting on a flat deck which raises the center of gravity and makes the truck more susceptible to tipping."
He says that regardless of whether the contractor buys a skid-mounted or truck-mounted system, SealMaster encourages contractors to train their drivers in how to drive these types of vehicles, "especially in how to handle a curve."
Matching truck to tank
"Choosing the right truck is important as far as weight and length of chassis is concerned so you can get the proper weight distribution," Rapp says. "Too many people want to put too big a tank on too small a truck."
Mixell agrees. "Weight can be an issue, but it's more likely to be an issue with the smaller trucks than with the larger ones," Mixell says. "People are always trying to put a tank on a small truck and they don't realize that sealer gets very heavy very fast."
But the first thing to consider is the gross vehicle weight (GVW) of the truck. Whether you're mounting a skid system to a flatbed or having a custom system built onto your chassis, you need to know in advance the weight of the entire truck and sealcoating system. Trucks with a GVW of 26,000 lbs. or less do not require a commercial driver's license (CDL) while trucks weighing 26,001 lbs. or more do.
Dye and Rapp say the importance of the CDL requirement cannot be overstated. Once you have trucks that require a CDL to drive you must have licensed CDL drivers to get them to the job. That means a smaller pool of laborers to hire from, and generally higher pay for having a CDL. It also means that not just any employee can hop in a truck and drive it to the next job, to get more sealer, or back to the yard.
Dye says tanks carrying less than 1,000 gal. of sealer can be installed on a truck with a GVW of 22,000 lbs. Because of that, Dye says, Able Industries manufacturers 990-gal. tanks, which are the company's top-selling tank. "We sell about three times as many 990-gal. tanks as 1,500-gal. tanks even though the cost difference is next to nothing," he says. "The CDL requirement makes the difference." Mixell adds Nealco also offers a 990-gal. model to accommodate drivers with no CDL license.
To determine the weight you will be dealing with it's important to talk with the manufacturer of the sealcoating system and tank first.
"You need to talk with the manufacturer to find out the empty weight of the tank, then you need to add the weight of sealer (roughly 10 lbs. per gal.)," Rapp says. "Don't forget to add in the weight of buckets, blowers, sand bags, tools, anything you'll be hauling on the truck. Once you have an idea of the weight the truck will have to carry you can make sure you get the proper truck. You need to provide all that weight information to the dealership so the truck isn't overloaded."
He says overloading makes the truck less safe, wears out tires prematurely, and causes additional wear on the transmission.
"The 1,500-gal. tank used to be our top seller but we're seeing an awful lot of 2,000-gal. tanks these days," Rapp says. "The 2,000-gal. units have really taken off because contractors have recognized that it's better to have as much material as they can on the jobsite."
Another factor to consider when matching the tank to the truck is the length of the tank relative to the length of the truck (from the back of the cab to the back of the truck). Depending on the chassis (or flatbed) size, the tank size, and the options selected, equipment manufacturers need room to position the tank properly, both for safety and for efficiency.
"A skid-mounted system is nice because you have the luxury of moving the tank forward or backward on the truck to balance the weight out as you need to," Mixell says. "Being self-contained offers the option to drop the tank at a site to be used as a storage tank or installed on a new truck quickly if a breakdown occurs."
Rapp says the length of the wheel base is important as some tank weight must be distributed over the rear axle. "A certain amount of weight must be distributed over the rear axle, and if too much of the tank is past the rear axle it makes steering too light," he says. "If there's too much weight behind the rear axle the truck is too light and the driver loses some steering ability."
Dye, on the other hand, says Able doesn't concern itself too much with wheel base measurements. What Able Industries considers crucial for situating the tank is the measurement from the back of the cab to the center of the rear axle. "You have to space the tank properly," Dye says. "You have to have a certain amount of space from the back of the cab to the center of the rear axle, and that space varies depending on the truck and the size of the tank."
He says three-quarters of the tank itself needs to be positioned from the center of the rear axle forward. When installing a 1,500-gal. tank, for example, Able Industries likes to see at least 138 in. from the back of the cab to the center of the rear axle on a 26,000 GVW truck.
"If they bring me a truck that's not suitable for a tank, I'll tell them," Dye says. "Anything will work, but it might not work the right way and it won't be safe. If I think it's not safe I won't do it."
Both Dye and Rapp say that whether making truck- or skid-mounted systems, manufacturers like to have space to work between the cab and the tank. "You don't want everything jammed in so you can't service anything on the front end of the tank," Rapp says. "We like to put the air compressor there and if you cut down on that distance it's too difficult to do normal maintenance on that."
Mixell adds that contractors should know what they want on a large rig and should have the sealcoating system custom-made to their specifications. "Each manufacturer can do that, so the contractor should get what he wants," Mixell says. "There is a lot of equipment available with all sorts of bells and whistles, and that's nice to have on your truck. But if you don't want to pay for all that don't be afraid to tell the manufacturer exactly what you want."
Read more manufacturer's tips on "Buying a Sealcoating Big Rig."
Companies in this article