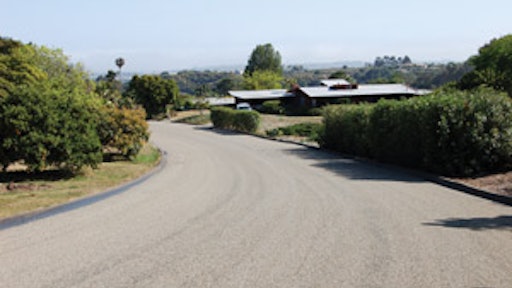 California's Santa Barbara County implemented a pavement preservation program in 1999 to maximize taxpayer investments in the agency's road network. Historically, Santa Barbara County has done a limited amount of chip seal. The county was looking for preservation alternatives that would allow it to divert resulting cost savings to the reconstruction of some of its worst roads.
Utilizing a Road Maintenance Annual Plan (RdMAP) Program, the county's Department of Public Works' Transportation Division was able to educate and gain the support of residents and public officials to develop a contract that would resurrect the condition of roadways and provide an additional eight to 12 years of service life to those targeted roads. The emulsion slurry seal proposal was the least cost alternative to maximizing dollars available for resurfacing roads that were in good condition.
RdMAP is key
Santa Barbara County's Road Maintenance Annual Plan (RdMAP) is the vehicle by which the Maintenance Section of the Transportation Division completes its mission - "Provide a Clear Path, a Smooth Ride and a Safe Trip."
Proposed projects are selected using public input and requests, the MicroPaver Pavement Management program, Board of Supervisor priorities, and the staff's professional assessment of roadway conditions. Since the inception of the RdMAP in the early 1990s, the Transportation Division has strived to include the public and its elected officials in the maintenance planning process for upcoming road projects.
At the beginning of the 2004/2005 maintenance year, county maintenance crews began applying fog seals as part of department's maintenance activities. Fog seals help protect and preserve pavements that have been applied within the past four paving seasons, and during the 2005/2006 maintenance year crews applied 28,000 gallons of fog seal product to approximately 300,000 square yards of pavement surface.
Santa Barbara County's Transportation Division recognizes that asphalt pavements begin to deteriorate almost as soon as they're built, with the typical asphalt pavement designed to provide a service life of 20 years. The Division also realizes preventive maintenance can significantly extend the life cycle of an asphalt pavement and do so at a fraction of the cost to reconstruct the pavement. According to analysis and cost documentation, the Transportation Division estimated the cost of applying a surface sealer at 40 cents per square yard, a chip seal application at $1.50 to $1.80 per square yard, a scrub seal at $2.75 to $3.80 per square yard, a hot mix asphalt overlay at $18 per square yard, and total reconstruction at $75 per square yard.
Preservation first
According to Scott McGolpin, interim director of Santa Barbara County's Public Works, preventive maintenance/pavement preservation has been a growing initiative in the department's attempt to maintain the 1,667 lane miles in its network.
"We've used a broad range of technologies in an effort to maintain our roads as we deal with rising asphalt prices," McGolpin says. "We're trying to prevent further degradation of our roads because we simply can't afford the costs associated with conventional reconstruction."
Using finances generated from the 1989 voter-approved half cent sales tax Measure 'D' fund, McGolpin says $3.5 to $4 million annually is earmarked for preservation activities.
"During the 1999/2000 road maintenance year we shifted to a preservation approach and we treated approximately 120 to 150 lane miles with some type of surface application," McGolpin says. "Today, we're treating 200 to 250 lane miles each year. So, you can see that we've taken a pretty aggressive approach to preserving good roads in our network."
The two primary surface treatments used by the Transportation Division include fog seal and scrub seal applications.
A fog seal is a thin and relatively inexpensive application of asphalt emulsion that is applied to the surface at a rate of one tenth of a gallon per square yard. This provides a seal to the asphalt surface and limits water from penetrating the roadway. A fog seal application extends the service life of a road approximately one to two years, and county crews perform all fog seal applications.
A scrub seal is an application that uses a polymer modified asphalt rejuvenator applied at a rate of .15 to .45 gallons per square yard depending on the pavement condition and cover aggregate to be used. A specifically-designed drag broom is then pulled through the emulsion, filling cracks and voids left open by the initial application. Then an even coat of sand (scrub seal), chips (chip seal) or other readily available aggregate is applied over the emulsion at a rate of 10 to 25 pounds per square yard. The seal is then rolled with a pneumatic tire compactor.
Emulsions proved performance
The County was searching for a preservation product that would last longer and provide more protection to its costly pavement investment. During the 2005/2006 maintenance year, road crews began to experiment with Western Emulsions' PASS (polymer-modified asphalt surface sealer) QB rejuvenating seal in its fog seal program. According to McGolpin, the benefits of the product was soon evident: ease of application, black color, no tracking, lower ambient temperature, quick cure time and apparent rejuvenating characteristics made crews pleased with the results.
As part of the Phase 2 portion of the program, the county aggressively treated the best roadways in order to extend their service life. This approach deviated from the county's traditional approach of using slurry seals and chip seals. The savings gained by replacing these traditional techniques with a rejuvenating fog seal that extended the life of the roadways by three to five years will now be applied to the following year's cape seal program. In theory, the savings generated between slurry seal and a rejuvenating fog seal is used to accomplish more resurfacing to the Level 3 and 4 roads. Ideally, Level 1 and 2 roadways should be slurry sealed or chip sealed and Level 3 through 5 roadways should be overlaid or even reconstructed. Santa Barbara County has used the newest emulsion technologies to provide a prudent solution to resurfacing its infrastructure.
During the Phase 1 portion of the trial program a polymer modified asphalt rejuvenating emulsion (PASS CR for a scrub seal and capped using a Type 2 micro-surfacing sealer) was used on road surfaces with more surface distress. With the success the Transportation Division achieved in applying 34,400 gallons of the polymer-modified emulsion to 436,000 square yards of asphalt surface during the fog seal portion of the pilot program, they immediately implemented a scrub chip seal project by selecting roads that normally would receive an $18 per square yard asphalt overlay. This application was applied to distressed roadways with a Pavement Condition Index (PCI) between 35 and 60 (this designation means the road surface is in good to poor condition) at a cost of $4.62 per square yard. Roads treated were classified as arterial rural roads, collectors and residential roads.
Phase 2 consisted of utilizing a polymer modified asphalt rejuvenating emulsion (PASS QB) applied as a rejuvenating fog seal. The material was supplied by Western Emulsions and applied by Santa Barbara County crews on Level 1 roads (roads in very good condition with no surface cracks of other deformations).
"What we've discovered is that there are products that perform well and allow us to treat and preserve more roads than we would otherwise be able maintain at a much lower cost than the conventional alternatives," McGolpin says. "The cost savings in a time of high asphalt prices and uncertain funding allows us to protect the investment we have in our road network."
Emulsion excellence
The Asphalt Emulsion Manufacturers Association presented its three-phase 2007 Past Presidents' Award for Emulsion Excellence to the County of Santa Barbara, Intermountain Slurry Seal (the contractor who performed the scrub seal application) and Western Emulsions Inc. (emulsion supplier) for this particular project.
The award recognizes a specific project of excellence using asphalt emulsions which exemplify the highest quality of workmanship and compliance with the best standards of practice.