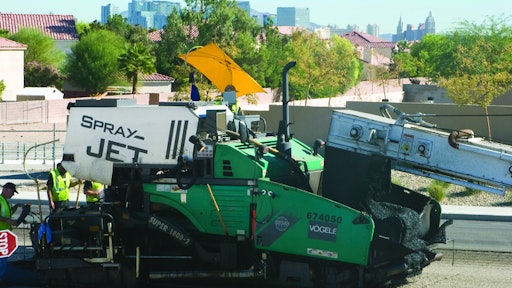 A new paver has given Las Vegas Paving Corp. entry into the growing market of ultrathin asphalt concrete surfacings (UTACS) in Nevada and the American Southwest.
With its new Vögele Super 1800-2 SprayJet paver, Las Vegas Paving Corp., North Las Vegas, Nev., now is able to take pavement preservation contracts as agencies like Clark County, Nev., stretch available funds to prolong the life of pavement structures in its desert locale.
In Clark County, UTACS (pronounced "you-tacks") are gap-graded wearing courses, bonded to the surface by a warm polymer modified membrane, followed immediately by the hot, gap-graded, ultra-thin asphalt concrete friction layer.
Bonded wearing courses
As such UTACS are similar to Caltrans' bonded wearing course, "a gap- or open-graded, ultra-thin hot-mix asphalt mixture applied over a thick polymer modified asphalt emulsion membrane," to quote the agency. "The emulsion membrane seals the existing surface and produces high binder content at the interface of the existing roadway surface and the gap- or open-graded mix, all in one pass."
In addition to enhancing friction, gap-graded and open-graded mixes provide an open surface texture to allow rain water to flow through the surface, reducing tire spray, eliminating ponding, and suppressing noise at the tire/pavement interface. They represent one version of a porous asphalt pavement.
Such bonded wearing courses are primarily used in high traffic areas as a surface treatment over hot mix asphalt or portland cement concrete pavements. They are placed over structurally sound pavements as a maintenance treatment, but may also be used in new construction and rehabilitation projects as the final wearing course.
In a bonded wearing course like those specified by Caltrans, the polymer modified asphalt emulsion membrane seals the existing pavement while bonding the gap-graded or open-graded mix to the surface. The thicker nature of the membrane allows it to "wick" upwards into the mix, filling voids in the aggregate and creating an interlayer of high cohesion that does not delaminate or bleed, if applied correctly.
Right paver needed
However, to correctly place UTACS or other bonded wearing courses, the right kind of paver is needed: One that has the ability to spray asphalt emulsion onto a pavement, and then immediately place a thin overlay on top. Las Vegas Paving found the Vögele Super 1800-2 with optional SprayJet module fit the bill.
Las Vegas Paving acquired its Super 1800-2 SprayJet in early 2010, and has been using it for UTACS ever since. "We are the new kids on the block with this process," said Clark Webster, general superintendent, Las Vegas Paving. "This is our first year paving UTACS, and we were concerned that interest would not last, but agencies are still interested."
When visited in October, Las Vegas Paving was applying a UTACS to busy Jones Ave. between Tropicana and Russell for the Clark County Department of Public Works.
This 2,700-ton job involved three lanes each way, including shoulders and turn pockets. "Jones is a piece of a larger contract we have with the county, with each piece being anywhere from 15,000 to 20,000 sq. yd. of UTACS," Webster said. "Jones was a 1 in.-deep UTACS, with almost 100 percent passing 1/2-in. with some fines."
On Jones Ave., warm polymer modified emulsion was being sprayed directly ahead of the screed via spray bars on each side of the Super 1800-2 SprayJet at a rate of 0.13 gal. per square yard.
"It's not unlike a prime or tack coat, but it provides much more coverage," Webster said. "And no one can run on it. The Super 1800-2 places the coat behind the wheels but ahead of the material, so cars or our haul vehicles can't drive over it and pick up the sticky, polymer modified emulsion. It gives us the best of both worlds; we are able to use a polymer modified emulsion without having the mess of tires tracking it everywhere."
The placement of emulsion spray is automated, and the system regulates percentages of emulsion applied, making it easy on the crew, Webster said. "If the paver slows down, the application rate slows down," he said. "It's easy to use."
Once the emulsion is placed, and asphalt compacted, traffic can be allowed on the pavement within minutes. "You can let traffic on the UTACS very quickly, it's not a very 'tender' mix," he said.
One eight-man crew handles the Super 1800-2 SprayJet and UTACS paving, and Andy Kimball is paving superintendent. A material transfer vehicle is required by agency spec, although the benefits of an MTV in an ultra-thin overlay aren't as obvious as with thicker lifts.