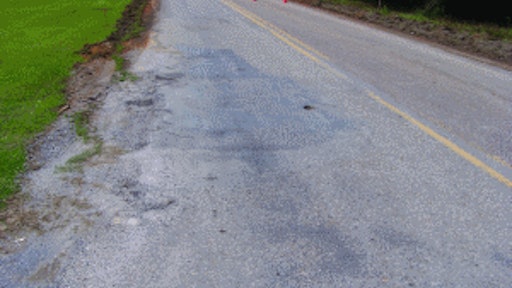 Wire Road in Tuscaloosa County, AL was in bad shape. Actually, the 13-mile-long road had problems in three distinct stretches of the road. These three areas of the road accounted for 5.85 miles. Problems included alligator cracks and rutted areas due to worn out pavement and an insufficient base.
"These particular sections of Wire Road were severely damaged," says Scott Anders, project engineer for Tuscaloosa County. "Wire Road carries approximately 685 vehicles per day with 30 percent truck traffic."
Because of the damage to the asphalt and base, it was determined that full depth reclamation was the best solution to stabilize the road. "Full Depth Reclamation is a recycling process that pulverizes the existing pavement and some of the underlying base materials and generally is treated with a number of additives to create a stabilized base course, in this case Portland cement," says David Faust, estimator/project manager for Blount Construction Co., which was selected to do the Wire Road project.
Full Depth Reclamation can restore the old pavement to a desired profile, restoring crown and slope in the road, and eliminate ruts and potholes creating a uniform pavement structure.
"With FDR it's also very easy to widen the road by a few feet where room permits, which is a concern with narrow county roads across the country which can be so dangerous," explains Faust. "Material cost is low, as there is a minimal amount of actual new material brought to a job. Time of construction is also very quick compared to conventional methods of rehabilitation."
Anders concurs, adding, "We didn't want to spend money and time on portions of the road that did not need attention.
"We were new to the FDR process but heard of other counties using the process with satisfactory results," Anders continues. "Since Tuscaloosa County was new to the FDR process, there was a lot of research and discussion that had to take place before we could commit to spending the money. Some issues we were facing included balancing cost versus potential benefits, the unknown outcome, and a general unfamiliarity with the process.
"The area where the FDR was performed had a history of extensive problems," continues Anders. "This particular portion of Wire Road carries approximately 685 vehicles per day – 30 percent being large trucks. With a large rock quarry located on this section of the road, we decided FDR was the best long-term option."
The project
The Wire Road project consisted of pulverizing the existing roadbed to a depth of 10 inches.
"We performed an in-place cement stabilization mixing the cement with the pulverized asphalt and existing base materials at a 10-inch depth," says Faust.
Soil conditions in this particular region were sandy clay with some river rock. "Based on the lab soil reports, we infused the pulverized materials with 56 pounds of Portland cement per square yard of road," says Anders with Tuscaloosa County. "The newly mixed material was graded, compacted and kept moist until the contractor was able to prime and sand the newly reclaimed section."
Blount Construction Co. has been performing reclaiming jobs since 1993, and with each FDR job, soil conditions, moisture control and getting good compaction are key components, says Faust.
"On this particular project, challenges including getting gradation with the constant changes in asphalt thickness and surface conditions present," he says."Another challenge was paying close attention to the moisture content with the varying soils over the project."
As far as the final overlay on the Wire Road project, a type "J" surface treatment with 1 ½" of asphalt topping was performed on most of the road, says Faust. The section in front of the rock quarry received a type "L" treatment and 2" binder course. Charles E. Watts Inc. performed the surface treatment work, and APAC Midsouth handled the paving.
Equipment used on the project included a CMI Terex 800, CMI Terex 650, Cat 140 motor grader, Hamm 3412 padfoot roller, Hamm GRW18 rubber-tire roller, Ingersoll-Rand SD70 vibratory roller, 3,000- and 4,000-gallon water trucks, an Etnyre distributor and a sand spreader truck.
From the time the mixers initially hit the ground to the time the project was striped took place the better half of October 2010, says Faust.
Traffic challenges
Initially, some officials wondered if FDR was the right choice with the high-volume of traffic, some of which comes from heavy truck traffic in and out of a quarry, the road experiences.
"One of the concerns we always get from the different county and city officials is being able to perform the FDR work while running traffic," says Faust.
"One of the key questions we get is, 'Can you perform the FDR on our road with the traffic volume?'" continues Faust. "Wire Road has a Vulcan quarry midway through the job in which a steady flow of trucks ran in and out of. We were able to keep them running with very minimal disturbance other than having to wait a few minutes on a pilot car to lead them through the work zone. We reclaim roads in Metro Atlanta that have a 20,000 ADT count if not higher, so FDR on a high-volume traffic road is totally doable."
To overcome the traffic challenge, Blount Construction worked longer days. "When weather allowed, we worked longer days and used both reclaimers to speed up production with a daily goal of 10,000 yards per day," says Faust.
The outcome & cost savings
The potential benefits for using the FDR process include less maintenance, safer travel conditions and long-term stability of the base material, says Anders.
"On the Wire Road project, the outcome is yet to be seen," he says. "Hopefully it will take 15 to 20 years before we can calculate the total savings.
"Based on the best available information, we are anticipating a 15- to 20-year lifespan of the concrete reclaimed base," Anders continues. "Our records show we have been averaging spending $75,000 per year on this portion of Wire Road, not counting resurfacing. That being the case, we should see a savings between $70,000 (for 15 years) and $450,000 (20 years)."
Total Project Cost for Wire Road
Total project cost = $1,054,121.34
This included 78,757 square yards of 10" thick FDR (56 pounds/square yard of Portland cement), 9,570 square yards of type "L" bituminous surface treatment, 66,569 square yards of type "J" bituminous surface treatment, 6,350 tons of plant mix (binder and wearing combined), and temporary stripe.