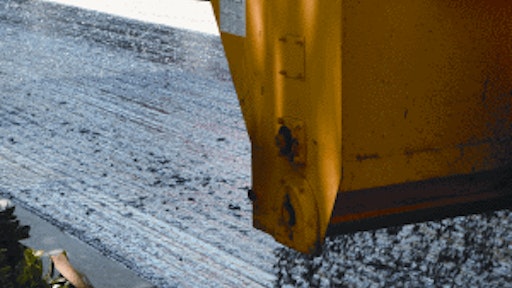 A new process is helping municipalities and contractors limit reflective cracking and extend the life of the road compared to traditional chip seals.
Fibermat, which is available from Midland Asphalt Materials, is a combination of polymer-modified asphalt emulsion, proprietary fiber strands, and aggregate that creates a membrane that absorbs stresses and delays cracking.
The combination of materials creates a surface membrane that absorbs traffic stresses in the pavement structure and forms a waterproofing barrier that impedes the ingress of water into the road, thus reducing the cracking that may occur.
Benefits include:
Accommodating traffic within minutes after paving
Bonding well to concrete and asphalt
Recycling easily
Reducing repairs and resisting reflective surface cracking
Increasing tensile strength and flexibility of the road surface
Rejuvenating wearing courses that are suffering from top-down cracking
Requiring no road surface milling prior to lay down
More flexible than geotextiles because the process is all liquid, so it's easier to follow the contours of the project and travel around corners.
Pittsburgh, PA road
Russell Standard used the Fibermat process on the Painters Run Road project in Scott Township, PA, between Routes 19 and 50. This project was western Pennsylvania's first road surface with this technology.
"This specialized technique allows us to address the cracking issue that is so prevalent in our region's roads in a method that was previously unavailable," said Matt Johnson, president of Russell Standard. "The technique also has one of the fastest application times allowing traffic flow to resume within 20 minutes."
The Fibermat process is a self-contained system that holds spools of proprietary fiber that are fed through tubes to a cutter assembly where they are cut to a predetermined length and distributed at a predetermined rate.
A layer of emulsion is sprayed to the road surface; the chopped fibers are then applied on the surface, followed by a second layer of emulsion and a layer of aggregate that is embedded by a pavement roller into the emulsion to create a product ready to accept traffic.
On the two-mile-long project, Russell Standard installed two layers of emulsion sealant, one layer of proprietary fibers and another layer of aggregate - the Type A installation technique (see box).
This process sealed the road surface and blocked water from permeating the layers, which in turn helps reduce cracks in the roadway.
In documented testing, Fibermat has proven to enhance the tensile strength of a road while spreading the stress of cars traveling above over a greater area.
"We as a company have done several side-by-side visual evaluations of the product compared to a traditional chip seal," says Ryan Baldwin, PhD, vice president of marketing and sales with Russell Standard. "So far, Fibermat is holding up extremely well."
The benefits of this technology are vast. Municipalities have seen a reduction in cost due to lower maintenance requirements and repairs while the general public has the ability to drive on the newly installed road surface in a faster timeframe.
"That was one of challenges with this project," says Baldwin. "We had a high volume of traffic and we needed to disturb that as little as possible. The fact that motorists can drive on it quickly after application is a benefit."
The Fibermat process also helps improve the safety of the crews installing the surface due to the decreased times in the field compared to more traditional chip seal processes.
Greenville-Spartanburg Airport rehab
Sloan Construction, with the willingness of the Greenville-Spartanburg International Airport and its pursuit of innovative technology, was one of the first prime contractors to place Fibermat on a federal-funded project.
The Greenville-Spartanburg International Airport Rehabilitation project was a complete enhancement to all of their existing roads, streets, intersections, and parking lots on the entire property.
The demolition and reconstruction included asphalt milling and removal, curb and gutter, and sidewalk removal and replacement, as well as construction of new raised sidewalk/speed bumps throughout the project. The project also included the Fibermat process, which was covered with a warm mix asphalt surface course - the Type B installation process.
The challenge of the project was maintaining a positive flow of traffic both for the motoring public by never having a complete road closure and for the pedestrian traffic by maintaining full access to the Airport's terminal.
The project's original phasing plan and work hour restrictions did allow for complete road closures at times, however one of Sloan Construction's goals was to minimize the impact of their presence by keeping the all roads open at all times for the airport's customers and employees.
Two days after installing the Fibermat product, a warm mix asphalt surface course was placed as the final surface course on this project, says Richard Crocker, paving operations manager with Sloan Construction.
The use of warm mix asphalt allowed Sloan Construction to lower the temperature at which the asphalt is produced and placed on the road without any sacrifice to the product quality.
These reductions in temperature have the obvious benefits of cutting fuel consumption and decreasing the production of greenhouse gases.
This project gave Sloan Construction the opportunity to work with an owner who is just as concerned with the impact their improvements have on the environment as Sloan Construction is with their manufacturing and placement processes and how they affect the environment.
"This project was extremely important to Sloan Construction," says Crocker. "Quality workmanship and best practices were stressed. Everyone who visits the Greenville Spartanburg (GSP) Upstate region walks onto this job when they exit or enter the GSP Airport. We recognized this fact and our project engineers, asphalt plant personnel, QC, shop and our laydown crews all rose to not just meet the challenge but to exceed it."
For more information visit Fibermat.
Type A or Type B?
Fibermat has two specific installation systems - Type A or Type B.
Type A is similar to a conventional chip seal. Because of the proprietary fibers in the matrix, the process tends to exhibit superior tensile strength and crack inhibiting properties. This approach has shown that the wheel track cracking rate improved by nearly 300% in roads paved with Fibermat Type A versus conventionally chip sealed roads.
Type B may also be known as a SAMI (Stress Absorbing Membrane Interlayer) because it serves as an intermediate layer between the existing pavement and a new wearing course overlay. When applied as a SAMI, Type B has been proven to absorb pavement movements and to significantly delay crack propagation.
Type B dissipates traffic stresses horizontally through the fibers rather than vertically through the wearing course and is also faster to apply than other conventional SAMIs. It can be opened to traffic within 15-20 minutes after application and serve as a temporary wearing course until the final course is applied at a later date.