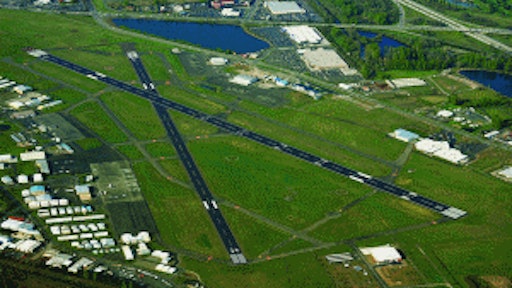 Hillsboro Airport, located in the western suburbs of Portland, is Oregon's largest and busiest general aviation airport handling over 250,000 annual flights. The 6,600-foot-long (150-foot-wide) primary runway is host to many local corporations such as Nike and Intel and plays an integral role in offsetting air traffic in and out of Portland International Airport. High air traffic demand, coupled with the Northwest's four season climate and annual precipitation of 40 inches, requires the highest performance in runway protection.
With coal tar based coatings now on the Federal government's list of carcinogenic compounds, state transportation agencies around the nation are experiencing an immediate need for an alternative long lasting, environmentally safe and fuel resistant coating to preserve their air field pavement assets. A prominent Northwest based engineering firm WH Pacific recognized and anticipated this problem early and began to seek alternative green materials for both Oregon and Washington State Department of Aviation.
Green evaluations
WH Pacific teamed up with Portland based contractor Roger Langeliers Construction (RLC) to begin evaluation on potential high quality alternative coatings. WH Pacific's primary requirements for their clients were to find a protective runway coating that met a "skid neutral or better" surface resistance, maintained environment safety, and was cost effective over the long term.
The growing team called on the experience of Carbonyte Systems Inc. (CSI), to finalize specific mix designs of CarbonSeal-FR in August 2009.
CarbonSeal-FR consists of a base, medium pen asphalt emulsion which is prepared for advanced interfacial bond and shear strength through the chemical "weaving" of polymer grafted and dissolved ground tire rubber (GTR) to make a superior rubberized asphalt pavement coating. Daytime applications of CarbonSeal-FR involve a 20% cut by volume but in order to facilitate curing for Hillsboro's nighttime application, the CarbonSeal-FR would only be cut to 15%.
Extensive evaluation of the CarbonSeal-FR included full scale field testing of skid resistance, utilizing a continuous slip friction tester. This type of runway measurement system meets all FAA and ICAO specifications for friction measuring devices and demonstrated that the CarbonSeal-FR coatings were skid positive, achieving the skid neutral or better requirement.
Oregon Department of Aviation (ODA) also spent time validating CarbonSeal-FR's ability to be immediately striped upon curing. Previous systems used by ODA required several days of curing before striping. Upon approval and cooperation with the region's late season weather patterns, the near one million square foot runway job was set to kick off during the first week of September 2009.
On an early September evening, with air/pavement temperatures in the low 60s, crews began crack sealing operations at 7 p.m. By 10 RLC's project manager Jim Cross and his spray crews were poised to enter the runway and begin the first spray application of the CarbonSeal-FR.
Surface temperatures were well into the 50s as trailer-mounted light towers illuminated the way for the PavementSaver spray machines while they lay down 10-foot swaths of material totaling 0.25 gallons/square yard.
The first section of the primary runway, described as the main touch down area before the intersecting runways, was completed with a two coat application by 3 a.m. the next morning. At around 5 a.m., just two hours after the application, temperatures had fallen into the low 50s and an unexpected isolated rain cell passed directly over Hillsboro's runway before the coating had yet fully cured.
At 9 a.m. airport inspectors had arrived to walk the affected area and were impressed to find that the coating had not only held up but was ready for touchdown traffic.
RLC crews, lead by supervisor Kenny Wood, quickly re-stagged for the remaining sections of the primary runway. Air temperatures rose into the 70s and surface temperatures were averaging 115° F.
RLC picked up the pace and had split off a second team to capture the live runway intersection at 12 p.m. The application window for the runway intersection would be short as RLC crews were only allotted one hour to capture and apply two coatings before air traffic resumed.
By 12:50 p.m. the crew pulled the last cone and the first turbo prop aircraft lifted off at 1:15 p.m. without issue. Airport officials continued to monitor air traffic first hand and any remaining reservations were quickly replaced by notable confidence in the technology.
Crews resumed spray application on the remaining section of Hillsboro's primary runway, completed the final pass, and re-opened the runway at 7 p.m.
Salem
McNary Airfield, located in Oregon's capital city of Salem, is home to the Oregon Department of Aviation (ODA) and boasts two general aviation runways (5,811 and 5,145 feet) that support over 50,000 aircraft operations annually. McNary's runways are unique in their design and pose a special kind of challenge for any pavement preservation technology. Both primary and secondary runways contain ¼" x ¼" breaking grooves that shorten stopping distances and allow McNary Airfield the ability to service larger jet aircraft.
The primary challenge when sealing this type of runway, and the main concern for ODA, is achieving a uniform coating on the pavement without filling in the breaking grooves. To make this happen, the application rate would either have to be extremely low (thus requiring several coats) or the material would need to display a gelatinous behavior that allows the material to 'stand up' on the pavement during heavier spread rate applications.
With high air traffic count throughout the day, McNary Airfield doesn't have the luxury to shut down for extended periods while numerous "fly coats" are applied. ODA needed an expedited application of a tough material that would stand up on the pavement and give McNary runways the required protection while maintaining the surface breaking resistance. They needed CarbonSeal-FR.
In September 2009 CarbonSeal-FR touched down as the multi-runway installation got underway with the experienced RLC behind the stick. The weather conditions were sunny and clear with temperatures into the 70s.
Due to the unusually high concern about maintaining the integrity of the breaking grooves ODA officials were on hand to closely watch the completion of the first runway installation. Airport officials were pleased and expectations were met as the CarbonSeal-FR uniformly coated the runway grooves without flooding the individual channels.
Once again McNary's runway intersection proved to be one of the more intense moments of an airport installation as RLC crews were afforded a short window and only one shot to get it right before air traffic landing gears would re-deploy onto the capital.
The 'V' shaped relation between the two runways created an abnormally larger intersection so there was more ground to cover in the allotted time, but RLC completed the application in time. Within 10 minutes of completing the last spray run, a commuter jet aircraft approached the main runway.
Airport Operations Manager Tom Franklin looked to RLC's Cross for the go ahead which was confidently given. Franklin stood near the runway's skirt to watch the 10,000-pound jet aircraft touch down and successfully taxi onto the fresh coating.
The 1.35 million square foot installation on McNary Airfield was completed in four days by RLC with support from airport operations manager Franklin, WH Pacific aviation engineer James Kirby, CSI, and Prime Plex.
Additional information and technical data on CarbonSeal-FR and other AROS based technologies can be found at www.coepolymer.com .