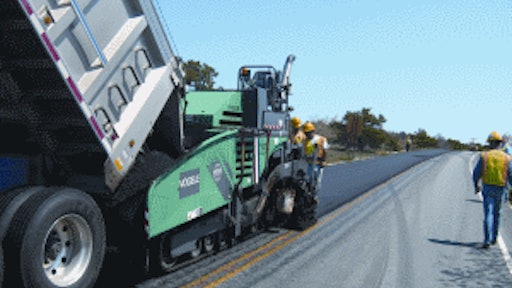 In 2007 Aggregate Industries developed an innovative new product designed to use warm mix technology by incorporating Sasobit wax in their liquid asphalt binders that would enable the company to enter the pavement maintenance market, which primarily consists of products such as chip seal, micro-pavements, and slurry seals which typically do not yield any structural improvement to the existing paved roadway surface.
Thin Lift benefits
Aggregate Industries Thin Lift surfacing solution is a hot mix asphalt surfacing material that was developed in conjunction with a leading university specializing in asphalt technology research.
The product is capable of fulfilling the same applications as chip seal, micro-pavements or slurry seals but does so in a more cost-effective fashion.
In addition, the product can incorporate warm mix technology which affords it some specific benefits unique to this particular product. Those include:
Minimal road preparation prior to installation
Utilization of a polymer modified asphalt binder which ensures good performance at both low and high temperature conditions and greater rut resistance
Quicker opening to traffic, which reduces public inconvenience
Greater integrity then alternative maintenance products currently available as a result of the aggregate composition of the material
The ability to cover greater roadway surface with less material, significantly reducing job costs
Ability to incorporate higher percentages of Recycled Asphalt Pavement (RAP)
Minimal smoke emissions from manufacturing
Reduced emissions and energy costs
The product developed by Aggregate Industries serves as an extremely robust alternative to typical roadway maintenance products and applications where traditional HMA overlays may not be necessary. It is most effective on residential and secondary roadways where moderate to well traveled usage is customary.
Road tested
Aggregate Industries demonstrated the product in Wellesley, MA. The project was the result of a search conducted by Department of Public Works Director Michael Pakstis for an alternative pavement material.
Pakstis' desire for an alternative maintenance product was prompted by residents that were unhappy with the loose stone and rough texture of their roadways that were the result of the chip seals which the town applied as a maintenance treatment.
After consulting with Aggregate Industries, the asphalt producer agreed to demo the product on the busy recycling center access road in Wellesley.
The roadway receives 1,200 residential cars a day and up to 2,400 cars on a weekend in addition to trucks that haul in construction and demolition debris. This traffic pattern made it a perfect roadway to demo the thin lift product.
Aggregate used a 7/8-inch-thick course of the mix, a dense-graded material containing 30% RAP and a proprietary warm-mix formulation. The results of the demonstration validated the product's performance, and it has since been added to the local specifications for asphalt maintenance treatments.
Receiving national attention
Aggregate Industries proved it is willing to stand behind the product when it lobbied the National Park Service and the Federal Highway Administration to re-open the specifications for a major job in Cape Cod. The job, which had been spec'd for 60,000 square yards of slurry seal, was switched to incorporate AI's thin lift product after the company made a value engineering case for substitution.
With the help of Lawrence-Lynch Corp., the project general contractor, the company once again proved their product provided greater value for the cost. Consequently, Aggregate Industries was awarded a contract to supply 3,000+ tons of the thin lift product for the Marconi & Marconi Beach Road project in Wellfleet.
Mike Norton, project manager for Lawrence-Lynch, says placement of the warm mix thin lift on the Marconi & Marconi Beach Road project was similar to working with a hot mix design.
"Basically preparation consisted of some minor milling and crack filling before the surface was swept and tacked prior to placing the thin lift mat," Norton notes. "Because of the thin mat (7/8 inches thick), we were able to achieve compaction by operating our rollers in static mode. And since the mix was a warm mix design, we had plenty of time to achieve density specs operating our rollers in the static mode.
"It was really simple, straightforward paving project where once we completed one lane we were able to open up to traffic shortly after completion and then begin placing the mix on the adjacent lane," Norton adds.
"As for a maintenance application, it really provides a much smoother finish over any existing surface cracks since you're actually putting down an asphalt lift that has aggregate (3/8-inch stone) structural integrity," he continues. "It provides a smoother ride and motorists don't have to worry about loose aggregate (chip seal) hitting their windshields. It was a nice project to work on."
Lawrence-Lynch operates out of its Falmouth, MA headquarters and specializes in roadway construction and paving projects. The company also builds runways for municipally-owned and privately-owned airports in Massachusetts. The company has also paved miles of bicycle paths throughout Cape Cod and on both Martha's Vineyard and Nantucket islands.
Aggregate's lobbying efforts underscores the growing interest in specifying and using new road maintenance products that prove to be more cost effective and deliver greater value to both the contractor and the end user. The Cape Cod thin lift project, for example, required 3,000 tons of warm mix asphalt versus the originally specified 60,000 square yards of slurry seal.
Aggregate Industries and warm mix products
Through the introduction of warm mix asphalt (WMA) technology, Aggregate Industries Northeast Region has been successful in producing asphalt products which are sustainable in a number of ways.
In its truest sense, warm mix technology has enabled the company to produce materials at substantially lower temperatures than normal asphalt, thus significantly lowering the consumption of fossil fuels while simultaneously lowering emissions produced during production of these materials.
In conjunction with these benefits, this technology has enabled the asphalt producer to incorporate higher levels of recycled asphalt pavement (RAP), thus reducing the consumption of virgin materials and the energy used to process them without sacrificing the performance characteristics associated with 100% virgin components.
"We believe strongly in the need to bring innovative products to market that solve the infrastructural needs of the New England market, while promoting increases in efficiency and a reduction in emissions," says Roberto Huet, senior vice ppresident, Northeast Region of Aggregate Industries. "At Aggregate Industries, we believe that responsible companies, working closely with all levels of government can accomplish this goal while improving product quality and reducing costs for the state."