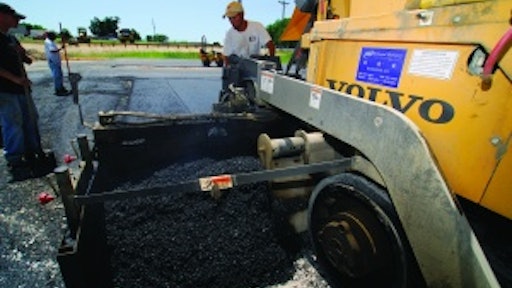 By Gini McKain
Colony Construction Inc. of Powhatan, VA, is in the enviable position of growing about 30% every year for the past eight years. This progression is due to a strong commitment to quality paving work and a determined commitment to become more profitable - all the while maintaining commitments from its early years to follow safety, quality, and service as its guiding principals.
"We had a residential customer base when my father-in-law, Earl Pryor, started and had the company from 1989 to about 2003 when he retired along with his wife, Carol," says Scott Claud, president. "Due to his company's growth, I came on board in 2000 to help with the operations along with my wife, Kathy."
At the time Colony had a PF-150 Blaw-Knox paver, soon adding a PF-161 in 1999, which the contractor still uses today.
"Our work consisted of residential driveways and small commercial businesses or light industrial projects," Claud says. "We also did earthwork construction, which is how the company started. Paul Wright was the first employee and still works with us. Harry King was Earl's right hand man and is now vice-president.
Shift to Larger Jobs
"It was during those ensuing years that we made another commitment to get larger, maintain our quality work that established our reputation, and go into commercial work in a bigger way, as in commercial work and Virginia DOT projects only," he says.
So how does the mid-size asphalt contractor today succeed in keeping up that growth? "It is through a lot of hard work with good people, a whole lot of commitment, preparation to that commitment, and a foundation of quality equipment." He adds that this was done through a banking turmoil and even an escalation in liquid asphalt prices.
"When we made the commitment to go only commercial and then municipal and government work, we knew we needed a bigger machine," Claud says.
So in 2006 they added a Blaw-Knox PF-5510. "The 10-ft. screed allowed us to pave 18 to 20 ft. wide on a lot of new development streets without a center joint for less future maintenance. It also results in a better looking road," he says.
He says the crews could pull that wide pass in new subdivisions by making sure there would be no traffic during that day. Some streets, however, are now much wider, like 36 ft. wide, so two passes were pulled instead of three.
"In the larger commercial parking lots requiring 20,000 tons of base material, it was quicker to pave 18 ft. wide - and the paver was powerful enough yet maneuverable using the tracks - with no problems," he says.
But Claud knows that equipment is only part of what's helped Colony grow.
"We know also that we have grown by showing up the day we are supposed to show up. When you are doing asphalt, you are the last job before the general is paid. Therefore, when we come to pave, we are under the gun. They want it paved, and paved quickly," Claud says.
"It is the same way with school parking lots. They are on time constraints and need the area paved either to get furniture and equipment in before school starts or to get it done before the students start classes."
Robert Owens, foreman, cites the example of a paving job at Dinwiddie High School in Dinwiddie, VA.
"We are putting down 2,500 tons of state 12.5 base asphalt mix in a 2-in. compacted lift. The large parking lot is very chopped up with islands, but production has been around 470 tons a day with 12 trucks (15- to 22-ton capacity) supplying the asphalt from our Powhatan asphalt plant," Owens says.
"Once we were committed to commercial paving, we also started Virginia DOT-scheduled maintenance work," Claud says. "The PF-5510 was great for that, but many times we felt that on some of the secondary roads, which were only 16 to 18 ft. wide at most, or 20 ft. wide with no shoulders and only ditches to the sides, it would be safer to go to an 8-ft. wide screed.
"That is when we went with the Volvo PF4410 paver. The men like it because it has plenty of power with the Tier II engine to push loaded, larger trucks and because of the electrically heated screed. It is environmentally cleaner and safer on the secondary roads, especially when there is an on-coming trash truck or ambulance."
Adding an Asphalt Plant
As Colony Construction was getting more and more work - and larger and larger jobs - it made a huge decision.
"It was during that same period when we realized we needed our own plant because we were so busy during that year, and our customers liked our product," Claud says. "We knew we could do the work, but at times we could not get the asphalt mixes that we wanted on the days when we needed it. We had the machine, the men, and the updated trucks but no asphalt.
As to making sure a company - his and others - keeps growing, Claud offers these suggestions:
Have a good management plan.
Have a good working relationship with a bank (a local bank may have more interest in your business to succeed).
Have better control over every aspect of the business to move forward, keeping that goal in mind.
Buy equipment you think will last without much downtime - which means buying equipment that has good dealer support. Claud says that if you finance your equipment for at least five years, buy a reputable brand that will last with little downtime while you are paying for it. You use it, so you can make those payments.
Finance through the manufacturer. Talk to the dealer about the best method of getting financing (is a lease\purchase plan an option?). "That dealer should know your business as much as you do and help make you successful," Claud says.
Get your own asphalt plant if you can afford it in your future. "It is cheaper to produce your own asphalt than to get it from a supplier," Claud says. "The more you produce, the more money saved."
When times are good, be sure to put some money away for those unforeseen times, for example when liquid asphalt goes up to over $800 a ton and the cost of asphalt skyrockets, or diesel fuel goes up before you can adjust the bids.
Have your books reviewed by a CPA and get pre-qualified by the state. For a smaller contractor to get any kind of state work, at least in the state of Virginia, your books will be reviewed by a CPA.
Keep abreast of what is in the industry, product wise, especially before you go to buy anything. Know about the innovations on machines you will be using - call your dealer and talk to the president and\or service manager to hear how he feels about different models and options. He will explain the benefits of the new features concerning an upgraded machine or the next generational paver.
Network within the industry. Read your association newsletters closely or go online frequently to know where there may be future pitfalls that will affect your business. Read industry trade publications for a review of the latest products or latest trends.
Gini McKain is a freelance writer and photographer specializing in the construction industry.