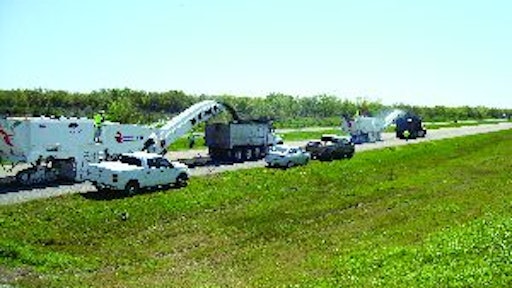 Led by two powerful Roadtec milling machines and a Roadtec SB-2500 material transfer vehicle, a modern asphalt paving train relentlessly made its way along the inside high-speed travel lane of LA Rte. 23. The train did far more, however, than just rehabilitate a portion of the mainline highway as it went. It brought back almost three decades of significant memories.
In 1981, over twenty-seven years ago, Bertrand A. Wilson was a foreman and James Fulton was a screed operator on a paver. Both men were working for Barriere Construction Co. LLC on a new four-mile long highway project in Plaquemines Parish, about 30 miles south of New Orleans.
Now, over two and a half decades later, Wilson and Fulton are back on the same job. As times change, so did their positions. They are still with Barriere, but now Bert Wilson is the division president with the company and Jim Fulton is a project superintendent. One thing remains somewhat similar, however, the quality the company puts into the roads they build, pave, mill and resurface. That remains unchanged and unchallenged.
This essentially was the reason why Barriere was awarded the 1983 National Asphalt Paving Association's prestigious Sheldon G. Hayes award for excellence in roadbuilding and asphalt paving on this project.
One very interesting fact about the project, however, is the cost and quantity differential between the two projects. The original contract with the Louisiana State Highway Department was for $7,098,529 and called for 124,300 tons of asphalt.
The 2008 Barriere contract with the Louisiana Department of Transportation and Development was for $3.5 million and called for only 30,500 tons of hot mix asphalt and had only about a 40-day completion timeline.
The original project called for Barriere to build a completely new four-lane divided highway with two 12-foot-wide mainline travel lanes in each direction separated by a center median strip. This included grading the sand embankment, placing a clay blanket embankment material and putting down 124,000 tons of hot mix asphalt base, binder and wearing surface; a total of 14 inches thick, for the new road.
There was, and still is, an existing two-lane asphalt paved service road (Rte 39), across the bayou, built several hundred feet to the east. The time had come, however, to rehabilitate the surface of the four-lane highway.
Project details
Barriere began the Rte. 23 work by milling off and recycling 1 ½ to 1 3/4 inches of the old asphalt with the Roadtec cold asphalt planers. To do this work, the contractor relied on its new RX-900 Roadtec milling machine plus a new, smaller Roadtec RX-700 that it was evaluating for expansion of the division.
Barriere's Roadtec RX-900 is a three-track, 950-hp cold planer with the capability to cut a maximum of 14 inches deep and as wide as 12.5 feet. The RX-700 that the company was evaluating has a 700-hp motor and can cut 14 inches deep and 7.2 feet wide.
Milling foreman Jeff Heitkemper said that with the two Roadtec machines working together, they were able to mill one full 12-foot-wide lane length a day. The depth of the cut averaged 1.5 inches deep with a little more where a slight change in slope of .025 percent entered the equation.
The specifications divided the millings 25/75 percent to the state-contractor split. Barriere used some of its millings as base course material down near the town of Venice in the hurricane-ravaged areas. The remainder was trucked back to the asphalt plant site for recycling.
A Broce MK-1 transfer sweeper with conveyor and a separate dump truck immediately followed two Broce CR-350 brooms that were working in a stepped overlay formation in order to sweep the newly milled surface clean of all remaining millings and other debris.
The transfer sweeper is the first of its kind and keeps up with the milling train easily while being able to load up to one yard per minute if material is provided. The MK-1 leaves the milled asphalt clean for the tack truck to follow behind it. The MK-1 can load to a height of 10 feet 6 inches straight ahead or to either side. This was immediately in front of the Roadtec SB-2500C Shuttle Buggy and a Cat AP-1055D laydown machine.
The sweeping with the Broce machines before the actual asphalt placement was an important step to assure a clean, dry roadway for the new asphalt to bond with the milled surface. These are just several of the steps taken by Barriere crews to help produce maximum roadway longevity.
The Roadtec Shuttle Buggy SB-2500C MTV's function was to assure continuous paving in order to reduce any stop-start paver impact motions that could possibly reduce available financial incentives awarded to Barriere based on the smoothness and rideability of the final wearing surface.
New surface
The overall mainline travel lanes were resurfaced 3 1/2 inches deep in two lifts. Sixteen thousand tons of Level 2 Superpave binder course was put down in a single 2.5 inch thick pass for the two lanes on a .025 percent slope. No shoulders were resurfaced in this phase.
The 12,200 tons of Level 2 mainline Superpave mix was put down in a single, 1.5-inch thick lift. Both the 10 foot outside and 4-foot-wide inside shoulders were resurfaced at this time.
Compaction was accomplished using four Cat rollers, most working in the vibratory mode. The exception was a Cat pneumatic rubber-tired intermediate roller.
About the only unforeseen glitch in the operation came about when the Army Corps of Engineers shut down the Mississippi River to all traffic. Flooding in the mid-section of the nation caused a slight delay in the delivery of the necessary aggregate material. With the exception of this unavoidable delay, Barriere asphalt crews were able to average 2,500 tons of mix laydown per day.
What this project proved beyond a doubt is that, properly prepared, paved and compacted hot mix asphalt, as put down by a skilled contractor, like Barriere Construction Co., is one of the best available values in road building materials. Most civil engineers and economist will agree that it is easy to handle, has exceptional longevity and is very cost effective, especially on a unit cost basis.