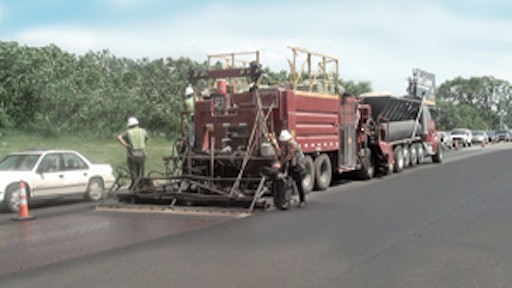 Seven years after initiating a formalized road maintenance/preservation program, the Kent County Road Commission (KCRC) adopted a "Long-Range Strategic Investment Plan for Primary Roads" in 2006 in order to establish a vision for the primary road system that will guide investment decisions through 2016, according to Steven Warren, KCRC's deputy director.
"This comprehensive Asset Management Program helps to coordinate KCRC's major improvement projects with the development plans of townships, cities and villages within Kent County (which includes Grand Rapids, MI), as well as with improvement plans of adjoining county road commissions and the Michigan Department of Transportation," Warren states.
KCRC's long-range vision is to:
Achieve 70 percent of the road system in "good" condition by 2016 through preservation and reconstruction activities,
Maintain good bridge conditions through annual inspection and timely investment in repairs, and
Expand roadway capacity to reduce congestion along several corridors and intersections to maintain safety and to accommodate the county's growing population and expanding economy.
KCRC's long-range plan calls for 50 to 60 miles of annual preventive maintenance improvements throughout the road network to help the agency achieve its "good" condition objective.
The KCRC's Maintenance Division is responsible for maintaining all state highways in Kent County under a contract with the Michigan Department of Transportation. The county's Maintenance Division is also responsible for maintaining all county primary roads, with major reconstruction, overlay and bridge replacement projects handled through the Road Commission's Engineering Division and contracted to private companies; and smaller projects executed by the Maintenance Division. The Maintenance Division is also responsible for maintaining all local roads throughout the county. In total, KCRC is responsible for maintaining a safe, efficient and convenient system of county roads, consisting of 1,968 miles that are classified as either primary or local roads. The Long-Range Strategic Investment Plan only covers the 645 miles of primary roads in Kent County.
These are the main routes of travel and are generally located outside the major cities, but do not include Interstate Freeways or State Highways. KCRC shares responsibility with townships for funding construction and maintenance activities of the 1,323 miles of designated local roads.
Preservation key
KCRC's priority is to preserve and prolong the service life of the existing roadway system. This is accomplished by making improvements that address surface deterioration before it becomes too severe and the road base is damaged. Improvements consist of two general types:
Surface Treatments encompass a variety of activities to help prevent moisture from penetrating the road subsurface layers. This includes sealing cracks in the pavement with a black rubberized material. Surface treatments also include applying a thin new layer of material over the entire roadway surface to seal out moisture, cover patches, and provide a new wearing surface.
Resurfacing is generally for higher volume roads and where the surface has become more severely distressed. In many cases, the existing surface is milled off or pulverized and compacted, prior to the placement of a new hot-mix asphalt overlay.
Through KCRC's Pavement Management Program, annual assessments of existing and projected road surface conditions are made using a MicroPAVER-based data collection system to assign a Pavement Condition Index value in determining the appropriate type and timing of cost-effective repairs. The Pavement Management Program also enables KCRC to project future road conditions in order to analyze alternative investment scenarios that will help achieve its system condition goals.
In 2005, just six years after KCRC implemented its pavement preservation program, 62 percent of the primary road network was rated good or maintain condition, 28 percent in fair or preserve condition and 10 percent in poor or reconstruct condition.
During that same period, 45 cents out of every dollar spent by KCRC went to expanding the network, while 20 cents went to reconstructing existing roads, and 35 cents went to preserving and maintaining roads in good condition. Over the next 10 years, KCRC plans to increase funds for preservation projects (49 cents out of every dollar) to achieve a network with 70 percent of all primary roads in good condition. That will reduce the county's reconstruction needs to less than five percent.
Studies show that for every dollar spent on maintaining and preserving roads in good to fair condition the repair cost increases four to five times if the road drops to a poor condition rating. From 2002 through 2005, KCRC invested $202,000 to chip seal 362 primary and local miles within the network, and $262,000 to micro-surface 76.5 miles of primary and local roads.
During the same period, Kent County spent $72,500 per mile to apply an "ultra thin" hot-mix asphalt overlay to 10.5 miles of primary and local roads. The investment in preservation projects will continue to increase over the next 10 years in order to achieve and maintain a higher percentage of "good condition" roadways throughout KCRC's network.
Chip seal, micro-surfacing key preservation treatments
Chip seal contractor C and C Construction of Montgomery, MI was awarded the county's chip seal work for 2005, 2006 and 2007. Owner Chris Ruhl says his company has been placing approximately 1.3 million square yards of chip seal each year on county and residential roadways.
"The county purchases the material and stages it for the projects, and does a great job prepping the roads before we come in to do the work," Ruhl says. "We have two Etnyre spreaders, a couple of Etnyre distributor trucks, a 10,000-gallon stationary tanker, several rubber-tired rollers, and we just purchased a new 20-foot Bearcat spreader for next season.
With a crew of 15, including Ruhl, C and C handles the entire chip seal operation from applying the emulsion, spreading the natural stone, rolling the stone into the emulsion, trucking, traffic control and applying temporary lane markings.
"We work primarily in Southwest Michigan and Kent County has the most progressive road maintenance program in place compared to the other agencies we service," Ruhl says. "They have a pretty aggressive goal in achieving and maintaining a network of good roads, and we're happy to part of that plan."
As for micro-surfacing work, Ohio-based Terry Asphalt Materials Inc., a division of Barrett Industries Corporation, has been Kent County's go-to contractor for the past decade.
In the mid-1990s, Kent County wanted to use a preservation treatment that provided a smoother surface and would hold up to snow plows. The county uses micro-surfacing treatments for:
Rut-filling — Utilizing a rut box that re-profiles each individual rut when the rut depth exceeds ½ inch, the micro-surfacing application requires a 3FA aggregate and special mix design.
Two-course application — This application utilizes a conventional laydown box with a steel screed to level or scratch the first course to correct minor pavement defects, and the typical spread rate is 12 to 16 pounds per square yard. The surface course is then applied at a rate of 18 to 20 pounds per square yard.
Single-course application — This application is typically used on pavements that have a good cross section and ride, and the application works well over chip-seal roads, with the typical spread rate of 18 to 21 pounds per square yard. Terry Asphalt Materials utilizes Ontario Trap Rock to help the application retain a dark gray color.
Black Mat surface course — This treatment is a hybrid of micro-surfacing that utilizes Ontario Trap Rock and a mix design that is much softer than a conventional micro-surfacing mix design, and it provides a smoother and quieter pavement surface. Terry Asphalt has been applying this surface treatment in residential areas at a typical application rate of 17 to 22 pounds per square yard.
"We're one of the largest, more reputable asphalt emulsion producers in the Michigan/Ohio area and we not only perform Kent County's micro-surfacing work, but we also supply the emulsion they use on their chip seal projects," says Rusty Terry, who's in charge of Michigan sales and technical support for Terry Materials. "We've been applying approximately 400,000 square yards of slurry annually using a continuous micro-surfacing machine on large road projects and a (Bergkamp) truck-mounted micro-paver on smaller residential projects.
"In the Grand Rapids area alone, we've applied approximately three-quarters of million square yards of surface material, and 550,000 square yards of that has been our patented Black Mat emulsion," Terry adds. "The Black Mat really provides a nice finish, especially in residential areas. It resists scuffing and residents like the dark grey color.
"Kent County Road Commission and Terry Asphalt Materials have worked together for many years to utilize the most cost-effective systems and materials for each pavement condition," Terry adds. "Kent County has done an exceptional job of preparing the pavements prior to applying chip seal and micro-surfacing treatments. These two systems combined are maximizing taxpayer dollars by extending the life of the pavements for a nominal cost compared to other paving systems."