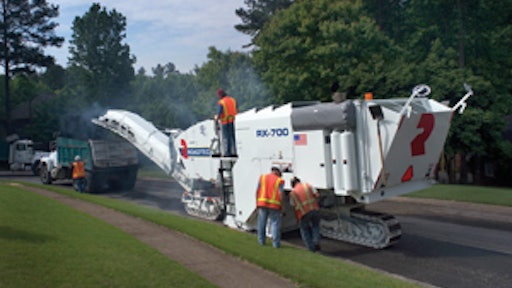 Roadtec Milling Machines
The Roadtec milling machine line includes the RX-500, RX-700 and RX-900.
500 to 950 hp
Half-lane to full-lane milling widths
Cut widths range from 2 feet to 13 feet 6 inches
Maximum cut depth is 14 inches
Three- or four-track versions
Wirtgen W 35 DC Cold Mill
The Wirtgen W 35 DC small milling machine is used for cold planing small areas for the partial rehabilitation of pavement, milling around manhole covers, and placing and removing road markings.
14-inch cutting width and 4.3-inch cutting depth
82-fpm operating speed
10,031-pound operating weight
57-hp engine
Terex/CMI PR600 Cold Planers
With a 600-hp diesel engine and operating weights approaching 91,200 pounds, the three- and four-track Terex/CMI PR600 cold planers from Terex Roadbuilding are designed for high-production milling and rehabilitation of asphalt surfaces.
Center-mounted cutter design
10-degree tapered front and rear moldboard design
48-inch-diameter cutter with 177 tungsten carbide teeth
Wirtgen WR 2000
The WR 2000 midsized stabilizer/reclaimer cuts grades or asphalt roadways up to 20 inches deep at a 79-inch cutting width.
400-hp engine
Operating weight of 48,060 pounds
Stabilizes with both emulsion and foamed asphalt; can be equipped with a high capacity water pump for dry soil conditions and cement or lime stabilization projects
Caterpillar PM-200
Caterpillar's PM-200 features a 575-hp Cat C18 engine with ACERT technology.
79-inch rotor width
12.5-inch rotor depth
68,122-pound operating weight
Load Sensing Propel System
Caterpillar PM-201
Caterpillar's PM-201 features a 650-hp Cat C18 engine with ACERT technology.
83-inch rotor width
12-inch rotor depth
41,310-pound operating weight
Load Sensing Propel System
Dynapac PL2000 S
The PL2000 S cold planer from Dynapac features an 80-inch cutting width.
Water spraying system keeps the drum cool, reduces dust levels and cleans the bits
Four control panels on the left and right sides make it possible to monitor and control the planing operation from ground level as well as from the operator's platform
Electronic feedback control system controls the cutting depth allowing unit to compensate for uneven areas of ground and to comply with preset nominal values
Bomag Recycler/Stabilizers
The rear-wheel-drive MPH362-2 and four-wheel-drive MPH364-2 recycler/stabilizers now offer an electronically controlled, 360-hp Cummins QSM11 six-cylinder, water-cooled Tier III diesel engine.
Double-reduction planetary rear drive system propelled by a pair of axial piston, variable-displacement motors
Automatic Power Adjustment System
Both models available in three rotor configurations with cutting depths from 12 to 21 inches
Terex/CMI RS350 Reclaimer/Stabilizer
The Terex/CMI RS350 reclaimer/stabilizer from Terex Roadbuilding uses a single drum for both reclamation and soil stabilization projects.
Does not require permits for transport
Standard, four-wheel hydrostatic drive
Rear-mounted rotor design
Two cutter speeds, 100 and 150 rpm
350-hp Cummins turbocharged diesel engine
Caterpillar RM-300 Rotary Mixer
The RM-300 is capable of both full depth reclamation and soil stabilization.
Cat C11 engine with ACERT Technology
Optional features include a sliding operator's station, pressurized cab, automatic depth control, four mode steering, rear wheel-assist and two redesigned rotors with increased cutting depth capacity
Rear wheel-assist allows the rear wheels to be driven by a separate hydraulic pump to provide increased tractive effort
Caterpillar RM-500
The new RM-500 provides high productivity in both asphalt reclamation and soil stabilization applications where the mixing depth does not exceed 20 inches.
Three rotor options
Can be configured for different applications and depth specifications
Blacklidge LD-7
LD-7 from Blacklidge is designed to lock down loose rock.
Nontracking and quick drying
Black appearance makes striping more visible
Helps stop cracking
Can be used as tack, prime or curing seal
Transpo Bondade
Transpo's Bondade asphalt binder additive is designed to enhance durability on hot and cold patch repairs, dry or damp holes, pavement overlays or cold joint emergency repairs.
Can be sprayed or brushed on
Contains no VOCs
Non-toxic, non-flammable and non-combustible
Blastrac 2-4800DH Shot Blaster
For highways, streets and briges and other large asphalt surfaces, the Blastrac 2-4800DH shot blaster can remove striping and markings on roadways, clean tire rubber, residue and surface contamination and improve skid resistance.
Travel speeds up to 350 fpm
Twin centrifugal blast wheels with a 48-inch blast pattern
Blast head adjusts side-to-side for blasting at any position within the machine width or within 6 inches of an obstruction
350-hp diesel engine
Onboard 3,500-cfm dust collector
PHCo Patch King
The Patch King asphalt patchers from Process Heating Co. heat mix to a precise temperature during the night.
Rotary auger model PK-40HSD features reversible rotary conveyor that is driven by a hydraulic motor and supported by heavy-duty ball bearings
Mix/anti-bridging device features separate hydraulic drive and controls
Wear parts, including auger and trough, are easily replaceable
Chemical Resource DOT-Pothole Filler
The DOT-Pothole Filler from Chemical Resource is a water-based, two-part solution packaged in five-gallon pails.
Two parts are mixed together for 15 to 20 seconds and poured into the pothole
Sets in 15 to 20 minutes and is ready for traffic
One person to prepare, pour and watch it set
Blacklidge Trackless Tack
Blacklidge's Trackless polymer modified asphalt emulsion tack coat is designed to dry quickly to a non-tracking hard surface.
Can also be used as a prime or curing seal
Improved density with less compactive effort
Pump and store emulsion at ambient temperature
Ray-Tech RC8000
Ray-Tech's RC8000 reclaims, holds, and stores plant mix and previously used asphalt at proper working temperatures.
Manufactured for year-round road maintenance and patching programs
4-ton infrared combination reclaimer and storage unit
Ray-Tech RC16000D
Ray-Tech's RC16000D self-contained 8-ton infrared reclaimer and storage unit offers hydraulic loading and discharging doors.
Truck-mounted dumping unit
Reclaims, holds and stores plant mix and previously used asphalt at working temperatures for extended intervals
Asphalt Reheat 4x4 Heater
The 4x4 Heater from Asphalt Reheat Systems weighs 175 pounds.
Three hours of operation on 20-pound fuel tank
Reheat time is under five minutes
Split channel version gives option to heat half the box
For mid-size patching and utility repairs
HDE Rubber-Tire Roller Heater
Heat Design Equipment's rubber-tire roller heater is designed to heat the tires without burning.
High intensity infrared heater
Infrared sensor to turn heaters off when they have reached the desired temperature
For use in cold temperatures and with polymer modified asphalt
VSS Macropaver 12B
The VSS Macropaver 12B features outputs of up to 4 tons per minute.
Hydraulic, fail-safe automatic sequencing
Magna gun-barrel designed double-shaft pugmill
Centralized monitoring systems to easily visualize all materials information
Ray-Tech Infrared Total Maintenance Vehicle
The Total Maintenance Vehicle is designed for making complete, permanent asphalt pavement repairs.
Combination reclaimer and pavement heater can be mounted to an 18,000-pound GVW truck chassis and up
Reclaimer available in 2-, 4- or 6-ton configuration
Rear-mounted infrared pavement heater is a dual system capable of heating an 8' x 6' area without burning or damaging the asphalt
DuraPatcher Road Repair Machine
The DuraPatcher pothole and road repair machine from Duraco Industries puts out emulsion and rock combination for permanent repairs in any weather condition.
Operator friendly
Repairs streets and highways
Injection-type repair
Etnyre Chipsreaders
Etnyre's FWD and QUAD chipspreaders are designed to spread aggregate in the chip seal process.
Computer-controlled application rates
Front-wheel or four-wheel drive
Fixed spread hoppers from 10 to 15 feet
148- to 230-hp engines
SealMaster Pavement Maintenance Products
SealMaster offers numerous types of pavement sealers for specific applications, along with pavement repair products.
Complete line of pavement maintenance equipment such as squeegee machines, heated asphalt distributors, CrackPro melters and more
SGA Global Diamond Shield Fortifier
SGA Global's Diamond Shield Fortifier sealcoat additive cures as it dries.
Dries in 2 to 4 hours, even in high humidity and lower temperatures
Eliminates power steering marks, reduces sand roll out, and makes sealer dry ultra black