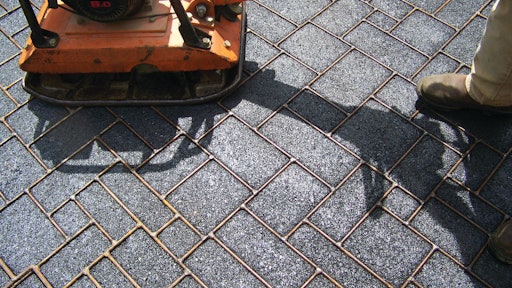 Kimber Liller, owner of Kimicah, and her husband Micah are very familiar with one service that many contractors have yet to add to their business — stamped asphalt. Stamped asphalt allows contractors to create patterns and designs on their clients' driveways, patios, and walkways using a, infrared heater and wire templates. The unique technique that Kimber says many clients confuse with stamped concrete continues to be a growing part of their business.
Kimicah, located in Cumberland, MD, offers paving and pavement maintenance including repair of cracks, potholes, and depressions. Nearly 80% of revenue comes from the paving and maintenance services while 20% comes from snow removal and excavating. Stamped asphalt, which Kimber terms "hot print," make up 30% of the asphalt and paving revenue.
The Liller's first became involved in stamped asphalt around 1998 offering it to both commercial and residential clients. They left the business but returned to asphalt paving, immediately purchasing everything they needed, including a Thermotrack infrared unit, to offer stamped asphalt as a value-added option to ther paving and repair work.
Low Overhead Costs, High Profitability
Initially, Kimber was drawn to several aspects of stamped asphalt. "There is more profit in it because when you're stamping blacktop there is a lot less overhead," she says. "The technology has come so far. I have the flexibility to go in and reheat a driveway, up to eight years old, versus bringing in new blacktop. We are saving money, they are saving money, and I don't have the overhead of the blacktop."
She says that another benefit is that most contractors already have most of the equipment needed to begin. When starting to provide stamped asphalt, most contractors will only need to purchase the templates and an infrared heater. They also need to purchase a reversible vibratory plate compactor. "After you purchase the reversible vibro-plates, the print avenue is a wonderful way to go based on someone having asphalt knowledge because there is less overhead costs," Kimber says.
Along with the benefits, contractors can expand their customization of services for clients including several designs and color options. Kimicah has pattern selections including the compass rose, offset brick, flagstone, number block, a circle, and an arch. "What is nice about the patterns themselves is that we are able to do patios and sidewalks, it's not just limited to driveways and parking lots," Kimber says. "There is a wide variety of patterns you can mix and match. If you want to do an off-stone pattern you have the flexibility to do a boarder along the sides in brick. It's custom made for the individual."
Kimber leaves stamped asphalt literature with every client. As a result, Kimicah has gone back to several properties a few years later to complete stamped asphalt.
Automatic Upgrade
Kimicah has seen an increase in business since offering this service. "It's a new division to our existing business," Kimber says. "A lot of times we're doing a job that is regular asphalt, and the print is so new people don't understand it. The incentive for me is that I can throw in a free circle."
The circle is free to the owner, giving them an example of the stamped asphalt, and it provides free advertising to Kimicah. Kimber has received many calls from prospective clients who saw such applications and were interested in the technique.
Along with offering a free test application to her clients, Kimber often completes two jobsite estimates. "I will ask if they would like two estimates, one for the hot print and one for the regular paving," Kimber says. "The print is more, so what I find is that people like to have estimates both ways."
Kimber also offers clients another alternative — using a little bit of both techniques. "You get into a lot of money if someone wants the whole driveway stamped," she says. "If you add accents, you find it's more affordable for someone. Plus, they have the driveway that stands out and is different than someone else." In these situations, Kimber offers clients a circle, border, or number block to help customize their asphalt.
Ultimately, Kimber and her husband enjoy the unique look that stamped paving offers clients. "We are the type of business that takes a lot of pride in our work," she says. "We enjoy doing something different and look at it as a form of artwork."
Companies in this article