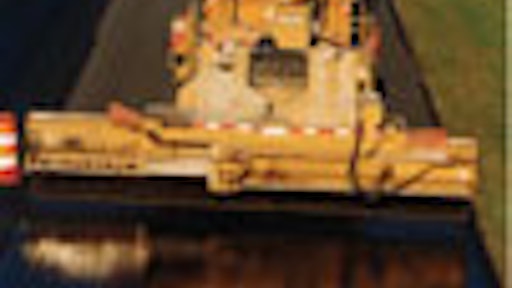 What used to be a waste by-product of coal-fired boilers at power plants and paper mills has now turned into a viable road preservation product on many state and county roads in Wisconsin.
Fahrner Asphalt Sealers Inc., based in Plover, WI, applied its first boiler slag sealcoating in 1993, and the product has been gaining interest as a viable alternative to conventional aggregate chip sealing ever since. Fahrner specializes in sealcoating, providing customers in the Upper Midwest with services that include coal tar emulsion and chip sealcoating, slurry sealcoating, microsurfacing, rubberized crack and joint sealing, infrared patching, tennis court and running track resurfacing, parking lot and road striping, asphalt milling, cold mix paving, utility cut patching, and street/parking lot sweeping. The company has branch offices in Waunakee and Kaukauna, WI; Gwinn, MI; and Rockford and Springfield, IL.
According to Jerry Fahrner, president of Fahrner Asphalt Sealers, the company generates 40 percent of its revenue through chip seal work, with 35 percent of that work involving the application of boiler slag aggregate. The company employs between 170 and 190 associates during peak construction, with most of its chip seal work concentrated in Wisconsin, Michigan and Iowa. Fahrner maintains a fleet of 150 pieces of equipment (including trucks); with Etnyre chip spreaders, Hypac rollers and Broce sweepers used to support the four road crews in its chip seal operations.
'The slag chip seal portion of our business has really started to grow since 2000,' Fahrner says 'We continue building confidence with the government agencies who have tried the product and we expect to do more business with them, as well as introduce the product to others. When they experience a reduction in windshield claims and see how it also can reduce their winter maintenance costs, they begin to appreciate the value of the product.'
Marketing a solution
Fahrner has been aggressively marketing its boiler slag sealcoating solution for the past 10 years, but it's only been in the past three to four years that this coal by-product has really gained wider acceptance by road agencies the company serves. Tom Johndro, manager of Fahrner's Chip Seal Division, Michael Buss, who's in charge of marketing highway preventive maintenance solutions, and John Fink, who supervises chip seal projects for the company, recently talked about the success of Fahrner's boiler slag chip seal efforts and the education process required to convince prospective customers of its merits.
The three have been actively promoting the solution throughout the 72 counties of Wisconsin, as well as Michigan, Illinois and Iowa.
Boiler slag is a coarse, granular, incombustible by-product that is collected from the bottom of furnaces that burn coal for the generation of steam for the production of electricity. It's produced in wet bottom boilers and consists of uniformly-sized hard, durable, glassy particles. Boiler slag has been used mainly in hot mix wearing surfaces, where it has been found to enhance skid resistance, and to a lesser extent, it's beginning to find its way into asphalt surface treatments as a chip seal application. Boiler slag chips generally range in size from No. 4 to No. 40 sieve, and its permanent black color, which is not affected by the oxidizing effects of sun and weather, enhances its value as an aggregate used in chip seal applications. The black color provides a good contrast to lane striping and it also aids in the melting of snow during the winter because of its heat absorption capabilities.
Smaller chip, less damage
The primary benefit that originally attracted road agencies to the boiler slag chip seal application was a reduction in the number of cracked windshield claims motorists were filing against county highway departments. With the slag crushed at 3/8 in. minus and 80 percent of it smaller than 1/4 in., its lighter weight reduces its airborne damage to traveling motorists.
Fahrner convinced townships and county highway departments to try using the slag on designated projects to evaluate whether or not it could reduce the number of damage claims being filed. One particular Wisconsin DOT district reported a high number of windshield claims filed by motorists traveling on conventional limestone chip sealed roads. Over a three-year period, the district contracted to have 360 miles of slag chip seal applied and that resulted in a dramatic drop in windshield claims. In fact, the district reported no windshield claims filed in 2003.
It also reported higher pavement temperatures during the winter, which increased safety and required less salt and plowing to maintain safe driving conditions and lower operating costs to maintain the roads treated with the slag application.
With the district projecting a 25-year life cycle of the asphalt roads it maintains, chip seal preventive maintenance is generally scheduled six to eight years following new construction and again 14 to 16 years following new construction. Of all the roads maintained with a chip sealcoating, the district reports minimal maintenance with road surfaces treated with the boiler slag chip seal.
Fahrner, in fact, is applying approximately 150 miles of the boiler slag chip seal treatment annually, using a CRS-2P polymer modified emulsion, which is a quick-curing emulsion, allowing crews to complete the task with minimal disruption to motorists.
A recent project, County Trunk B in Marquette County, is representative of a typical Fahrner boiler slag chip seal job. The 3.47-mile, 22-foot-wide, two-lane road was in fair condition, requiring some wedge patching and crack sealing before one of Fahrner's chip seal crews could apply the preservation treatment. It required 3,700 gallons of emulsion binder and 110 tons of boiler slag chips per mile (22-feet wide) to seal the road. The chip seal portion of the project was completed in half a day at a cost of $9,000 per mile.
Another project, State Hwy. 58, south of Ithaca, WI to the intersection of State Hwy. 14, also proved to be an ideal candidate for the chip seal product.
According to Fink, the 28-foot-wide four-mile stretch of road was structurally sound, with no signs of rutting or excessive alligator cracking. The Richland County Highway Department took care of the prep work of crack sealing, with Fahrner handling the general contract which included traffic control, temporary pavement marking, chip seal application, post brooming, and striping (subcontracted).
Although the cost of the boiler slag chip seal treatment is approximately 15 percent higher (due mainly to the added cost of the polymer modified emulsion used) than traditional limestone chip seal applications, the benefits to road agencies more than covers the added expense through lower winter maintenance costs and the reduction of windshield claims.
Promoting those benefits alone are enough to persuade prospective customers to try the product, but there's added benefits. Traditional limestone aggregate chip seal applications require 150 to 160 tons of aggregate and 4,800 gallons of emulsion per an average two-lane mile, while the boiler slag process only uses 110 tons of aggregate and 3,700 gallons of emulsion to cover the same surface. The smaller size of the slag aggregate allows for a thinner coating, requiring less emulsion binder to bind the aggregate to the pavement surface. The smaller aggregate also forms a tighter configuration of the stones when spread over the emulsion binder, and more contact with the binder.
'The future potential of this preservation treatment will grow as more agencies have a chance to experience the benefits it has to offer,' notes Johndro. 'We're not only recycling a product that was once considered waste and had to be disposed of accordingly, but we're also delivering a preservation treatment that offers additional benefits beyond simply extending the life cycle of an asphalt road surface.'
Companies in this article