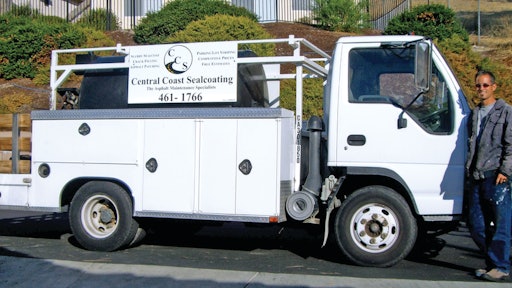 Name: Michael Ahart
Company: Central Coast Sealcoating
Position: Owner/Ooperator
Located: Templeton, CA
Central Coast Sealcoating Facebook Page and website
What services do you offer?
We offer all aspects of asphalt maintenance: parking lot, sealcoating, asphalt patching, crack filling and parking lot striping
How many employees do you have?
I work every job by myself, and I have one part-time employee.
What type of customers do you serve?
We serve any customer with an asphalt repair need. We service both residential and commercial.
What is your company's service area?
We are on the Central Coast of California. We service anywhere in the 805 area code, which is from San Miguel to Lompoc.
What manufacturer's equipment do you use?
We use Asphalt Coatings Engineers for our sealcoat and crack sealer
Tell us about a recent job?
We recently did a Lucury Condo sealcoat and re-stripe job. It required two coats of sealcoat on the entire parking lot, which was approximately 350,000 sq. ft. with 300 parking stalls. We finished this job in 4 days. The temperature topped out at 101 degrees all 4 days which made it more difficult.
How did you begin working in this industry?
I got started in this business when a friend wanted me to be co-owner with him. After we had jobs scheduled, he decided it wasn't for him. I enjoyed the work, so I began running the company on my own. I decided on Central Coast Sealcoating because the name says it all; my services and my service area.
What motivated you to create a Facebook page?
I have had a Facebook page for one year now. I created one because any chance I have to advertise, I take it!
What do you love most about your job?
I love being outside every day. I have also met extremely interesting people and made great friends by doing my own estimates.
Interested in being next month's Featured Facebook Contractor? Go to Pavement's Facebook page, like us, and send Assistant Editor Kimberley Schmitt an email.