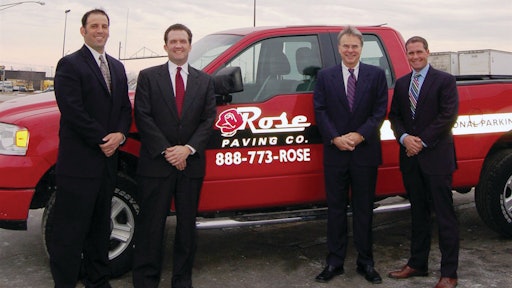 Name:  Alan Rose
Company: Rose Paving Company
Position: Founder and CEO
Location: Bridgeview, IL  
Rose Paving Company's Facebook Page and Website 
What services do you offer?
Our services include: asphalt, concrete, sealcoating, cracksealing, lot marking, storm basin repair and installation, green paving solutions, and reconstruction services.
How many employees do you have?
132
What type of customers do you serve?
Retail, business/consumer, healthcare, homeowner associations, hotels, restaurants, real estate, religious institutions, and schools/universities.
What is your company's service area?
Nationwide
What manufacturer's equipment do you use?
International (trucks), Ford (fleets), Mustang (Skid Steers), Dynapac (rollers), Crafco (crackseal machines), Interstate (trailers), Graco Line Lazer (lot marking equipment)
Can you tell me about a recent job? (Who was it for? How big was it? How long did it take? Did you have to do anything different to complete it?)
Jobsite Location: Parking lots D & E at U.S. Cellular Field (Home of the Chicago White Sox) in Chicago, IL
Date: July 2011
Project Scope: 420,000 total square feet of asphalt resurfacing with underlayment fabric and lot marking.  There was significant wear and tear on these lots caused by high traffic volume.  There were also significant drainage issues.
Duration of Project: Based on the scope of work, this project spanned the course of 5 days.
Procedure: This parking lot rehabilitation kicked off with resurfacing – in which prepping, edge milling and installation of underlayment fabric began on days 1 and 2 for both lots.  Asphalt resurfacing was the best and most cost-effective structural repair for these lots.  Prior to milling, prep work included sweeping and cleaning the parking lot of dirt and debris.  Next, our team applied a tack coat primer and performed transitional milling for a smooth surface.  After milling was complete, hot mix bituminous asphalt was installed and compacted with a multi-ton vibratory roller on days 3 through 5.  Fresh lot marking finished off the project.  The new installation has successfully remedied the drainage areas on both of these large parking lots.
How did you begin working in this industry? How did you come up with the company name?
In 1969 my brother, Mike Rose, formed a small striping business located in the south suburbs of Chicago.  Shortly thereafter, I joined him.
In 1974 I took over the business and formally established Rose Sealcoating Company (the company name changed again in 1980 to Rose Paving & Sealcoating before becoming Rose Paving Company in the mid-90's).  I chose to name the business after my family because my father, also in construction, was (and continues to be) well-known in the area.  I then began investing in new equipment and additional employees in order to provide a wide-range of maintenance services including sealcoating (added in 1977), concrete repair (added in 1980), and cracksealing (added in 1983).
How long have you had a Facebook page? What motivated you to create one?
We have had a Facebook page since February 2011.  With social media being such an important part of everyone's lives, we wanted to be there to stay in touch with our customers, gain exposure for our company and our branch offices, and keep everyone informed about the new and exciting ventures in which Rose Paving is involved.
What do you love most about your job?
I have had the opportunity to pave, sealcoat, study, and teach for more than 36 years.  I immensely enjoy helping run this company with my 3 partners.  I take pride in refining the training/educational department at Rose Paving, and expanding the business through additional branch locations.
Interested in being next month's Featured Facebook Contractor? Go to Pavement's Facebook page, like us, and send Assistant Editor Kimberley Schmitt an email.