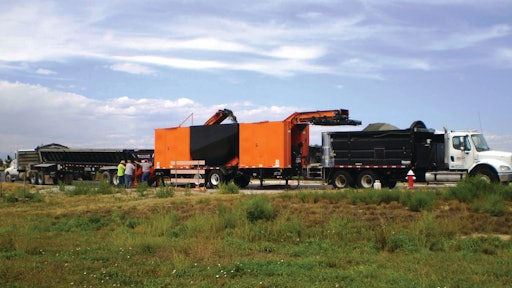 Identifying material stockpile locations is often a brutal and annoying task for slurry seal and micro surfacing contractors. Ben Vagher, president of A-1 Chipseal, and his chip sealing, slurry seal and micro surfacing company agrees.
Working with a manufacturer of slurry seal and micro surfacing equipment, Vagher has found a solution to his problem: a static on-site stockpile that can be easily moved from one jobsite to the next. This on-site stockpile eliminated the headache of finding a stockpile location and the coordination required to keep it cost-effectively running and safe, while reducing its negative environmental impact.
Typical stockpile-management process
Vagher outlined the normal process his crew goes through and some of the normal difficulties they face when locating off-site stockpiles. A-1 Chipseal has three to four people working on the logistics of finding and feeding these stockpiles at all times.
The first challenge is to find a location to stage material that is as close as possible to the jobsite. In some cases, the cities and counties work with the contractor to locate stockpiles. In others, the contractor is forced to pay for the use of the location. Some cities also require protection, such as fencing, around the stockpile.
Once a stockpile location is found, a nearby water source, often a hydrant, must also be located.
Up to a week ahead of time, A-1 Chipseal starts bringing in the initial load of aggregate material. Two or three days ahead, the initial asphalt emulsion supply is brought in. The day the job begins, a wheel loader and driver are brought in to load the truck-mounted pavers at the stockpile.
Before paving starts, the government entity tests the material to ensure it meets specification.
"Finding the actual stockpile location is the hardest," says Vagher. "The larger the city, the fewer the choices often are. We try and find hard surfaces so the material doesn't get contaminated with dirt or whatever the surface consists of. We prefer to use two slurry seal or micro surfacing pavers for each job, but in many cases the stockpile location we find is so far away that we have to employ three or four trucks. In some cases, we have to get an overweight permit so we can haul more. Neither option is obviously cost effective."
Most stockpile sizes don't allow you to bring all of the aggregate and asphalt emulsion in at once, so the logistics of material coming in as the job goes on must be managed tightly so there is not an abundance or shortage of material.
Depending on how far the stockpile location is from the jobsite, the truck-mounted pavers can act as haul trucks for more than 70 percent of the job. So, the speed of this paver replenishment process is crucial. If the material isn't loaded fast enough so the paver can get back to work quickly, a third paver may be required to keep production and profitability high.
New idea comes to fruition
Knowing he wanted to end the annoyance of finding stockpiles and then the logistical pitfalls once you find them, Vagher had a casual conversation with Bergkamp Inc. President Scott Bergkamp to see what could be done to solve the problem. Bergkamp had already put the engineering in motion for an on-site stockpile due to its own industry research, so Vagher's ideas helped move it even further along, and Bergkamp's first Mobile Stockpile was manufactured.
The Mobile Stockpile is a fully mobile material transfer and storage trailer that holds and then transfers aggregate and asphalt emulsion to a truck-mounted paver multiple times after being filled. The materials are delivered directly to the unit, which takes up just one lane-width of roadway.
A-1 Chipseal helped Bergkamp test the Mobile Stockpile on multiple slurry seal jobs in Arapahoe County and then again in the cities of Brighton and Fort Collins. The contractor estimates that it laid approximately one-half of a million square yards of treatment while using the test unit.
"After the initial learning curve, we were able to fully replenish our truck-mounted pavers with material on-site in less than 10 minutes," Vagher says. "In most cases, we reduced the number of trucks needed for each job by one. I would say our production increased by up to 20 percent."
Vagher was also able to better utilize his manpower. During a normal 10-day slurry seal job, a wheel loader operator at an off-site stockpile would be used for up to 80 hours. This operator could now spend this time in other areas.
In addition, Vagher previously had up to four people regularly working to find stockpiles and then ensure all of the logistics were taken care of. With the use of the on-site stockpile, the person strictly looking for stockpile locations could now be used for other work. The logistics were not completely eliminated, though. There was still a need for delivery coordination of the aggregate and asphalt emulsion. But, it required significantly less time.
"This unit was designed to be parked like a car in alignment with the truck-mounted pavers, so we don't block traffic any more than normal," says Vagher. "Our team has to ensure we are close to a hydrant and have good clearance from trees. There are still challenges of getting the haul trucks there on time, but I would estimate that approximately three-fourths of my logistical guys' time can be spent elsewhere because of this unit."
With an off-site stockpile, the contractor had to leave a small amount of aggregate material on the ground to act as a base to avoid contamination with the surface below the aggregate. Vagher estimates that up to five percent of material is wasted on every job because of this. The Mobile Stockpile eliminated this waste, all while making the material testing procedures by the government entity much easier and more consistent.
Government agencies like "green" aspect
"I've talked with a couple of government agency people, and the interest in getting rid of the disturbance that stockpiles cause is very high," says Vagher. "Most pavement preservation methods, including slurry seal and micro surfacing, are already considered green when compared to other methods such as mill and fill. An on-site stockpile eliminates the few environmental concerns left."