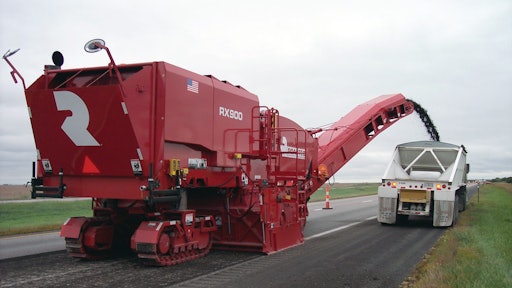 It's no secret that thin asphalt overlays are growing in popularity as states' highway budgets have diminished. To remove shallow ruts and improve the bond between these thin overlays and the existing roadway, many states have turned to micromilling. It is shallow milling (1/4 to 1 inch) that gives the roadway a finer texture and leaves it smoother than conventional milling does.
Micromilling is poised for rapid, nationwide growth over the next five years, says Jeff Rule Sr., Roadtec Cutter Drums. That's partly because state and federal budgets likely will continue to favor thin asphalt overlays, which fit with micromilling like a glove on your hand. Micromilling offers several advantages that conventional milling does not. For one, a micromilled surface will not reflect upward into a thin overlay, as an aggressive, conventionally-milled surface can do. Micromilling is also less expensive, because the cutter drum doesn't go as deep and there is less recycled asphalt to haul away.
Micromilling drums have approximately 700 to 1,000 or more teeth on them, compared to 264 teeth on a conventional 12-foot 6-inch-wide cutter drum. The additional teeth create a smoother surface, which is what states want. Several states have been busy writing specifications for micromilling, including New York, Rhode Island, Connecticut, Georgia, Alabama, Virginia, California, Indiana and South Carolina, says Rule.
"A number of the New England states are doing micromilling, including Massachusetts and New Hampshire," he says. "Tennessee is using it now, and so is Georgia. Alabama has a spec and has done some micromilling. Washington State is doing a lot of micro work."
With a common specification, used in Rhode Island among others, a technician tests the smoothness of a milled surface by pouring a premeasured amount of glass beads in one place on the surface. A technician then takes a hockey puck and with a circular motion, spreads the beads out until they come to rest. The smoother the surface is, the further out the beads will spread, says Frank Corrao, a deputy chief engineer in the Rhode Island Department of Transportation.
So the technician measures the diameter of the circle covered by the spread-out beads. "If that circle is greater than 6 inches, then you have a fine corduroy micromilled surface that meets our specs," says Corrao. "But if you spread the beads out and the bead circle average becomes less than 6 inches, it's not considered an acceptable micromilled surface."
(subhead) Better bonds for thin overlays
Suit-Kote Corp., a contractor based in Cortland, NY, micromilled an entire 10-mile stretch of two-lane roadway without changing teeth on the drum. Working 12.5 feet wide on Route 281 near Cortland, the crew's milling machine averaged around 50 feet per minute, says Mike Bush, recycling superintendent for Suit-Kote. The mill was cutting between a quarter-inch to one inch deep.
Jim Fitzpatrick, equipment manager for Suit-Kote, says he is very pleased with the new cutter drum. With a total of nine milling machines, Suit-Kote works over much of New York State and into Pennsylvania.
Earlier in 2011, the New York state Department of Transportation micromilled 10 lane miles of Interstate 81 near the Syracuse Airport. The milling machine cut the surface 5/8 inches deep, and the state put back a 1-inch overlay. Thomas McPhilmy, regional materials engineer for the state, says micromilling enables a road manager to place a thin overlay and still reuse the shoulders, because milling avoids the 1-inch drop-off at the edge of the driving lane.
McPhilmy says he is certain that micromilling creates a better bond with the overlay than to simply use the existing asphalt surface. "Paving on an existing road is sometimes a slippery pain in the neck," says McPhilmy. "The mat moves around on you instead of grabbing hold of the lower lift. And sometimes the rollers break the bond between the new overlay and the existing surface. When you create a milled surface, it gives something for the overlay to grab hold of.
"We always have the worry that the heavy diamond pattern from the conventional milling drum will reflect up through a thin overlay as traffic works it in further," says McPhilmy. "So the fine tooth milling creates an almost ideal bond surface but at the same time, it has a finer pattern that won't push up through the thin overlay."
McPhilmy says the drum that cut the New York project had more than 900 teeth. "Our spec required three lines of teeth wrapping around the drum and a 5-millimeter spacing between the cuts," he says. "That may have been a little finer than we needed, but the surface was beautiful."
McPhilmy says the glass bead test can be misleading, because the smoothness or roughness of the milled surface depends on the aggregate gradation of the asphalt mixture that you cut into. "If you mill through a top course to an old binder course, a coarser intermediate lift, it will be very rough and shaggy," he says. "And you can use the same drum to mill through a top course to an old top course, and the new surface will be smoother.
(subhead) A "messy thing"
"So it sounds like a messy thing to put into a contract," McPhilmy says. "You could end up with a bunch of arguments, or perhaps rejecting a machine with nothing wrong with it because the lower lift is giving you what it can give you. So some of this is not the machine's fault and it isn't the contractor's fault – it is the existing lift that you are uncovering."
Does specifying the tooth pattern restrict bidding to only contractors who have that type of drum? "Yes, that's a concern," he said. "For the future, we would definitely try to make the spec a little more liberal because there are some drums that come with teeth configured a different way. So it may not have three wraps of teeth but it may yield a perfectly good surface. I would talk to my advisor based on what we both saw and try to open up the spec because we definitely want competition."
Late in 2010, Nebraska contractor Werner Construction micromilled all four lanes of Interstate 80 for 14 miles west of Sidney, NE. On a cutter drum that was 12.5 feet wide, Roadtec fitted 840 teeth, compared to 271 teeth on a conventional drum. On one day of high production, the crew milled more than five miles, working one lane wide, says Ken Kalvoda, Werner's project superintendent.
That section of I-80 had some minor rutting, which the micromill removed by cutting up to ½-inch deep, Kalvoda says. The Nebraska Department of Roads chose not to place an overlay on the highway, but did do some crack cleaning and sealing.
(Subhead) Working on a spec
Tennessee is testing the micromilling process and working on a specification for it. Last summer a Tennessee contractor micromilled a 5.5-mile stretch of S.R. 96 in Dixon County. The micromill cut 5/8-inch deep at most and averaged between 3/8 and a half-inch deep, said Shay Deason, a project engineer with the Tennessee Department of Transportation. The state followed up with a thin lift overlay, applied at 85 pounds per square yard.
Deason was pleased with the ride numbers that resulted from the test. The existing surface, pre-milling, had a half-car index of 50. After micromilling, the surface dropped to 41 on the index, which is positive. Following the thin overlay application, the half-car index dropped to 21. The state awards bonus money for any ride under a 35 on major highways. And a contractor can win the maximum bonus for a ride of 25.
"We are working with our headquarters division to come up with a set of specs to determine when we are going to do these thin level mills," says Deason. "We are trying to look at ride numbers versus rutting. There are several indices they can use to combine to come up with these numbers. So we are in the process of reviewing that to come up with the best alternative."
Deason likes the fact that micromilling leaves nearly all of a roadway's asphalt structure in place. "You are milling at a thinner rate, a cheaper rate," he says. "You are not removing a lot of your structure the way you do when you take off an inch and a quarter or an inch and a half."
(subhead) No damage below
In Rhode Island, Corrao says micromilling avoids any damage to the asphalt below the milled surface. With conventional cold planing, Rhode Island officials were seeing some pavements break apart before the overlay was placed. "That may have had to do with the age and condition of the pavement, but it also had to do with the aggressive nature of the wider corduroy surface, the larger teeth of the cold planing machine hitting the pavement," says Corrao.
Over the past couple of years, Rhode Island has micromilled and overlaid virtually all of the state's Interstate and limited access highways. "We would usually micromill off the friction course, which is usually 1.25 to 1.5 inches," says Corrao. "Then we would put back a new friction course of an inch to 1.25 inches.
"The benefits that we see are that micromilling is less damaging to the underlying pavements, and you get a much smoother ride in that interim period between milling and paving the new friction course," says Corrao. He sums up the matter: "We are very pleased with the micromilled surface that is left and with the ability of that surface to accept the new riding surface."
Companies in this article