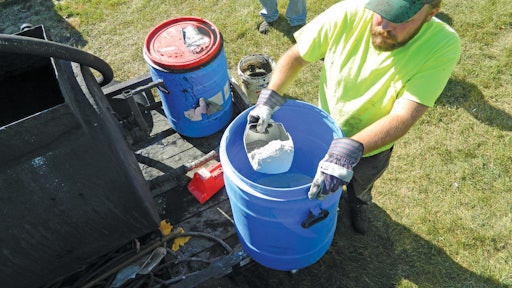 Ron LaCoe and his son, Cody, don't consider themselves environmentalists; they consider themselves pavement maintenance contractors. And their company, A-1 Sealcoating & Asphalt Maintenance, West Fargo, ND, generates 75% of sales from their sealcoating business and 25% from pavement repair and striping.
But at January's National Pavement Expo in Nashville A-1 Sealcoating & Asphalt Maintenance had a small booth that garnered a lot of attention because of an environmentally friendly innovation that might soon play an important role in the sealcoating industry. A-1 Sealcoating is using and has a patent pending on crushed recycled glass as an alternative to silica sand or boiler slag in the sealcoating process.
"I've never really thought of myself as an environmentalist, but I can say that when I was 14 years old and living in Colorado I drove by a dump every day and it really bothered me," Ron LaCoe says. "And now with things getting 'greener' this really makes a lot of sense."
A disabled veteran who started the company in 2005, LaCoe runs the business with son, Cody, and jobsite foremen Jo-Jo Haerter who has been with the company for five years. They hire four or five additional people each year season as the work demands, but most of it they can handle on their own. And because they are in the field every day all season long the impetus for using crushed glass was more practical than environmental.
"I've used crushed slag and I didn't like it and we used silica sand, but that has some dangers to it," LaCoe says. "If you use it as much as most sealcoaters do you are exposed to it a lot, so I just started looking around for something else and started asking questions."
In 2011 LaCoe, while driving to pick up sealer from his supplier, happened to see a glass-crushing plant and that got him thinking. Then he started talking with the people who run the plant.
"They understood where I was coming from and they gave us a couple of bags just to try it. It seemed to work pretty well so we started fine tuning and testing it and got it to the point where it's really awesome."
LaCoe says A-1 Sealcoating, which uses a Pitch Black asphalt emulsion sealer, tested the crushed glass in the process throughout 2012, using it on all its sealcoating jobs including driveways, parking lots and gas stations – and so far all applications have held up very well. He says the glass can work equally well in refined coal tar sealers.
Sealer producers in their mix designs generally recommend using sand or boiler slag in the 50 to 70 grade range. A-1 Sealcoating has fined tuned their process and material to include three different grades of crushed glass depending on the surface being sealed.
10-20 grade is used only on the most severely oxidized and aged pavement. It's considered "coarse to very coarse" and is added at the jobsite by the contractor.
15-35 grade is less coarse and is used on pavement that is not new but also not severely oxidized or damaged. Also added at the jobsite.
Minus-80 grade filler is an almost powder-like material that can be added by the sealer producer at the plant or by the contractor at the jobsite. Minus 80 crushed glass is used on new or like-new pavement.
LaCoe says he generally determines which grade of crushed glass he will use at the time he bids the job. "Basically we know everything about that job before we start it," he says. "The big thing is the control; you can't treat every lot the same," he says. "Each lot is very different so we can select the grade of crushed glass based on the quality of the pavement we're sealcoating," he says.
"You have to match the grade of crushed glass to the pavement you're going to sealcoat. If you have a new parking lot, for example, you're going to want to use minus 80 on it because you don't need as much filler."
For use on the job A-1 Sealcoating orders the appropriate grade of crushed glass delivered in 400-lb. blue barrels. "They're delivered a pallet at a time and we prefer the barrels because they're easier to work with than bags," LaCoe says.
LaCoe says the crew slowly adds the crushed glass on site according to the sealer producer's mix design, then monitors the consistency making sure it's " a little thinner than latex paint."
The A-1 Sealcoating crew then applies the sealer using either spray or squeegee though his company generally applies with squeegee.
"That's what most of our customers want but we've tested it with a spray too and it works just fine," he says.
LaCoe says crushed glass offer advantages to the contractor – it stays in suspension longer so requires less agitation, and he says it gets hotter than sand so sealer sets up faster. He says one disadvantage of crushed glass is its availability. "Using glass isn't as convenient as sand because you can't just go to Menard's or another store and pick up bags of crushed glass," he says.
LaCoe says he has talked with the Environmental Protection Agency about using crushed glass and he says "the EPA was floored by this. There are no Material Safety Data Sheets (MSDS) for what we're doing, for example. They'd never even considered it."
He says the existing MSDS applies to glass crushed to 3/8 inch to ¾ inch size, much larger than the crushed glass A-1 Sealcoating is using. In addition the existing MSDS refers only to washing of the crushed glass.
To try to gauge the impact of replacing sand with crushed glass LaCoe asked his supplier how much silica sand it sells in a typical week. The answer: 18,000 lbs.
"If we replace it with glass it takes 18,000 lbs. of glass a week out of a landfill," LaCoe says. "That's a lot of glass that can be taken out of a landfill each year."
[possible captions]
Another use of the crushed recycled glass has been in marking paint when the customer, such as the gas station, felt there was a need for texture in the markings.
A-1 Sealcoating & Asphalt Maintenance is conducting "glass camps" to show other contractors how crushed glass works in sealer and how to use it most effectively.
Owner Ron LaCoe is particular about the people he hires. "We don't want them to just come to work," he says. "We want them to think about why they are coming to work. We want them to think about what they are getting out of this? We want people who do this work with pride instead of greed."
Though he just started a website, LaCoe does no advertising, relying strictly on word of mouth. "My sales technique is honesty," he says. "I'm double the money but I'm double the product and if there's a problem I'll redo it at my cost. I take pride in what we're doing."