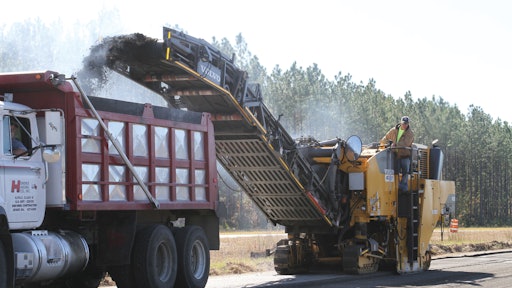 Down a remote stretch of Highway 1 in the small town of Baxley, GA, the rumble of the road can be felt under Benji Cranford's boots as his milling machine chews through the asphalt of the age-old roadway.
Cranford is the owner of C & H Paving Inc., a private paving contractor with crews working throughout the southeastern United States. His day began by flying his Cessna from his home base in Thomson, GA, south to a small airstrip that sits 100 yards off this stretch of South Georgia highway.
Later in the afternoon Cranford will pilot his plane to another jobsite in Macon, GA. For an involved owner with multiple crews spread out over hundreds of miles, independent air travel gets him from jobsite to jobsite and home for dinner. And his equipment gives him the peace of mind to know that while he is offsite, the work continues.
"He loves his Volvo equipment," says Charlie Roupe, Cranford's longtime friend and account manager for ASC Construction Equipment. Love is not too strong a word. C & H Paving operates Volvo construction equipment almost exclusively, using wheel loaders, excavators, compact excavators, motor graders, and compactors.
A new direction
The growth of C & H led Cranford in search of a milling machine. Initially looking for a rental, Cranford approached Roupe at ASC and expressed his desire to get into the milling business.
Cranford met up with Roupe in Las Vegas at CONEXPO, where he first laid eyes on the machine that would help him expand his operation. After some long discussions with the experts from Volvo Construction Equipment and viewing the Volvo MT2000 in person, Cranford decided to make the trip to the company's North American manufacturing headquarters in Shippensburg, PA.
The Volvo MT2000 is a half-lane milling machine that can fill a truck in approximately three minutes. With three distinct cutting speeds, Cranford noted that this machine could help him match cutting productivity, fuel consumption and sound levels to each individual project. The deal was made and the Volvo MT2000 traveled back to Georgia with Cranford.
Peak performance
As the tracks push the machine down Highway 1, Cranford walks alongside and inspects the work of his new investment. Eight months have passed since he started using the new milling machine, and Cranford and Roupe remain impressed with the speed and efficiency of the new machine.
"It's a little faster than just about anything else on the market," Roupe says. The overall speed of the milling machine is not singularly related to miles per hour or the rate at which it chews through old, treated asphalt. A major part of the machine's overall job speed is thanks to its dependability.
"All of it's been good," Crandford says, referring to his fleet of Volvo machines. "There's just not as much downtime. We haven't had any trouble out of any of it. I have some excavators that have probably 10,000 hours, and I think the worst thing we've done is put a turbocharger in them. There is not a whole lot of expense in these machines."
The MT2000 offers several features that make it easy to work on — including a walk-in service compartment that puts key components, like the engine, hydraulics, fan and coolers, within easy reach.
"I like it," Cranford says about his new milling machine. "It's doing what it's supposed to do. The fuel is the biggest thing. I'm getting an extra day of production out of the same amount of fuel." As truck after truck fills up and drives away, the milling machine continues its steady march down Highway 1, swinging the conveyor arm from one truck to the next without missing a beat.
The fuel savings extends to Cranford's other equipment as well. "I'll run two days on my excavators at about 50 gallons a day, whereas my older brand was running at 100 gallons a day," Cranford says.
A winning relationship
Over the course of Cranford's career, he has watched his business grow and improve. The MT2000 is the latest in a long line of Volvo construction equipment that helped C & H Paving get to where they are today. In addition to the milling machine, Cranford owns a EC210BLC excavator, a L70F wheel loader, a EC55 compact excavator, and a G720 motor grader. Along the way, Cranford has learned that while Volvo is not the only brand of construction equipment around, it is the only brand for him.
"The milling machine has put him into another segment that he wasn't in before," says Roupe. "This has gotten him into the milling business, which looks like a pretty profitable business for him. Benji's a hard-working guy, and he's got no fear. He jumps in after anything and makes money with it."
The new segment is an exciting one for C & H Paving. "When things get slow it's just another tool you can market yourself with and keep your employees working. Just like going to the grocery store — it's just another item on the shelf," Cranford says.
Volvo Construction Equipment has helped Cranford diversify C & H Paving's business, keeping the wheels turning in a tough economy. "They always wanted to grow with me," Cranford says. As he leaves one jobsite to fly to another, the truth behind that statement cannot be ignored. Cranford started small and with hard work and help from Volvo Construction Equipment, Charlie Roupe and ASC Construction Equipment, he built C & H Paving into a successful business poised for more success. "It doesn't matter how big or how small your company is," Cranford says. "They treat everybody the same, and that's what makes a lot of difference."
Companies in this article