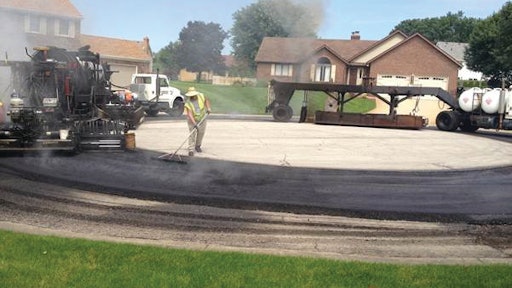 St. Joseph County, IN, had several road issues. There were pavements that were oxidized and exhibited surface distresses at one place or another – cracks included transverse, longitudinal, fatigue, block and alligator. Some areas showed raveling, some rutting and shoving was apparent. Patched potholes and utility cuts also contributed to the pavement distress.
The St. Joseph County engineering department, headed by Jessica Clark, P.E., specified about 100,000 square yards, around 13 lane miles, in four different subdivisions, to be resurfaced using hot in-place recycling (HIR), also known as heater scarification. The neighborhoods where the pavement were resurfaced are well-established with tree canopies, large evergreens, divided roads and a number of cul-de-sacs.
Why St. Joseph chose HIR
Gallagher Asphalt Corp. is one of the pioneers of hot in-place recycling (HIR). One of the oldest and largest asphalt producers in Illinois, the company has been building roads for over 80 years and recycling them for over 65.
HIR is an on-site, in-place method that rehabilitates deteriorated bituminous pavements and minimizes the use of new materials. This process can be performed as either a single pass (one phase) operation that recombines the restored pavement with virgin material, or as a two-pass procedure, where the restored material is recompacted and the application of the new wearing surface then follows a prescribed interim period that separates the process into two distinct phases.
"HIR optimizes the value of materials that has been paid for once already, it minimizes construction time, minimizes traffic flow disruption and reduces the number of trucks moving in and out," explains says Brock Brown, Indiana/Kentucky Representative with Gallagher Asphalt. "Agencies are looking for high-quality, cost-effective alternatives to rebuilding roads with new materials. The simple economics of increasing petroleum prices motivates the paving industry to look for a better way."
HIR provides a very low cost maintenance strategy that enables public works officials to effectively re-use existing materials. Why did St. Joseph Country choose HIR?
"It saved money – that was the most significant reason," says Brown. "Plus, it was fast and environmentally friendly. The HIR process plus a 4.75mm HMA layer saved the county about 10% on the $1.26 million project."
The urban recycling train
With Gallagher's HIR process, 100% recycling of the asphalt pavement is completed on site with the following equipment: a preheater followed by a combination preheater-scarifier-paving screed.
The asphalt pavement reaches about 300o, soft enough to be scarified down to between 1.5 to 2 inches. During scarification, when the aggregate is still loose, rejuvenating oil is added. Then it's fed through a conventional paving screed.
The heated, recycled material is re-compacted using conventional compaction equipment.
"The pavement is drivable within 30 minutes," says Brown. "No new HMA or virgin aggregates are added, so the thickness remains the same."
An overlay is added to seal the recycled layer. The county specified 4.75mm of HMA, surface, mainline, Type B.
The challenges in St. Joseph
The urban recycling train, designed by Gallagher Asphalt, while compact at 120 feet in length, still presented its challenges.
"Getting the machinery there, staging it in an area that wouldn't disrupt the neighborhood and maneuvering it efficiently was a challenge," says Brown. "Good communication with the county, then the county with the residents was the key. Residents were well informed, knew what was going on, and the project went smoothly."
Recycling cul-de-sacs that vary in size and configuration is always a challenge. Gallagher solved it with careful planning of their route, overlapping as needed, and simply backing the train into certain cul-de-sacs to not miss an area that needed recycling.
One subdivision provided a unique recycling challenge. The pavement had a 3- to 4-inch layer of 20+-year old Marshall Mix asphalt comprised of unusually large aggregate which was just under a more recent 1-inch HMA layer.
As the HIR recycling process quickly heated through the distressed top layer, the Marshall Mix looked like aggregate base course. The HIR crew adjusted the process to heat deeper into the pavement and, in doing so, softened the tough Marshall Mix asphalt so it could be recycled with the thinner top layer.
"Chip Porter, highway engineer, was pleased with the results," says Brown. "The finish wasn't the usual nice, smooth intermediate layer, but it still compacted to the required density specification."
Brown says the St. Joseph County project went smoothly because of preparedness and an open exchange of information.
"St. Joseph County engineers know their pavements, communicated well with their residents and with Gallagher," says Brown. "Focusing on safety, thorough preparation, and effective communication are always the keys to best practices and success."