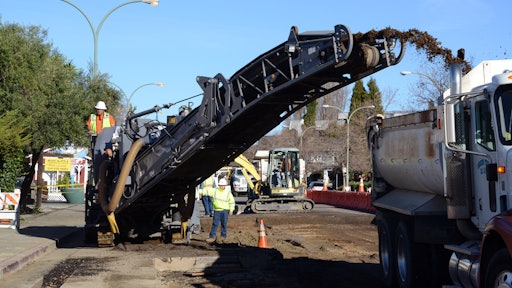 This was important last year on a paving project on U.S. 101 north of the Golden Gate Bridge. There, Delta was urgently called into the project by a prime contractor because the milling machines being used were challenged to meet the spec, and the prime's smoothness bonus was at risk.
"They needed a milling sub with W 210s with grade averaging systems," says Ken Ferrante, president, Delta Grinding Company, Antioch, Calif. "We came in, and met the specs on the initial pass. This also became a solution on another project, to profile what already had been milled to meet spec before it was paved."
The optional, advanced, multiplex, non-contact sonic grade control system of the W 210s made it possible, he says. "The system causes the cold mills to grind a smoother grade, as in recent years Caltrans has been promoting a smoothness spec," Ferrante says. "With the W 210s we run the Wirtgen mulitplex system, and achieve the specs. Delta Grinding is pleased to be one of the first contractors in northern California to offer multiplex systems and the W 210s."
The need for modern equipment
Market conditions are propelling Delta toward Wirtgen mills, Ferrante says. "The work in northern California is consistently becoming tougher, and jobs are operating in tighter time frames, so production has to be higher to beat the bid," he says. "So we have been modernizing with newer equipment like the W 210s to achieve our customer's goals."
The Wirtgen i-series equipment meets Tier 4-interim emissions standards. In addition to two W 210i cold mills, Delta acquired a W 120 Fi cold mill in spring 2012.
The two new W 210i mills, and W 120 Fi, are just the latest in a series of Wirtgen milling machines owned by Delta. Delta has a W 1900, W 2000, two W 210s, two W 210i, two W 120 Fs, the W 120 Fi, and two W 1200s. Delta's first two cold mills were of different manufacture, but since No. 3 they've all been Wirtgen mills.
"They're the most reliable of all the milling equipment,"  Ferrante says. "And we have a dealer in our area – Nixon-Egli Equipment Company – that services us well and makes us a priority, minimizing our downtime."
The 4-ft. W 120 and W 1200 platform machines all go to work on projects requiring 4-ft width, or on projects that typically are 20,000 sq. ft. or under, like parking lots, Ferrante says.
"We will use them to block corners," he says. "Above that square footage we will use our half-lane machines. In this area we like to use the 6 ft. 7 in. heads, as 2.2-meter drums aren't as really popular in this area as they are in other states, because of transport requirements, and the typical volume of projects." Thus when milling on expressways, Delta will use two large machines in tandem, staggered in one lane, Ferrante says.
Serving far western region
Delta Grinding was founded in 1996, and in California serves clients in the Sacramento Delta country east of the San Francisco Bay area, and south of Sacramento. The firm also works in Nevada and Washington State. Delta began as a one-man, owner-operated backhoe business which expanded its excavation work into asphalt milling.
"Much of the excavating work we were doing was for pavement remove-and-replace projects using backhoe excavators," Ferrante says. "More and more of the projects needed asphalt milling machines for this purpose. So we purchased our first cold mill and today we have 10."
In December 2012, on Embarcadero Street in Oakland, Delta was removing asphalt pavement and base material in advance of an adjustment of the angle to a bridge approach ramp. "They are pulverizing the existing material to create a base, then topping it with asphalt concrete to lengthen the decrease of drop-off," Ferrante says.
In these deep cuts, features of the W 210 and W 210i improve productivity, Ferrante says.
"When moving in or out of a cut, the machine is kept parallel to the surface, so the ground man doesn't have to raise the legs when he goes into a cut," Ferrante says. "The machine stays parallel to the surface. It's a neat feature and it allows the operator on top to have more control over the machine."
Computer diagnostics on the W 210/W 210i machines is another feature of value to Delta. Delta's machines also have the optional VAC [vacuum cutter system] which diverts dust and fines up and out the conveyor.
And the W 210/W 210i's dual engine design provides environmental benefits as well as extra power. The two engines result in lower emissions. And the two engines together are producing more horsepower than do conventional mills. "There are some applications, in light work, which we run on one engine, and it's much more economical in terms of fuel," Ferrante says. "But most of our applications require both."