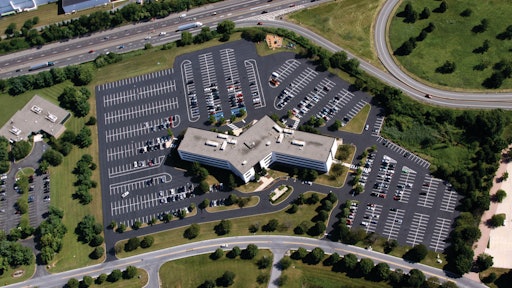 Tony Sorrentino thinks that every contractor has that one customer that they just want to break, to bring into the fold of repeat customers. But not every contractor has the patience and perseverance to continue the pursuit year after year – and then be willing to lose the job to a lower bidder.
But that's exactly what S&G Asphalt Services, Slatington, PA, faced when the contractor finally had an opportunity to bid work for Global Office a property management firm headquartered in Allentown, PA. The contractor generates 75% of sales from paving and 25% from sealcoating and pavement maintenance work; 75% of work is done on commercial properties and 25% is done on residential jobs.
"The majority of our work is redoing pavement that has failed," says Sorrentino, owner of the 20-person company says. "We've pursued new construction work but never were able to break that barrier because we're rarely the low-cost guy. When people bid off blueprints the people they're bidding for are looking for the lowest bid -- it's as simple as that. I'm interested in getting that new construction work but I want to get it the way I want to get it – not as the cheapest."
Sorrentino says that following three years of direct-mail pieces followed up by phone calls, he finally received a call from Global Office requesting a bid – not for the Global property but to replace a driveway at the home of one of the office buildings' owners. "After we submitted the quote the very next thing I knew they were going to say is 'Can you do any better on the price' and they dangled the carrot that getting my foot in the door with this driveway job will give us a better opportunity to get the office parking lot," Sorrentino says.
He says that while he did shave a little off the driveway job's profit margin, he wouldn't meet the low-end bidder's price, and he told them why. "I explained to them that the driveway they are paying to repave now was only about 10 to 12 years old, and if it had been installed properly they wouldn't have to spend hard-earned money to replace it already," he says.
But he did come to terms and removed the old driveway, touched up the stone base, and installed 2 in. of binder base course and 1 in. of a wearing surface. As soon as his crews finished the driveway, Sorrentino decided to ask about offering a quote to repair some pavement and sealcoat the entire Global Office parking lot.
"This time I at least got the opportunity to submit a bid," he says and after another two years of phone calls and meetings (we're talking five years of pursuit now) S&G Asphalt Services finally landed the Global Office job. "The owners decided it was time to do something with the parking lot when tenants did not know where to park anymore because the lines were not even visible," he says. "The parking lot became a free for all, coupled with the fact that one of the tenants broke her ankle tripping in a deep tire depression."
He says that in addition to wanting to make the lot safer and better organized, the owners were looking to attract new tenants and wanted to "give the property some pop and curb appeal."
Sorrentino made an appointment and went out and walked the lot with the property manager and the building owner, explaining what S&G Asphalt was going to do and why it was different than the other lower bid they'd received.
"They wanted the work done, and they really wanted us to do the job, but there is always that one problem," Sorrentino says. "They had received a lower bid -- and I mean it was much lower.
"The only thing I could do was stress to them that we are higher in price for a reason," he says. "I explained that if both contractors are making a profit on the job, how can one be so much lower in cost than the other? I explained that that cost had to come out of the time and manpower that goes into the job or the amount and quality of the material that will be used.
"What set us apart from the low bidder is that we told them we would do a perimeter mill 6 ft. to 8 ft. wide along the butt joints and inlet boxes to help keep the paving mat a uniform thickness of no less than 1 in. instead of just tapering the overlay down to zero like the last contractor did," Sorrentino says. "The other bid said they'd set the paver near zero thickness and feather it down and then hot seal around the paved area, but we explained to them why that wasn't going to work and we could show them what had happened the last time they'd done that. When I showed them the edge milling we would do you could just see a light went on for them – and they got it.
"A lot of guys think the only way to get a job is to be the low bidder so they figure out ways to keep the job costs down," he says. "We figure out what the job really needs and what can best solve their problem and that's what we bid on. And we can explain why and why it's better for them long term even though it's more costly up front."
Getting the Job Done
Sorrentino says that while he wanted the job and the negotiation was risky, he didn't want the work at a price that wouldn't generate the profit he needed. But he stood his ground and eventually received the contract for a 22,000 sq. ft. overlay and 365,000 sq. ft. of sealcoating and striping and 5,000 linear feet of cracksealing.
Over 22,000 sq. ft. S&G Asphalt applied a tack coat, a 50-ton leveling course, then placed 225 tons of hot mix asphalt using a Blaw-Knox PF150 paver. Compaction was done with a Dynapac 242 roller and an IR DD65 roller.
"After the paving was completed we started to attack the sealcoating," Sorrentino says. S&G Asphalt used a skid loader with a hopper broom to sweep up loose stone on the lot from raveling of existing pavement and from "shoddy and failing surface patches" that were installed by the previous contractor.
"I really should thank that guy for the shoddy workmanship because he was instrumental in closing the deal for us," he says.
Part of the cleanup included removing 50 broken and deteriorated parking stops. For that S&G used its skid steer loader equipped with fork attachments to load the stops into a dump truck. "The use of the skid steer and forks made this a one man operation."
To reduce the disruption to tenants S&G Asphalt divided the lot into four sections. Some sections were larger than others so the manpower varied, but on average S&G used crews of three to five people. Sorrentino says S&G Asphalt owns three SealMaster 550 units and used all three to apply two coats of asphalt-based sealer on this job. One of the units is a trailer mounted unit and two of the units are mounted on a cab over trucks.
"We prefer the cab-over trucks because we like the visibility and the maneuverability especially when we are doing spray bar work with multiple passes," Sorrentino says. "We did not use a drop bulk tank for this job because our SealMaster supplier was only about 3 miles from the jobsite so as soon as one tanker was emptied a driver would go to SealMaster and pick up another full load."
Sorrentino says S&G prefers to buy the sealer in a premixed, ready-to-use state with water and sand already in the mix. "The only thing we do on commercial projects is we add FSA (additive) to each load to improve the drying and curing time as well as minimizing the tire marks as much as possible."
Because the job was divided into four sections S&G crews would stripe each section and open it up before moving on to the next section. "Normally we like to wait a week before painting the lot but more often than not it is not in the cards because property owners want you in and out as fast as possible."
Once all the sealcoating, line striping and parking stop installation was completed Sorrentino hired an aerial photographer to take photos on the clearest weather day he could get.
"Once I got the photos back I placed before-and-after pictures on the wall by the time clock so every employee would see them. Since I never told any of the men that I had this done they were very excited to see the big difference they made on this project. Every one of those men seemed to have a little extra bounce in his step that day and you could see the pride and satisfaction they got from those photos of a job well done."
He says that most importantly, the customer is pleased with the work.
"They couldn't believe how different it looked after we were done, and the tenants really liked it, too. The building is four stories and the higher up you go the better it looks. It looks great as you drive up and the people on the higher floors made a point of telling the manager and us how great it looked. We really got a lot of compliments."
[sidebar]
How Technology Eased S&G's Sale and Execution
To divide the job into four phases S&G Asphalt Services relied on Go iPave, which helped make the sale and helped ease the stress on tenants. "I used to go out with a sheet of graph paper and make hand drawings of the job and that took a lot of time. Go iPave saves us so much time and it's easier to add colors. What used to take a few hours I can now do in a few minutes.
"The color-coded map enabled us to show the client a visual of it and they could see how the work was going to progress," he says. "It helped us make the sale more visual so they could see what we were going to seal and what we were going to pave, and when we would do each one."
Then, Sorrentino says, he used the map to coordinate with the tenants. "All of us in the paving industry know one of the most difficult tasks is coordinating the job between us and the tenants, so we used our Go iPave color-coded map of the property," he says. "We designated which section was going to be done and on what day. The office manager sent emails to each tenant with that map along with our phone number in the event they had any questions. In that email we stated that they should park as far away from these areas as possible to give us room to work."