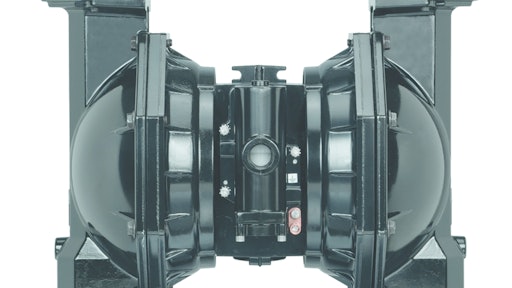 The sealcoating industry has long understood the need for reliable and robust equipment that can handle the harsh demands of daily use. Diaphragm pumps are one proven solution for sealcoaters (the other solution being piston pumps). Once you've decided diaphragm pumps are the system you want, it's important to select the right pump, made of the right materials, and it's essential you have in place proper preventive maintenance procedures. Otherwise your company will experience increased downtime, resulting in additional labor costs and even requiring pump replacement. These costs erode bottom line profits quickly and in markets that are seasonally short that can be catastrophic.
While some contractors make their pump purchase selection based on initial price only, the initial purchase price of a diaphragm pump can be as little as 5% of the overall cost of ownership. This means several additional factors should be considered up front to ensure that you will maximize efficiency while protecting the company's equipment investment costs.
So what does overall cost of ownership involve and how is it determined? When reviewing the true cost of owning any equipment, a company obviously needs to consider the purchase price (the initial investment). Other factors include: operating cost (energy used), installation and repair, availability and cost of aftermarket parts, and last and most important—the cost of downtime. Time is the most valuable, irreplaceable commodity that, if wasted, costs the most to any business. Downtime is the hidden cost that won't be found on a job estimate or submitted on an invoice. But if left unaddressed downtime will cost much more than the pump itself, making reliable equipment selection and a preventative maintenance plan essential.
Pump Construction
A first consideration is the material of which the pump is constructed. Making sure your diaphragm pump is made of material that can withstand the sealcoating industry and that will make sure the investment made in the initial pump purchase is maximized. The material of choice for sealcoating is aluminum construction, though pumps are available constructed of stainless steel or polypropylene. Hybrid pumps combining two construction materials are also available. Regardless if the sealer is refined coal tar, asphalt emulsion or acrylic, a pump that is compatible, cleanable and easy to repair is required.
Diaphragm pumps rely two diaphragms moving back and forth by compressed air at a constant flow. Diaphragms are generally made of rubber or neoprene, though a higher-performance material is Hytrel, a brand of thermoplastic polyester elastomer which combines the characteristics of a high-performance elastomer and a flexible plastic. Hytrel diaphragms and balls have a wide temperature range (0°F – 240°F), with excellent durability and moderate abrasion resistance. General cycle life estimates are typically calculated at around 20 - 25 million cycles. A Hytrel diaphragm can be identified by its cream or tan color. Always check the manufacturer's chemical compatibility guide or work with a knowledgeable, value-added equipment supplier.
Other than the diaphragm material, a key element of identifying increased reliability is the diaphragm type; dome vs. convoluted. It has been found that a convoluted diaphragm can last as long as four times that of a traditional dome style diaphragm making it an obvious choice and should be considered as part of the purchasing decision.
Technology Importance / Brand Choice
Remember this: not every diaphragm pump is made the same or has the same ability to handle demanding applications. To identify its reliability, the "heart" of the pump must be examined. Quite simply, the "heart" is the air motor which drives continuous cycles of the pump.
There can be several correctable causes for poor performance that can be addressed with proper material selection and routine maintenance, but purchasing a brand with an inferior air motor technology will always increase your overall cost. There are three main issues: freezing, stalling and poor energy efficiency which are often due to an inadequate air-motor design.
Freezing. A chronic problem that causes the motor to seize up and fail in many applications, freezing occurs when compressed air expands and creates a severe decrease in pressure. As the air returns to atmospheric pressure, it turns extremely cold, freezing moisture in the air supply. This cold air causes ice particles to form and clog up the air motors internal components and muffler. The ice buildup will stall the pump, which will remain down until the ice is removed or melts.
The most effective solution is to utilize a pump that exhausts air from the chamber as quickly as possible. Diaphragm pumps should not allow exhaust to go through critical motor components, such as the spool valves. When this happens, the exhaust port becomes blocked with ice and causes the motor to slow down or completely stop. Instead, the most effective motor designs eliminate pump ice-up by protecting the major air valve from cold, wet exhaust air. Internal components that divert the exhaust air away from the major air valve and into an expansion chamber can dramatically increase pump reliability and remove the need for ice-preventive devices.
Stalling. Though diaphragm pump manufacturers often claim their product is "unstallable," many of the products do a poor job of managing the pressure acting on their air valves. The best way to tell whether a pump will stall is to look at its air valve design.
Conventional valves feature a "balanced" design in which the valve is too evenly weighted. Air valves using this design often generate poor shift signals and over time, the valve centers with an equal pressure differential on both sides. These pressures cancel each other out and the air valve does not shift, causing the pump to stall. Other pumps are susceptible to stalling during restart. When the fluid valves are shut off, pressure in the pump equalizes and can make it difficult to begin shifting the air valve again.
Diaphragm pumps can eliminate air valve centering by utilizing an "unbalanced" valve design. This air valve design features a large diameter on one end of the valve and a small diameter on the opposite end, creating the optimal pressure differential.
Because the valves are always partial toward one side, they do not center out and stall the pump, even under low air inlet pressures. Unbalanced valves reduce production loss and downtime by providing better shift signals and delivering faster trip-over with more flow.
Energy efficiency. Insufficient motor design also creates poor energy efficiency. In diaphragm pumps this means underperforming seals and valves. Many manufacturers utilize an O-ring configuration on spools to prevent air leakage, but this design often wears and creates a poor seal, creating air blow-by and reducing efficiency.
Blow-by is also caused by a metal-to-metal lapped-fit valve design. This model utilizes a spool with a slightly smaller diameter than the bore it is in, creating a gap that allows compressed air to escape. Air leaks past the valve during operation in a dead-head condition, exhausting to the atmosphere and significantly decreasing energy efficiency. Diaphragm pump motors can utilize a positive seal on the valve spool created by U-cups to maximize energy efficiency. These prevent air leakage by providing a positive seal as the valve shifts.
Additionally, seal points should be made of solid materials (ceramic components are often best) where applicable to ensure longer life. Special materials, such as over-molded sleeves, should be utilized to increase lubricity and reduce or eliminate wear in the valve mechanisms. These sorts of features can save hundreds of dollars each year per pump.
Regular Maintenance Decreases Downtime
Regardless of the diaphragm pump brand, maintenance practices are common for the technology. Instituting proper and routine maintenance will provide a tangible payback for the time invested. Even doing the "little" things like flushing out the pump and hose lines, while removing dry sealer or other debris will help maximize the bottom line. Sealer left to dry within the pump can and will gum up the ball check-and-valve seat or even harden the diaphragms limiting their ability to flex. Debris built up in the lines can eventually cause headaches, from diaphragm rupture to valve check issues, all of which will limit the peak performance of the pump.
Most brands offer repair kits for both the wet-end and air-end side of the pump. However, the complexity of the repair and spare parts costs will vary on the specific brand and design. So as rule of thumb, review the pump manual for complexity and get costs for the recommend spare part kits. Brands that have focused on their air-motor design to be repairable often have less-expensive kits consisting of mainly O-rings and U-cups; other kits are two to three times more expensive and include major components like the air-motor housings and spools.
When repairing either the air-end or wet-end it is recommended and will prove beneficial to replace all parts in the kit, making the pump close to an as-new condition. The nominal amount saved by replacing only some parts in the kit will quickly dissolve as pump repair requirements increase.
Often overlooked when repairing the wet-end side (diaphragms, balls & O-rings) is the importance of replacing the valve seats. Kits typically do not come with the valve seats as different seat materials are provided based on specific application needs. However, having your check balls and valve seats sealing properly are vital to the pump's performance. If new check balls are unable to create a seal in worn-out valve seats, you will experience a reduction in flow rate, the ability to generate pressure and limited capability to pull a suction lift and/or the pump to self-prime.
Another component not to be ignored is the air quality coming into the pump. Today most manufacturer's air-motor requires only clean, dry air without lubrication. Make sure that airlines are bled regularly and that a correctly sized air regulator which incorporates a filter is being used. Filtering the incoming air will remove any solid particles in the air line and extend pump operation.  
Efficient Selection Maximizes Profits
Selecting any piece of equipment requires attention to several factors that are essential to making an informed decision that best supports a contractor's needs. Air-operated diaphragm pumps are essential to the sealcoating industry, meeting the harsh demands of daily use, but the proper consideration for model choice does not end with the price tag.
By examining the total cost of ownership and including factors such as proper selection and maintenance requirements, contractors can achieve significant cost savings. The correct pump will alleviate the pains and hidden costs of downtime, labor and replacement. It will maximize efficiencies that will directly translate to savings and profit.
Dave Carson is national sales manager for Burt Process Equipment, 100 Overlook Drive, Hamden, CT 06514; phone: 203-287-1985; www.burtprocess.com Contact Dave at davecarson@burtprocess.com. The pictured illustration used were provided by Ingersol Rand. Hytrel is a registered trademark of DuPont.
[sidebar]
NPE & PCTC to Offer Free Sealcoating Seminar
The Pavement Coatings Technology Council (PCTC) will conduct and sponsor a free sealcoating seminar at National Pavement Expo, Jan. 27-30, 2016 in Charlotte, NC.
The 90-minute session (C-24), "Talking to Property Managers about Sealcoat," will be held from 8:00-9:30 a.m. on Friday, Jan. 29. It is free to all registered NPE attendees.
Anne LeHuray, PCTC executive director, said that contractors in recent years have faced the challenge of justifying and explaining the sealcoating process to their customers. So, LeHuray said, PCTC decided to develop a session specifically for NPE contractors to help them better "deliver the sealcoat message to property managers, including what concerns property managers might have and how best to address them."
As part of the seminar description explains, "You'll learn sealcoating 'Best Management Practices' that will improve your work in the field and enhance your reputation, and you'll learn how to address the health and environmental issues that have dogged the sealcoating industry in recent years. You can make yourself more valuable to your property manager customers by becoming your market's 'sealcoating expert' so don't miss this free opportunity to upgrade your sealcoating expertise."
Because PCTC is sponsoring the session there will be no charge for NPE attendees. Contractors should sign up for the session (C-24) when registering, but will not be charged. To register or to read a complete description of session C-24, "Talking to Property Managers about Sealcoat," visit www.NationalPavementExpo.com.