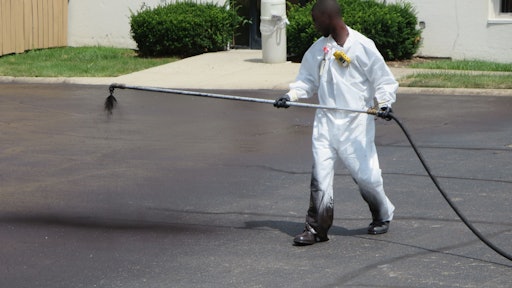 In July a team from the National Institute for Occupational Safety and Health (NIOSH) completed the first step in a pilot project that is the first phase in a two-year project. The study is designed to measure potential exposures to specific polycyclic aromatic hydrocarbons (PAH), in applicators using pavement sealants containing refined coal tar.
NIOSH received funding for the study last year and developed a protocol for this first step, which focuses on the collection methodology that would be used in a larger study. The Pavement Coatings Technology Council (PCTC) cooperated with NIOSH in advance of the project and STAR Inc., a sealer producer and PCTC member, provided and put down the material.
"We were evaluating worker exposure during refined coal tar sealer application," said Kevin Hanley, a senior research industrial hygienist with NIOSH. Hanley said the test is specifically designed to monitor worker exposures to PAHs), which have been a focus of anti-refined tar sealer concern and legislation for a number of
NIOSH is a part of the Center for Disease Control and Prevention, which is often in the news whenever there is an outbreak of diseases such as Salmonella. NIOSH is not involved in making workplace rules. Instead, it collects data about how work gets done to evaluate ways to improve health and safety in the workplace. About ten years ago NIOSH partnered with the National Asphalt Pavement Association and representatives of pavement workers to look at the working environment of asphalt paving crews. This current study on applicators using sealants containing refined coal tar is being conducted under a similar arrangement.
Testing Collection Methods
Over four days in Columbus, OH, a three-person crew from STAR Inc. applied refined tar sealer with aggregate to four test locations: two residential driveways and two hotel parking lots. One parking lot received one coat of sealer while the other received two. Crews brush-applied material on the two residential driveways and also on the edges of the larger hotel lots. On the major surface of the hotel lots, workers used a hand wand to spray-apply sealer for most of the work area. The four projects were completed over four days, with a brief rain delay and a brief disruption resulting from equipment failure.
Hanley said the pilot study included three different collection methods on each job:
Collection of air samples in the breathing zones of workers
Pre- and post-job urine samples
Air sample collected from the edge of the jobsite
In addition pre- and post-job skin wipe sampling (hand and neck) was another collection method tested on one day.
The collection of air samples was the most involved method. Air was continuously collected within the breathing zone of each worker during the entire work day. Workers wore a pump connected by tubing to a sampler containing a filter or other absorbent material that was attached to the workers collar or label. The pump pulled air through the sampler throughout the day and at the end of the day the sampler was removed from the worker, sealed, and sent to a lab in a light-resistant envelope.
Hanley said air samples were collected from the edge of each worksite to measure the levels of PAHs in the ambient air to learn what, if any PAHs might come from other areas.
A Cooperative Effort
Mark Bookbinder, a consultant for human exposure studies, who was at the sites representing PCTC, said he was impressed with the process he saw in Columbus.
"They approached things differently than I'm used to seeing, but we had no problem at all working with the NIOSH group and with STAR. It was a very cohesive group in which everyone wanted to pull their weight," Bookbinder said. "There was good cooperation between NIOSH and the industry and I don't expect that to change."
Bookbinder cautioned that "it's early days" in this study and that NIOSH is looking at a number of different collection methods, trying to determine which will be most appropriate and will work best. "The techniques I saw appeared sound, the question is what are they going to actually use to do the real study. It will be interesting to see what the results are from each of the methods to see what might work."
Girish Dubey, president of STAR Inc., said he thought the four days was "a very positive experience," adding that it was clear NIOSH appreciated the industry support as NIOSH worked to establish procedures and methodologies to be used in the full study.
"As an industry we don't have anything to hide, so when the opportunity came up last year to partner with NIOSH on a study I offered STAR to volunteer to do anything they needed us to do," Dubey said. "As an industry we're quite open. We're willing to discuss and support any study that's going to be done on any scientific foundation that doesn't have a predetermined slant to it. That's why we got behind this study with NIOSH and why PCTC and STAR as a leading PCTC member volunteered to participate."
Dubey even volunteered himself to provide urine and skin wipe samples to establish a baseline and so NIOSH could compare field results to a person not on the jobsite. In addition a pump like the one worn in the field by the three workers was placed on the desk in Dubey's office to collect samples there.
"Personally I feel very dedicated and confident about this industry," Dubey said. "We are doing things properly, ethically and safely and on a very scientific foundation and that's what we expect this study to prove."
The Next Step
Once the samples are analyzed by an American Industrial Hygiene-accredited laboratory, the data will be analyzed by NIOSH and a report prepared to present findings to the research partners. NIOSH will also use the results from the pilot studies to determine the need to revise the initial protocol and settle on a set of collection methods to use for the full study.
"The pilot means that if we feel there's any need to adjust what we're collecting or how we're collecting it or when we're collecting it, then we could make those changes," Hanley said. "If we feel there's a need to modify the process then we would do that."
But before that happens NIOSH would like to collect data from a broader range of contractors and greater variety of jobs and application methods, according to John Snawder, research toxicologist at NIOSH focusing on exposure assessment and biological monitoring.
"For the rest of the season we're hoping to get more field surveys," said John Snawder. "The more diverse projects and contractors we can get to participate the better," Snawder says. "We're trying to get a handle on exposure in their experiences, so squeegee, hand sprayed, truck sprayed, manual application, even mixing of material. Whatever common practices that the applicators perform would be beneficial to include."
"We want to see all aspects of how workers are handling the product," Snawder says.
Bookbinder says he hopes NIOSH is willing to share its data with PCTC and the rest of the industry to show everyone where the study is going to go.
"It would help if they would be willing to share some basic results, particularly how they want to frame those results," Bookbinder says. He said that sometimes the scientists who report the results are not the same people who draft the final report, and that can create issues in what he termed "framing."
"It would be great to have continual contact with the industry throughout the process so all the stakeholders are kept in the loop," says Bookbinder. "Interpreting and framing of results is important in a study like this. And judging from the conversation with NIOSH people they are aware of that."