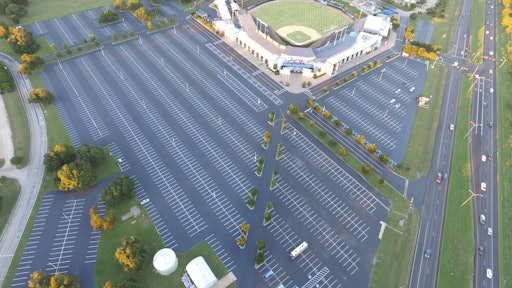 Though only five years old, Alpha Paving Industries, Round Rock, TX, has developed a solid reputation that has given it the confidence to pursue high-profile sealcoating, repair and striping jobs like the one at Dell Diamond Field last summer. It wouldn't be the biggest job Alpha Paving has done – that title goes to sealcoating the Dell campus in Austin, TX – but it would be a marquee project Alpha Paving can add to its portfolio of high-profile projects.
The Dell Diamond is the home of the Round Rock Express baseball team, a Triple A affiliate of the Texas Rangers. The park and parking lot are owned by the city of Round Rock so the job was publicly bid. Alpha Paving was the second lowest bidder so didn't get the job initially – but after the awarded contractor was unable to perform he job, Alpha Paving was asked to step in and save the day.
And Alpha Paving knocked the job out of the park.
Not only did the contractor reevaluate and compress a complex schedule involving four coats of sealer, but they broke their own record by putting down 15,570 gals. of mixed sealer in a single day.
Growing with the Economic Boom                  
Alpha Paving Industries is a full-service paving and pavement maintenance company serving the Austin and central Texas area. The contractor's work is split evenly between public work and commercial work which involves paving, repair, sealcoating and striping. Alpha Paving employs 50 people, 40 of them in the field, and completed 500 jobs in 2016 -- pretty impressive for a company that didn't exist in 2011.
"There's been such tremendous growth in this area in the last five years and that timed perfectly with us starting the company in 2012," says Andrew Kim, president, who co-founded the company with Scott Sneed, vice president. The two met while working for one of the larger a local paving contractors and, because of changes in the local market, hatched the idea to go out on their own.
Sneed says that in a span of three years many local paving companies were acquired by larger national paving contractors. "As that was happening we noticed a big shift away from the maintenance side, so our plan when we started was to first fill that void on the pavement maintenance side, just doing patching, sealcoating and striping," Sneed says.
But as the market exploded and demand for paving grew, Sneed and Kim decided there was room for another quality paving contractor. So in year two they added paving to their services.
"There is amazing demand in central Texas for quality paving and pavement maintenance, and we were able to step in and fill that gap," Sneed says.
According to Sneed, a big factor in their ability to grow at a rapid pace was a strong relationship with a burgeoning local bank, R Bank,that was aggressively trying to grow, too. "They were trying to establish their name and grow at a rapid pace – just like we were. They started with two or three branches and now have close to a dozen, so they were pivotal in our growth and we kind of grew together," Sneed says.
Scheduling Dell Diamond
As with many jobs at facilities holding multiple events, scheduling at the Dell Diamond facility was a major concern. In addition to ballgames the park hosts carnivals, festivals and other events. Complicating the scheduling was the bid itself, which called for four coats of asphalt emulsion sealer – the top-of-the-line protection suggested by material supplier Neyra Industries.
"A standard parking lot spec is two coats. The next level up is primer plus two coats and a third coat on drive lanes," Kim says. "Top of the line is primer plus three coats and that's what the bid called for. They just wanted to extend the life of their pavement even longer and not have to sealcoat it as often."
When Alpha developed its bid they anticipated staging the work over four days, dividing the job into sections and rotating which sections were open which days. The costs of additional staging and coordinating added to the complexity of the project and subtracted from the job's profitability. At the pre-con meeting Alpha's team learned the city had plans to divide the lot even more, into five or six sections, adding even more staging and complexity.
"The city had an elaborate phasing plan that would keep the park open," Kim says. "There was no formal phasing plan included in the bid documents from the city but at the pre-con meeting they had their own assumptions that it would take five or six days rotating areas and dodging around events. We could have followed that plan but it would have added to the cost and complexity of the job."
So Alpha Paving reevaluated. They considered their manpower, the equipment they had, which included two 3,175-gal. spray trucks, the proximity of their yard and their supplier to the jobsite, the weather and their other jobs – scheduled and in the pipeline.
Sneed says that as badly as they wanted the job, they wanted to provide quality work and they wanted to make a decent profit. The cost and complexity of opening and closing and reopening and reclosing as many as six sections of the park, and the cost of restaging every day clearly would take a bite out of the bottom line. Plus keeping the crews on the Dell Diamond job productive on other jobs when they weren't on the Dell job made scheduling for other customers difficult. Plus it made the workers (and equipment) on the Dell Diamond job less productive.
So at the pre-con meeting Alpha Paving offered a suggestion: They could complete the vast majority of the job, around 90%, in two days if the park and parking lot could be completely closed. Patching work would be done in stages the month prior to closing it down, and a very small amount of work could be done after the main job was complete as time and park activities permitted. The city was on board and they found a two-day window.
"That meant we had to execute and get it done in two days like we promised," Kim says. "But we knew that as long as the weather cooperated we were going to be fine."
He says he knew they would be fine because they could add more manpower and use the two truck-mounted 3,175-gal. sealer tanks equipped with spray bars to seal the 805,000-sq.-ft. property...four times. "We hadn't had the two big distributor trucks very long, in fact we got the second one in the spring of 2016," Kim says. "But having those trucks was really the key to the project."
On the Job
Kim says Juan Beltran, crews superintendent, has extensive sealcoating experience with field operations, equipment and materials and he was tasked with planning the entire Dell Diamond job. "We relied on him to create the plan and he tasked each person with what to do," Kim says.
In addition to recommending doubling the sealcoating crew size to 12, he divided the crew into three-man teams and assigned each team specific tasks, including cleaning the pavement, handwork and applying the primer coat of sealer. Beltran planned the work, deciding where on the parking lot each team would start and how far they were going to go before turning around to make another pass or moving on to another area. "It was a very well planned and coordinated effort," Kim says. "It was a very progressive plan on how we were going to get this done in a tight schedule."
Beltran held a crew meeting prior to starting the job to make sure all crew members understood their responsibilities, to outline the plan and to make sure everyone was on board.
Then in July, more than a month before sealcoating was scheduled to start, Alpha Paving began repairing more than 50 patches, 2 in to 12 in. deep, throughout the property using close to 600 tons of material. After those patches cured for at least 30 days Alpha Paving was ready to sealcoat.
And once the sealcoating started in August the crew was on site early both days. "We worked in the dark under the ballpark lights doing all the things that didn't include sealcoating," Kim says. That work involved cleaning the pavement using a power broom followed by edging and hand work and then application of the primer.
"The crews started on site at 4:00 a.m. but didn't start sealcoating until after 8:00 when then temperature hit the required mark. Work continued both days until dark, around 8:00 p.m."
Because Alpha's yard is close to both Dell Diamond and Neyra's Texas operation, the contractor didn't need to set up a staging area at the job. No raw material was kept on the site and sealer was mixed either at the supplier or in Alpha's two 8,000-gal. tanks at its yard.
"We just went back and forth as needed to pick up material," Kim says. "Using the two trucks we often had both working on site at the same time and just as often one was on site while the other was filling up. It was pretty much nonstop sealcoating once we started."
In fact it was so nonstop that Alpha Paving set a company record of gallons of sealer applied in a single day – 15,750 mixed gallons – on the first day on the job.
"We had good weather with a lot of sun with good temperatures so coats were dry in less than an hour," Kim says. "We started at one end and by the time we'd finished the other end that first area was dry."