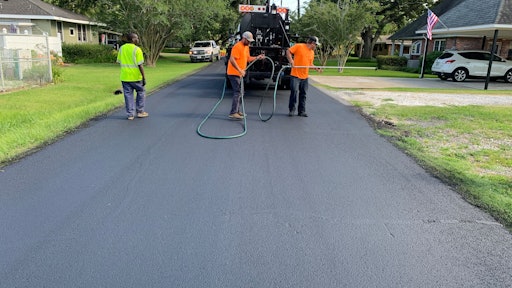 There is no one-size-fits-all solution when it comes to pavement preservation treatments. Traffic, weather, maintenance and a hundred other factors contribute to a road's longevity. So in an area where contractors have historically offered a blanket approach to pavement maintenance, Material Resources Inc. chose to take a different path. Instead, the Louisiana-based asphalt maintenance contractor considers the individual variables of each project before making a preservation recommendation. In this way, the family-owned business ensures their customers receive the highest-quality, longest-lasting preservation services. However, the ability to provide the right solution for the right road requires flexibility — a key element Material Resources found itself lacking when trying to introduce a new mastic sealer to their lineup. 
A New Direction
Material Resources started in 1996 as a family business focused on manufacturing patching products and filling potholes on local city and county roads. Within two years, the company recognized that simply reacting to the problem was not in the best interests of its customers. Instead, the team wanted to provide services that preemptively addressed wear and tear. Before they could be successful, though, Material Resources knew they'd have to convince local officials of the benefits of effective preservation — correcting misconceptions left behind by previous practices. Education would be key in bringing change to their area. So, team members began researching pavement preservation options that best served their customers.    
"Pavement preservation isn't new," said Ryan Casto, operations manager for Material Resources. "Louisiana, like many states, is starting to see the benefit of implementing a well-thought-out preservation strategy. But we've had to overcome a lot of negative perception to get to this point – contractors selling preservation that didn't make sense for a particular stretch of road and products that didn't live up to their claims. We knew that for things to change, we needed to help set the record straight on the benefits of the right kind of preservation."
With each project they bid on, Material Resources began educating clients. They provided science-backed data on the benefits of properly applied preservation materials and made pavement preservation part of the conversation in towns and parishes within 100 miles of their headquarters in Port Allen. And as understanding grew, so did Material Resources, selectively adding products and services to its portfolio to maximize flexibility for meeting customer needs.
"There's an ideal application out there for every preservation job," Casto said. "What sets us apart is we don't push customers to use an application just because it's the one we have. We outline the best option for their situation, even if it means sending them to another contractor, because making sure they get the right service is more important than providing the wrong one. Still, we'd like to be the ones doing the job, so we strive for the flexibility to tackle almost anything."
A Sticky Situation
Constantly updating their products and services to meet customer needs has helped Material Resources provide quality, long-lasting results and grow into a respected pavement preservation specialist. But it has also led to some growing pains when old equipment doesn't work for new applications.
Most recently, this equipment mismatch occurred when the company began working with Onyxâ — a frictional surface treatment capable of loading a large amount of aggregate for superior durability and surface friction.
Before Ingevity introduced Onyx to the market in 2012, Material Resources relied on its own process for restoring frictional characteristics to roads. The PM+ Texture Seal application used a truck with a spray bar and hopper system to simultaneously spray liquid seal coat and disperse fine aggregate overtop. The process replaced lost surface fines and extended road longevity by three to five years. With PM+ Texture Seal, Material Resources could cover long stretches of road quickly and efficiently, providing a frictional result similar to chip seal and slurry coatings but at a fraction of the cost and time necessary for these applications.
PM+ Texture Seal allowed Material Resources to provide a vital service to their customers. However, the team was always looking to add products and services to their offerings that could streamline the process, increasing productivity without sacrificing quality. Onyx, supplied by licensed producer, Ergon, was one such product. Aggregate was already incorporated into the mixture, so there was no need for a hopper system to disperse it. This simplified the process significantly while providing superior results. For weathered asphalt pavement with minor distresses, Material Resources could improve road conditions and safety with a fast-drying application of Onyx rather than resorting to heavier treatments that were more costly and intrusive to motorists. The only problem was how to deliver it. Material Resources' current spray equipment couldn't handle the mixture, leading to frequent clogs.
"When we tried running Onyx on our existing equipment, we were plagued with numerous clogs," Casto said, "Clogs don't just increase downtime — they build up pressure and pose a danger to our crew when we have to remove them. Correctly depressurizing a spray system takes time. When you're on a deadline, every second counts. So, we needed a system that could handle Onyx — or any of our other products— without clogging."
As always, Material Resources relied on data and the numbers to point them in the right direction. Buying new equipment to apply a single product was costly and inefficient, but they were confident they could find a custom solution that allowed them to apply Onyx efficiently but also had the flexibility to tackle any of the other products and processes their customers required. 
High-Volume Versatility
Material Resources approached Neal Manufacturing with a detailed list of specs. In addition to versatility, they were looking for high-volume capacity to get the job done quickly. They were also looking for a solution that was easy to operate and maintain.
"County and rural roads make up a large portion of our business," Casto said. "We're not always close to home, so we needed a reliable machine that could put down a lot of material in one go and didn't need a certified mechanic if something went wrong. The team at Blastcrete Equipment and Neal Manufacturing have a reputation for engineering equipment that is easy to operate, efficient and durable. We were hoping they'd have a solution to fit our situation, and they did."
The Alabama-based OEM worked with Material Resources to customize a High-Volume Road Maintenance Vehicle. The unit is equipped with a 1,500-gallon tank that allows Material Resources to spray approximately 10,000 to 12,000 square yards of road with a single application of material before refilling — half that for double applications.
"The standard Neal Manufacturing High-Volume Road Maintenance Vehicle comes with a 3,000-gallon tank, but we felt the 1,500 size would be better suited for the types of roads we predominantly work with," Casto said. "We needed something with lots of productivity but a smaller footprint that could easily get around neighborhoods and tight areas. The Neal team worked closely with us on a custom solution that works with our smaller truck."
With the Generation IV pump, Material Resources has the flexibility to apply a variety of sealcoat products, including Onyx, without worrying about clogs. In-cab controls also make application easier for crews, allowing them to adjust the spray bar and individual nozzles on the go.
Continued Support
Material Resources saw positive results with the High-Volume Road Maintenance Vehicle right away. As part of their ongoing education initiative, they demonstrated the benefits of Onyx on a mile-long section of road for the city of Port Allen. With the efficiency of the High-Volume Vehicle, they were able to complete the project 30% faster than alternative applications. In situations that don't call for Onyx, the High-Volume Vehicle still provides impressive productivity, allowing them to complete jobs up to 40% faster.
However, there is still room for improvement.
"Whenever we had an idea or something wasn't going quite right, we didn't hesitate to pick up the phone and call," Casto said. "They are willing to listen and make adjustments based on what we need. There aren't a lot of companies that will do that. For example, we had some early issues with spray patterns, and they helped us reconfigure the nozzles to solve it. We thought that was the end of it until we got a call to say they've come up with a better solution. Even though the issue was resolved, they continue to innovate."
The Right Partner
With their first High-Volume Vehicle already providing ROI, Material Resources partnered with Neal Manufacturing for a second unit — which incorporates many of their suggestions as new standard features.
"Our goal has always been providing the right product, at the right time on the right road," Casto said. "Asphalt preservation continues to evolve and what's right today might change for tomorrow. Working with partners that understand means we will always be able to supply an ideal solution."
As the understanding of preservation benefits grows in Louisiana and across the country, Material Resources looks forward to helping more cities, counties and entities develop high-quality, long-lasting preservation plans that match the right process to the right road.