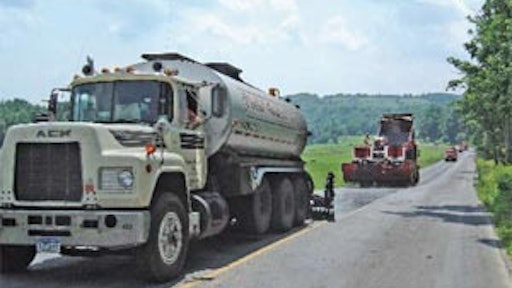 Like many local road agencies, New York's Delaware County Highway Department has a limited budget to maintain the 270 centerline miles (two-lane roads) under its jurisdiction. According to Wayne D. Reynolds P.E., commissioner of Delaware County's Public Works, the highway department addresses those limited road dollars by preserving the existing system with an annual chip seal program — treating a fourth of the roads each year.
"We do what we can with the resources we have available," says Reynolds. "Most of the roads we're maintaining have a 'hammer stone' base and the increase in truck traffic and traffic volume has taken its toll on those roads."
Roads under the county's jurisdiction range from 4 to 7 inches of asphalt covering the large stone base. The chip seal program has been a mainstay in the county's maintenance approach to keep those roads in good serviceability. With each application, the county hopes to extend a road's service life another five to six years.
"We do some crack filling and some hot mix overlays, but our primary focus is to continue building up the roads with chip seal applications (some roads have five or six layers of chip seal)," Reynolds says. "In cases where we're experiencing heavy rutting due to the increase in truck volume, we T & L (true and level edges and excessive rutting) the road surface first before we apply a new chip seal coating."
With an annual maintenance budget of approximately $3.4 million ($1.3 million to support its own staff, $1.1 million for equipment expenditures and $1 million for outside contracts) the county's highway department tries to do as much as it can internally.
"Our staff takes great pride in being very efficient in executing the work that needs to be done," Reynolds says. "We complete our chip seal projects each summer within a three- to four-week period just after the Fourth of July."
In the case of this past summer's chip seal program, where Vestal Asphalt Inc. provided the emulsion, distributor truck and chip spreader, the county's crews trucked stone to the various road projects, provided its own traffic control and performed the required rolling after the stone was spread over the emulsion.
"We buy the stone we need in spring and begin trucking it to the various sites scheduled for chip seal," says Brian Francisco, general highway supervisor for Delaware County. "We take care of any preparation work required, like shoulders and T & L work, so that when it's time to begin applying the chip seal we're able to cover approximately 6 to 7 centerline miles a day. Our contract (with Vestal on the approximate 70 centerline road miles in 2005) called for four-tenths of a gallon of oil per square yard (application) and 22 pounds of stone per square yard. We purchased and hauled 25 pounds per square yard in case we needed to increase the application based on road conditions."
Delaware County's 2005 $300,000 contract with Vestal covered the 394,178 gallons of emulsion required, along with the cost of the distributor, chip spreader and service to operate those two pieces of equipment. Francisco says the county purchased the 12,318 tons of pre-tested stone separately from the Vestal contract.
"We've been doing it this way for a long time and seems to be the best approach in keeping our roads in good service," he says.
"For the cost, it's the most economical way to get the job done, and the planning and execution of the (chip seal) program allows us to complete the work in about three weeks. The system just seems to work out well for us."
Supplier, Contractor Role
Vestal Asphalt Inc, which is headquartered at Vestal, NY (near Binghamton), produces all grades of liquid asphalt emulsions — rapid setting, medium setting and slow setting — both anionic and cationic. The company utilizes these products for road construction services provided to town, county, city and village highway departments in central, western and northern New York, as well as northern Pennsylvania.
The company owns a broad selection of road construction equipment for chip seal operations, microsurfacing, slurry seal, crack filling, cold-mix production, cold-mix paving, cold patch products, dust control spraying operations (using both calcium chloride and asphalt emulsion dust oil) and full depth reclamation road rehabilitation. Vestal conducts business from two upstate locations in central New York.
For its chip seal operation, Vestal operates 20 asphalt distributors (mostly Bearcat and some Etnyre) and five chip spreaders (Bearcat and Etnyre), along with several rollers. Vestal has the capabilities to provide a turnkey chip seal operation, including traffic control, with aggregate trucking subcontracted. However, most customers choose to provide their own trucking, compaction and traffic control utilizing their municipal forces and equipment.
For the Delaware County Bid Specifications, for example, Vestal was required to quote prices for all grades of liquid emulsion and for various pieces of construction equipment (with and without operators) used in asphalt emulsion applications, including: power broom, steel wheel roller, pneumatic tire roller, variable width chip spreader, pugmill mixer, traveling plant mixer, recycler for full-depth reclamation, chip boxes, and bituminous asphalt paver. The county then purchases the needed asphalt product and contracts the needed equipment for a specific project. The specification did not include details of the construction process. Those details are worked out between Vestal and the road agency at the time of the project.
In the case of Delaware County awarding a chip seal project to Vestal, the contractor assesses the job and is allowed to make recommendations to the county regarding mix design and application rates. For the Delaware County chip seal projects this past summer, the county specified the application rates for emulsion and stone. Vestal monitored the rates and made recommendations for changes in the field where road conditions warranted deviations from the county's specified application rates.
"We've been working with Delaware County for a long time and we've been very flexible in providing the services they want us to provide," says Peter Messmer, technical services engineer for Vestal.
Messmer, who handles the application and inspections on projects like Delaware County's chip seal program, says Delaware County typically solicits bids on the liquid asphalt it needs for targeted projects and then specifies the additional services and equipment it would like the winning bid to provide.
"We try to match our capabilities with their needs," Messmer says. "We can provide as much support as needed to complete the project or as little as required based on what they want to do themselves. When we are awarded the bid for the emulsion, the county is receptive to recommendations we may offer to successfully execute what they want, but we're always willing to mix and match our services with their own capabilities."
In 2005, Vestal produced and applied 750,000 gallons of emulsion, both cationic rapid set #2 (CSR2) and anionic rapid set #2 (RS2).
"In New York, emulsion manufacturers are applicators as well, and the key to working with road agency customers like Delaware County is having the capability to provide all the services they require and the flexibility to provide only what they want," Messmer says. "We've been very fortunate to have a long relationship with Delaware County and that relationship has allowed both of us to work together in delivering the right solution for the county's road maintenance needs."