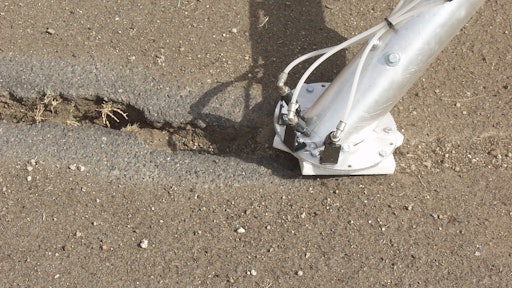 The chances of a good sealant bond when crack sealing is reduced by several factors. Cold temperatures, dirt, moisture deicers, oil, and any impurities can all hamper the effectiveness of crack sealing. 
Contractors should only crack seal in optimal temperatures (be sure to follow your material specs) and create the best environment possible for the crack sealant to be placed in to.
Crack sealing can be accomplished in all four seasons. Considering all of the influences, ideally it is recommended to perform crack treatments shortly after cracks have developed to greater than or equal to 1/8-in. and at a time of year when temperatures are moderate; such as in the spring or fall. Summer crack sealing is also typical and winter crack sealing can be done with proper care and if conditions are appropriate.
Using the proper tools for the task at hand will not only make the job easier for the operator, it can also help ensure the cracks are being properly cleaned for crack sealing materials. 
Air Compressors:
Crack cleaning equipment is designed to remove dirt and debris from the crack with powerful air pressure and suction methods. Contractors generally use high-pressure air compressors with hoses and wands to achieve sufficient pressure to blow fragments and particles from the crack.
Air compressors should have a minimum of 90 PSI to achieve desired level of cleanliness. Back pack blowers, and wheeled blowers are used for general blowing of the work area but are not recommended for crack cleaning operations.
The compressor on these blowers should be checked regularly to make sure it is completely dry as some compressors may introduce water or oil into the air supply. The compressor should be equipped with moisture and oil filters to assure thorough dryness of the crack.
Wire Brushes:
Clearing away debris and undergrowth is extremely important before installing crack sealant. Wire brushes are used in conjunction with a blower to remove debris from cracks if heavy duty cleaning operations are necessary.
Wheeled crack cleaners features a spinning brush that penetrates the crack to easily remove debris.
Hot Air Lance:
A hot air lance is used to dry and prepare pavement cracks to accept crack sealant. The combustion system mixes propane and compressed air to generate temperatures upwards of 3,000 °F, creating a high-velocity hot air stream that simultaneously burns vegetation, eliminates moisture, eliminates dried clay, blows debris from the crack and warms the pavement to enhance the bonding to the crack sealant. With these high temperatures, operator attention is required as the asphalt pavement should be thoroughly dried, but not burned. 
There are self-contained wheeled hot air lances and commercial grade packages. Commercial grade hot air lances require a tow-behind compressor that may be a stand-alone unit or attached to the same vehicle as the crack sealant kettle, allowing operators to heat the cracks immediately before sealing. These commercial packages are more productive, enabling you to more quickly prepare and seal large areas of cracks.
Crack Vacuums:
In many areas of the country, air quality is becoming a concern. A crack vacuum is specially designed to eliminate debris from the crack without the dust created by air compressors. These vacuums clean pavement cracks and maintain a clean environment while preserving worker and public safety.
These systems limit worker exposure to dust and improve visibility problems that dust can cause the motoring and pedestrian traffic. Most vacuums also have filter systems that contains particle matter helping operators comply with strict air quality standards in effect today.
Routers:
Crack routing is an important step to consider when preparing cracks for crack sealant. Crack routing accomplishes several objectives simultaneously such as: (1) removing vegetation, (2) cleans the dirt and debris from the crack, (3) removes 1/8-in. of deteriorated asphalt providing clean, strong edges within the crack for sealant to adhere to, and (4) creates a designed reservoir to place the crack sealant in.
When sealant is applied into a routed reservoir, adhesion is improved and the sealant is better equipped to accommodate crack movement due to weather and traffic for many years. Read more on crack routing here.
Regardless of the preparation method, the cracks should be cleaned and dried immediately before introducing the crack sealant. Even overnight, a cleaned crack can attract dust and moisture, so it's important to clean, then seal immediately.
Companies in this article