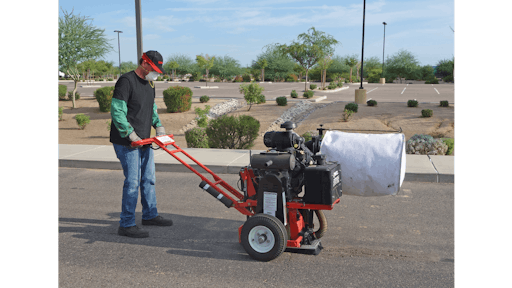 Crack sealing has long been a popular preventative measure to keep moisture, non-compressible materials and impurities out of the pavement, preventing potholes from forming and extending pavement life. Contractors who are crack sealing specialists, know that a simple cleaning of a crack is not enough. The better the preparation, the better the chance that the sealant will last and perform.
By adding crack routing to crack sealing efforts, contractors can help ensure those pavement preservation efforts will last more than twice as long. 
Benefits to Customers
As customers pay for services, they want to know they are going to get the most out of their investment. Crack routing can help achieve those long-term results customers are looking for. 
Properly routed and sealed cracks remain sealed, reduce secondary crack development and reduce new crack development and spalling. The longer cracks stay sealed, the less your customer has to worry about moisture seeping in to their pavement and creating potholes. 
Crack treatment is the lowest-cost pavement preservation treatment with the best benefit-to-cost ratio of AC pavement preservation treatments. Having a crack routing and sealing program gives customers the ability to right-size their budgets for early and routine treatments. 
 Crack routing and sealing achieves: 
Reductions in cracking distress
Reduction in potholes and cracking from 75% to 1% of pavements within three years
Increased pavement smoothness over a five-year period
Reductions in raveling of pavement  
Benefits to Contractors
The most expensive part of crack sealing is paying to have the same crack sealed again. Be sure your customers understand that. 
Contractors who complete crack sealing work can tell their customers that properly sealed cracks can offer up to four years of protection. In comparison, cracks that are both routed and sealed provide seven years of pavement protection, thus almost doubling crack sealing efforts and giving the customers more bang for their crack sealing buck. 
By offering crack routing to your customers, you're providing them with properly prepared cracks that are 40% more likely to hold sealant and last more than twice as long. This also means you can also charge more money for your services. 
Crack routing adds marginal cost to your business in comparison to other types of preservation treatments and significantly extends the service life of the pavement. With one additional piece of equipment – a router -- pavement maintenance contractors can add crack routing as a pavement preservation service that can bring in additional revenue and enhance the quality of their crack sealing efforts. 
Bottom line: the longer a pavement performs, the more likely customers are to be happy with their investment in your services and repeat business with your company. 
Companies in this article