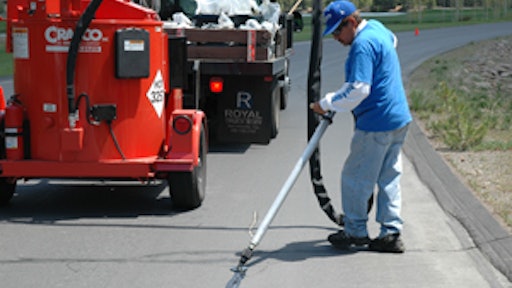 In the cold temperatures of winter, pavement contracts and cracks open to their widest. In the hot summer season, the pavement expands and closes the cracks. During spring and fall, cracks are open midway and this is why those seasons are considered optimal times for crack repair. 
Temperatures during the fall are moderate and do not tend to reach the extremes winter and summer months offer. However, contractors must be sure crack repair operations are only done in dry conditions. Any moisture that's present in the pavement can decrease effectiveness of the seal or create frost action in colder temperatures which will render the seal ineffective
Crack Seal or Fill?
Asphalt pavement is referred to as a flexible pavement that moves horizontally due to changes in temperature and may move vertically as a result of traffic loads. Some cracks can open up to 100% of original width as the pavement temperature changes from summer to winter extremes. So generally speaking, asphalt pavement is always moving to some degree and is why crack sealing is critical to preserve pavement.
Crack sealing uses specialized materials that bond to the walls of the crack, preventing intrusion of water and incompressible materials into the crack, and moving with the pavement as it expands and contracts. Crack sealant is specifically engineered to use specialized materials that allow it to remain flexible at low temperatures so it doesn't crack or split open, and it remains stable at higher temperatures so that it doesn't track or bleed on the pavement.    
Crack filling uses ordinary materials that do not bond well to the crack; it only fills the void and reduces intrusion of water and incompressible materials into the crack and does not move with the pavement as it expands and contracts. Crack filler does not have high or low temperature properties. When pavement movement takes place as a result of temperature change or traffic loads the crack filler is separated from the edge allowing water and incompressible materials to enter into the crack and into the pavement. Crack filler does not achieve the same level of service life as crack sealant, and it does not preserve the pavement as long as crack sealant. Crack sealing is a long-term pavement preservation solution while crack filling is a band-aid.
Crack sealing/filling operations consist of these steps:
1. Crack routing (crack sealing only)
Crack routing, or cutting, is done during crack sealing to clean the crack, create fresh edges to allow sealant to adhere better, and create a designed reservoir to allow sealant to accommodate pavement expansion and contraction with seasonal temperature changes.

2. Crack cleaning and drying (both crack sealing and filling)
It is essential to provide a clean, dry crack channel and remove any loose material from the crack as sealant failure is caused by adhesion failure with the crack wall.
3. Material preparation (both crack sealing and filling)
Contractors should follow manufacturers' application temperature ranges, heating temperatures and recommended moisture conditions prior to application. 
4. Material placement (both crack sealing and filling)
Be sure the filling or sealing operation moves at a steady pace. The kettle operator should monitor the temperature and quantity of material as over or under heating the material can suspend the entire operation. It is recommended that material be added equal to the amount of material being placed during crack sealing operations to maintain appropriate application temperature range. 
5. Blotting (possibly both crack sealing and filling)
Blotting protects the uncured cr
ack treatment from tracking under traffic and is used in areas where traffic needs to travel on the material before it cures. Proprietary detackifying products are available that are designed specifically for blotting crack sealant. Other common blotting materials include toilet paper, talcum powder, lime, sand and limestone chips.

Expand Your Crack Sealing Knowledge at NPE
To further your crack sealing education, be sure to register for the Critical Strategies for Successful Crack Sealing seminar at National Pavement Expo 2017 in Nashville. In this session, you'll learn the fundamentals of crack sealing and gain critical understanding of how to address a variety of situations in the field – "Knowledge Is Power!"
You'll also learn strategies for handling events you might encounter on the job including: how weather issues can affect crack sealing, how to maintain – and increase -- productivity, application tips and how to use crack sealing as a pre-treatment. Plus, take home "best practices" for re-sealing projects and learn how to train inexperienced operators, what to do when moisture is present and how to handle operation delays. Crack sealing has become an integral part of extending pavement life and this session will show you how to do high-quality, profitable crack sealing work.
The session will be taught by Brian Price, Vice-President of Marketing at Crafco Inc. and will be held Wednesday, February 01, 2017: 1:00 PM - 2:30 PM. For more details and to register visit www.NationalPavementExpo.com.
Companies in this article