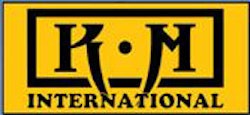 KM International announces the release of its brand new redesigned website. The new website offers quick and easy access to educational resources, pictures and videos that offer a more comprehensive understanding of KM International's innovative line of asphalt maintenance equipment. 
The new website boosts a clean and modern design as well as improved functionality and search ability. New to the KM International site is a FAQ page dedicated to answering some common questions not only about equipment but about the asphalt maintenance industry as a whole. In addition to the FAQ page, KM International is starting an asphalt maintenance blog dedicated to discussing common industry topics and will be used to create an open dialog between the manufacture and other industry professionals. 
The intent of the redesigned website is to provide users with the most up to date educational and promotional resources to assist them in answering any questions they may have about KM International equipment. The website will be updated on a consistent basis with news of new product launches, events, and industry news. 
To view KM International's new website, visit www.kminternational.com.