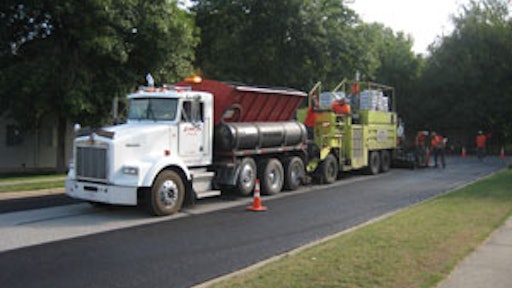 Preventive maintenance should be handled before the street begins to develop significant problems," says Matt Laipple, project manager for Overland Park, KS, pavement maintenance programs. "Once deterioration starts, it goes so fast that many times it is too late for maintenance when you notice the need.
"I like to compare it to your house's siding. When the siding shows a little peeling paint, you don't tear it all off just because it needs paint. You protect the house from the elements by painting it before it deteriorates to the point that it is no longer serviceable. Streets are the same way. They don't need a new, expensive asphalt overlay if you preserve them before they get bad, which saves the city money and enables us to better keep all of our streets in very good condition."
So for years Overland Park has relied on chip seal because it is inexpensive and provides a durable surface. In the Overland Park area, chip seal costs approximately $1 per square yard, whereas microsurfacing costs about double, depending on the type of aggregate. In comparison, a 2-inch mill and overlay costs approximately $12 per square yard for residential streets.
But starting in 2006, the city switched to microsurfacing because residents felt the chip seal surface was too rough and the potential for free flying rock could be harmful.
Overland Park specified a "continuous run paver or approved equal" and a "hydraulically adjustable spreader box" in the project specifications for its microsurfacing programs. With streets that vary from 24 to 36 feet in width, it was important to have equipment that is maneuverable. Without this equipment, contractors are forced to make several passes in some areas, creating overlaps of the material and an uneven surface.
"Many contractors are hesitant to use a continuous run machine on residential streets because of its weight and the belief that it has less maneuverability than truck-mounted units," Laipple says. "Most of our residential streets are at least six inches thick, so we have not had any trouble with the weight of a continuous run machine, provided the street has a stable base. We also find that, with a good crew, the machine is very maneuverable and works around the city's obstacles without any problems."
Ballou Construction Co., Salina, KS, won the bid to microsurface streets in the north half of Overland Park. The company used a full-size Bergkamp M1 continuous paver and a variable-width spreader box to successfully microsurface nearly 1.2 million square yards of the city (about 240 residential and collector streets and seven thoroughfare roads - including two of the busiest).
"Microsurfacing provides a quick in-and-out job that sets very fast," says Rex Eberly, Ballou's vice president and project manager of the Overland Park job. "There is no loose aggregate, less dust, and the surface is nice and smooth. The latex modification of the emulsion is durable, lasting at least six to eight years. Overall, it is one of the best surfaces for the money."
Half a city in four months
Microsurfacing pavements since 1980, Ballou Construction's almost 100 pavement surfacing employees have performed work in Kansas, Minnesota, Nebraska, New Mexico, Oklahoma, and Texas.
On the Overland Park job Ballou focused only on microsurfacing and subcontracted the chip seal work. It laid approximately 431,000 square yards of Type III microsurface on thoroughfare roads and 752,000 square yards of Type II microsurface on residential and collector streets.
A mixture of 86% aggregate, 12% emulsion, and 2% cement was used - with water being added as needed on hot days. In total Ballou used 10,800 tons of aggregate; 318,000 gallons of emulsion; and 211 tons of cement.
The continuous paver teamed with mobile support units to lay the microsurface without stopping, eliminating starts and stops that create bumps for residents. Mobile support units carried aggregate, emulsion, and water that were continuously transferred to Bergkamp's M1 continuous paver. The use of a variable-width spreader box allowed the crew to quickly adjust the width of the box to fit the varying shapes of the roads.
"The variable-width spreader box adjusts widths on the fly, which makes it easy to do tight jobs," Eberly says. "The combination of the box and the M1 continuous paver, which is very maneuverable, makes for a great team when resurfacing residential, collector, or thoroughfare streets. Allan Jensen, the project superintendent, and his crew are very familiar with this equipment and the process and were a major key to this job's success."
Communication is key
Ballou's success was helped by a public relations program required by Overland Park requiring Ballou to maintain a clear line of communication with residents and that residents be alerted 48 hours prior to work being started. Additionally, residents were provided with a map of their neighborhood, showing locations where the streets would be closed and where it was safe to park.
The city sent out letters one month before the project began to all residents that would be affected by the microsurfacing, letting them know that maintenance was scheduled for their streets sometime during the summer. Then a postcard was sent to each resident two weeks before the microsurfacing commenced, and finally, Ballou put a door hanger on each residence 48 hours prior to performing work on a street. The door hanger included:
Date the street and/or driveway would be closed
Where the resident should park during construction
Possible causes for delay
Contact information
Instructions that residents should follow before driving on the newly microsurfaced street.
Ballou was also required to have a separate phone number and an available receptionist to answer questions from 7:00 a.m. to 6:00 p.m. every day. The receptionist was required to keep a log for each caller.
"The end result was very successful," Laipple says. "Ballou attached a map showing which streets were safe to park on in the neighborhood, an addition that was highly appreciated by the residents. Overall, the public relations program reduced our calls by 50% compared to previous years."
For more information visit www.opkansas.org or www.bergkampinc.com