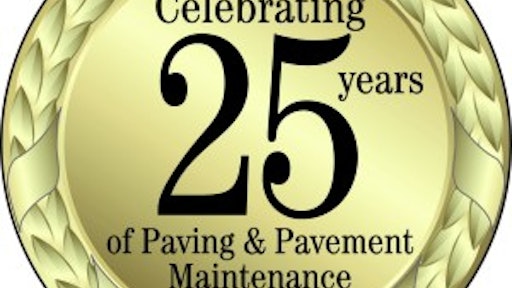 What can you say about a 22-year-old paving and pavement maintenance company that over the last year increased its sales 500%?
How about, "Congratulations!"
That giant leap in sales came about after Ken Goldberg and Jeff Cohen acquired the company in 2008 and became its third owners. Goldberg says they decided to buy the company because the two thought they had a fail-safe approach to grow the company quickly; they did, and he says that M & M Asphalt Maintenance is on track to double 2009 sales this year.
"I come from a corporate framework where customer service and customer retention was all that mattered. The customer is the boss," Goldberg says. "I came from a relationship world and I took that white collar approach into a blue collar industry. Basically we're a customer-service organization that does construction."
Pavement Maintenance & Reconstruction first profiled M & M Asphalt Maintenance in 1993 when the five-year-old company employed 10 people and worked exclusively in the West Palm Beach area. Today the 30-person company covers the entire state from offices in West Palm Beach and Orlando. Goldberg says 35% of sales are sealcoating and striping, 35% are paving, 20% are patching, and 10% are concrete work. As many as seven crews are in the field every day.
The first thing this team did was incorporate each member's diverse experience: Cohen's more than 20 years in the pavement maintenance industry; Goldberg's real estate and business consulting experience, coupled with his finance background; and veteran businessman, financial consultant and advisor David R. Goldberg serves on the board and is active in key business decisions, personnel hiring, and overseeing company finances.
The first step after acquiring M & M Asphalt was to institute systems and processes that would enable the company to grow. The internal upgrades were necessary because, Ken Goldberg says, the company's infrastructure wasn't set up for the rate of growth M & M's new partners were anticipating.
"We planned to pursue an entirely different market, and we knew that when we succeeded the company as structured would not be able to handle the growth," Goldberg says.
So they instituted new processes to improve organization, scheduling, and production. All proposals, for example, are now done electronically and all are sent to customers via e-mail. "We are able to respond much earlier and are able to control the flow of work better."
Additionally, M & M Asphalt added two estimators, hired a superintendent with customer service skills, ramped up the marketing department, upgraded technology (including a new software system integrated with Customer Relations Management), added or upgraded 15 pieces of equipment, reorganized crews, and paid a lot more attention to the scheduling jobs.
Goldberg and Cohen also focused their attention on the quality of the work itself. By upgrading equipment and retraining the crews as well as establishing quality controls for each job they were able to substantially increase the quality of every job. "All the new systems and marketing is meaningless if the quality of the work itself is not there," Cohen says. "Now every job we do is a reference for the next job."
"One of the biggest changes we made is in how we are relating to our customers and how we are getting our opportunities," Goldberg says. "We have an old-fashioned family business model that has been very successful: We ask the customers what they want done, we explain what we're doing, and we do what we tell them we're going to do. We don't skimp on the work or the materials, and we do a little extra if we need to."
All that combines to create great relationships, which leads to repeat business and the referrals M & M Asphalt thrives on.
Where the previous owners had targeted only local properties and property management firms, Goldberg and Cohen are pursuing property management organizations, including regional property managers of apartment complexes and corporate customers throughout the state. "You don't reach these people through Yellow Page ads and the Internet, though we do have a small presence in both those places," Goldberg says. "You reach these people through personal contact and through referrals, and that's where we've been successful. Almost all of our sales come from personal contact."
Since the acquisition M & M has focused on marketing to trade associations, regional management companies with multiple properties, trade shows, and similar one-on-one personal contact. M & M also offers "lunch and learns" and participates in other networking opportunities. "It all comes down to focusing on your target markets, finding a way to get into your target markets, and then doing what you tell them you're going to do."