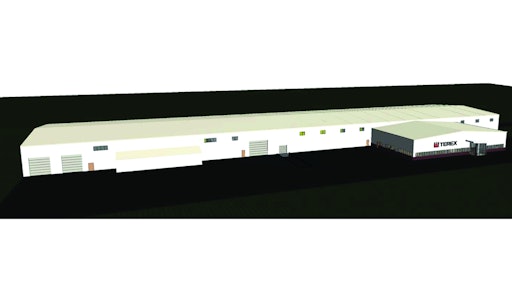 Canton, SD – Terex Corporation announced a big investment in the small city of Canton, SD, where Terex Bid-Well started 50 years ago. The Governor of South Dakota, the Mayor of Canton and representatives from Terex Corporation and the Lincoln County Economic Development Corporation broke ground on a new 80,000-sq.-ft. facility for the manufacture of bridge, highway and airport pavers and related equipment. The new eight-acre site is just miles from the company's current multi-facility downtown campus, and the new building will house all operations under one roof.
"We have a dedicated team with a 50-year knowledge-base for building a niche product that requires customization to meet customer needs," said George Ellis, president of Terex Construction. "It made sense to invest in the Canton community and retain the skilled workforce that will allow the transfer of knowledge well into the future."
The new $4.8 million Terex Bid-Well facility promises to improve manufacturing efficiency and reduce lead time for the paving equipment. "Using Lean Manufacturing principles, material will enter through one end of the building, flow through fabrication and assembly and leave through the opposite end," explained Rob Drew, site director for Terex Bid-Well. "Strong growth and high customer demand for our equipment has forced us to grow into a campus of nine separate buildings over the years. Consolidating into one facility will allow us to maximize productivity of our talented team and reduce order-to-finished-goods time to about five working days."
Ercell Fortney, president, and Kevin Mielke, vice president, of the building contractor Empire Building Construction, Sioux Falls, S.D., indicated that construction was scheduled to begin in April. While not a Leadership in Energy and Environmental Design-certified building, many sustainable construction practices have been incorporated into the building's design. "We always construct our buildings as tight as possible, as we feel this is our obligation to the customer," said Fortney.
Approximately 95% of the building's metal frame includes recycled steel. With windows for sunlight harvesting, walls built with a minimum of R-30 insulation and insulated floors, the building is designed to efficiently capture heat in a climate that sees winter temperatures drop to -30° Fahrenheit. The building's exterior will feature "cool" colors adopted by LEED construction guidelines.
Inside the manufacturing space, the factory will include high-efficiency lighting and a separate welding area with exhaust fans to keep the rest of the space clean. Nearly 30 cranes strategically positioned throughout the factory will greatly improve material flow.
The new facility will be located in Canton's industrial park. "Terex Bid-Well is one of the main catalysts for industrial park growth in Canton," said Lincoln County Economic Development Corporation President, Jon Frick. "We are glad they are expanding in the city where it all began – and that they are so active in helping us grow the community."
Celebrating 50 years in business, Terex Bid-Well is a market leader in concrete paving equipment for the bridge, canal, highway and airport paving industries. The extensive line includes the Terex Bid-Well 2450, 3600 and 4800 bridge pavers; 5000 and 6500 highway and airport pavers; and 7000 canal pavers. The company also offers texture/curing machines, work bridges and specialized pavers for slope paving.
About Terex
Terex Corporation is a diversified global manufacturer operating in four business segments: Aerial Work Platforms, Construction, Cranes, and Materials Processing. Terex manufactures a broad range of equipment for use in various industries, including the construction, infrastructure, quarrying, mining, shipping, transportation, refining, energy and utility industries. Terex offers a complete line of financial products and services to assist in the acquisition of Terex equipment through Terex Financial Services. More information on Terex can be found at www.terex.com.
Companies in this article