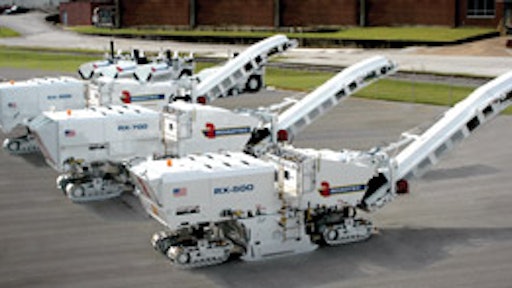 Roadtec Milling Machines
Models RX-500, RX-700 and RX-900
Half-lane to full-lane milling widths
Cut widths range from 2 ft. to 13 ft. 6 in.
Maximum cut depth is 14 in.
Three- or four-track versions
Two spray bars in cutter drum housing for better dust control and tool cooling
Dynapac PL2000 S
80-in. cutting width
Water system keeps drum cool, reduces dust levels, cleans bits
Four control panels on left and right enable monitoring/controlling planing from ground level or from operator's platform
Utility-class milling
MW-500 is a four-wheel, rear-loading, utility-class milling machine
For patching, trench and shoulder milling
30-in. diameter drum offers maximum cutting depth of 8.25 in. with a standard 20-in. cutting width
Tight 7-in. cutting radius comparable to many three-wheel machines
All-wheel-drive, anti-slip control standard
Volvo-Ingersoll Rand
BOMAG Cold Planer
BM1000/30 and BM1300/30 feature centrally mounted cutting drums
Allows precise milling next to walls, curbs and other obstructions
39.6- and 51.4-in. standard cutting widths, depth to 12.6 in.
"Over-the-cut" operator's position, sliding seat ensure better jobsite visibility
Bomag Americas Inc.
Backhoe Mill Attachment
For pavement cuts for utility access or culvert replacement
Attaches to most backhoe-loaders in minutes using the same pin size and spacing as the bucket
24-in.-wide cutter provides a 12-in. maximum cutting depth and is powered by the carrier's auxiliary hydraulic connection
Maddock
Skid Steer Cold Planers
Rated for systems with output up to 42 gpm at 5,000 psi
Driveline is submerged within the chassis, eliminating the possibility of damage and increasing side clearance
Cutting widths 16 to 40 in.
Zanetis Power Attachments
Midsized Cold Mill
Model W 120 F cold milling machine removes complete asphalt courses to full depth
47.2-in. milling width, milling depth 0 to 12.6 in.
Hydraulically folding supporting wheel
Front-end loading of reclaimed asphalt pavement (RAP) via a two-part conveyor system
Equip with wheels or tracks
Optional new Wirtgen Level Pro® leveling system
Wirtgen Americas Inc.