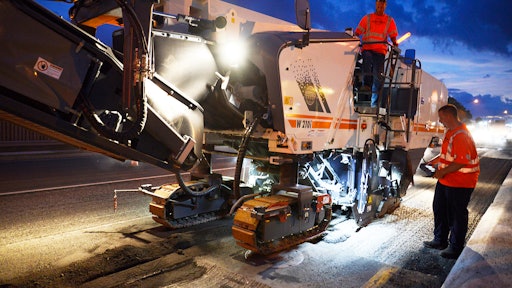 Located immediately west of Cape Canaveral and south of the Kennedy Space Center, downtown Merritt Island, FL, is crowded with tourists and the businesses that cater to them. The associated congestion means that most of the state road work in places like it will take place at night.
"Ninety percent of the roads in Florida are paved back in the same work shift," said George Smith, milling foreman for Blackrock. "And about 70% of our work is night work. With all the congestion in places like Merritt Island, getting work done in the time frame can be frustrating sometimes. Working around the pedestrians and traveling public can be a challenge, as they don't understand how road construction works."
Blackrock Milling recently found itself under intense pressure to complete a milling project on Merritt Island's six-lane urban boulevard. The work called for milling the pavement 2 to 2.5 in. deep, and it had to be completed to allow paving of the milled surface to take place before morning rush hour. This was successfully completed using a Wirtgen W 210i asphalt cold mill equipped with a 7-ft. 3-in.- wide drum.
Blackrock has six W 210i, two W 200i and two W 210 milling machines. "Their technology is superior with respect to mechanical systems and electronics, and the overall gauge steel they use results in a much stronger machine," said Pete Hernandez, president of Blackrock Milling. "They do everything right."
"We like them because they are so versatile," Smith said. "We can mill city streets and cul-de-sacs, then get on highway work where they are very productive. And if need be, we can cut deeply – 10 to 12 in. at a time."
The W 210i has nearly all of the same features as the same-dimensioned W 200i, except for added power in cutting applications. Its fuel-saving drive concept utilizes two diesel engines, generating a total 680 hp with both engines engaged.
"They're the only machines I'm aware of with the twin-engine technology," Hernandez said.