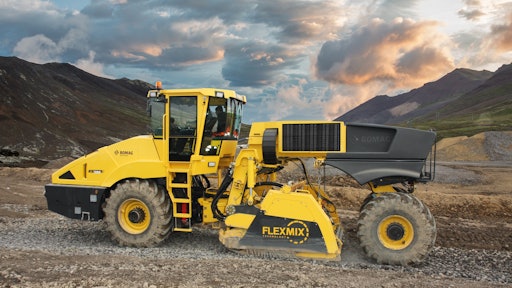 Construction contractors will experience a first look at the latest equipment and services from the Fayat Group of companies – Bomag, Breining and Secmair – March 7 to 11 in CONEXPO-CON/AGG 2017 Central Hall booth #30610. From compaction and asphalt paving and rehabilitation to chipsealing, micro surfacing and pothole patching, show attendees will be shown a global representation of the broadest line of road construction equipment from a single family of companies. 
Bomag New Equipment, 60th Anniversary
From Bomag's light equipment line, the new BVP 10/30 single direction vibratory plate on exhibit is the lightest compactor in its class, weighing just over 100 lb., for easy loading and unloading. The compactor's narrow, 11.8-in. plate width compacts in confined spaces and right up to corners, and the light-but-powerful machine generates 2,250-lb. compaction force.
Celebrating 60 years since Bomag's founding and introduction of the world's first BW 60 walk-behind double drum vibratory roller, Bomag is offering a special 60-month parts warranty for light equipment purchases. Valid on most Bomag light equipment acquisitions made February 1 through December 31, 2017, the 60th Anniversary parts warranty promotion is valid on tampers, single- and reversible-direction plate compactors and walk-behind rollers.
For road rehabilitation, Bomag is exhibiting the new RS 500 Reclaimer/Stabilizer. The RS 500's exclusive offsetting design shifts the rotor outside of the wheel's edge, allowing the machine to safely stabilize slopes and recycle material right up to the road's edge. The reclaimer/stabilizer's Flexmix technology incorporates three infinitely adjustable gradation bars for superior control over final material sizing. The RS 500's height-adjustable cab gives the machine a transport height of only 122 in., so it can be quickly transported from site to site using a low-boy trailer.
Paving contractors will get a productivity boost from the new Tier 4 Final (Stage IV) Bomag BW 28 RH Pneumatic Tired Roller on display. Higher ballasted operating weight of 61,730 lb. and wheel loads now reaching 7,715 lb. allow deeper static compaction penetration. The flexible ballast compartment allows adding concrete and steel weights, steel plates, and water, dry sand or wet sand to give the new BW 28 RH roller a wide operating-weight range from 18,960 lb. to 61,730 lb. The roller's distinctive new front end design significantly improves visibility to the top of the tires, allowing the operator to detect debris pick-up, and to the outside tires for compacting close to obstructions. A three-way pivoting front axle keeps the BW 28 RH's tires in constant contact with the material, allowing the roller to knead and manipulate asphalt surfaces to seal surface voids.
The Bomag BW 211 DH-5 single-drum vibratory roller delivers up to 53,954 lb. centrifugal force for high-lift compaction of rock fill, gravel, sand and mixed soils. With its 128-hp Tier 4 Final (Stage IV) engine, the BW 211 DH-5 features Ecomode speed control to lower fuel consumption by up to 30% versus previous models and to reduce noise levels for more comfortable operation. The drive system dedicates one travel pump for drum drive and a separate pump for the rear axle. Combined with no-spin rear differential, the BW 211 DH-5 delivers up to 60% gradeability without vibration and up to 58% with vibration. 
Briening and Secmair Road Maintenance Equipment
Both Briening and Secmair will also have a presence inside the Central Hall booth #30610, so show attendees can learn more about the road maintenance equipment offerings from both companies. Briening, the German brand of the Fayat Road Maintenance Division, specializes in providing contractors crack sealers and slurry machines. Team members will be on hand to discuss with attendees the line of economical slurry micro surfacing machines, mini production plants for hot-mix asphalt and recycled materials, binder spraying offerings, and crack cleaning/joint spreading equipment.
Based in France, Secmair is a major manufacturer of chipsealing equipment – binder, sprayers, chip spreaders and combination sprayer-spreader units. Pioneers of the Chipsealer design 35 years ago, Secmair will feature information about its simultaneous sprayer-spreader used for a broad range of applications from tack coats before slurry spreading and impregnation layers to surface dressings, patch repairs and curative treatments.
Secmair representatives will also feature its groundbreaking Greenswift Sprayer-Gritter Blow Patcher that economically repairs potholes. With Greenswift's arm positioned in front of the truck, a multifunction joystick gives the driver control of material spraying and arm movement. The machine doubles as a Synchronous Chipsealer that performs accurate surfacing and localized preventative treatments.