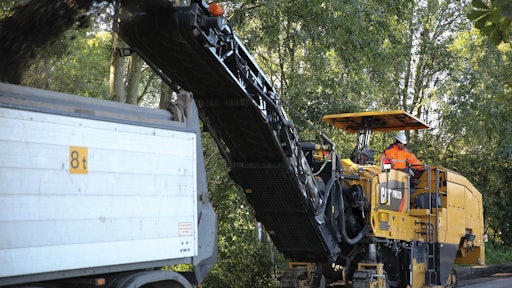 The U.S. International Trade Commission has voted to begin a patent infringement investigation of road milling equipment by Caterpillar Inc. and several subsidiaries. The investigation arises from a complaint by Wirtgen America, the U.S. subsidiary of Wirtgen Beteiligungs GMBH, a privately held German manufacturer of construction equipment.
The machinery under scrutiny is used to mill asphalt and concrete pavement to create a base for a new road surfaces, according to the USITC statement. The accused products include road milling machines, and components of a road milling machine such as: scrapers, auxiliary drives, height-adjustable lighting columns, milling drum uncoupling functionality and hydraulically stabilized chassis.
The complaint alleges violations of section 337 of the Tariff Act of 1930 regarding importation into the U.S. and sale of certain equipment that Wirtgen says infringes its patents.
The USITC has identified the following as respondents in this investigation:
·       Caterpillar Bitelli SpA of Minerbio BO, Italy
·        Caterpillar Prodotti Stradali S.r.L. of Minerbio BO, Italy
·        Caterpillar Americas CV of Geneva, Switzerland
·        Caterpillar Paving Products, Inc., of Minneapolis, MN
·        Caterpillar Inc. of Peoria, IL
Instituting the investigation (337-TA-1067) does not mean the USITC has made any decision on the merits of the case. The USITC's Chief Administrative Law Judge will assign the case to one of the USITC's administrative law judges. That judge will make an initial determination as to whether there is a violation of section 337, which will be subject to review by the Commission.
Within 45 days after institution of the investigation, the USITC will set a target date for completing the investigation. USITC remedial orders in section 337 cases are effective when issued and become final 60 days after issuance unless disapproved for policy reasons by the U.S. Trade Representative within that 60-day period.