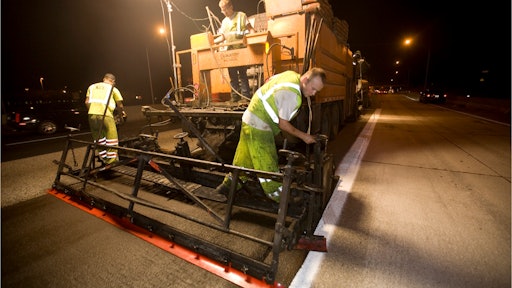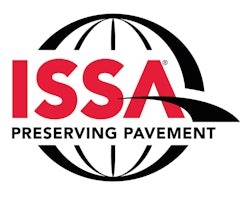 During its 50th Annual Convention, the International Slurry Surfacing Association (ISSA) announced Micro-Surfacing Inc. as the 2012 President's Award winner for its successful completion of the Missouri Highways and Transportation Commission's I-270/I-70 project.
The St. Louis metropolitan-area traffic safety project was the largest interstate micro surfacing project completed in the four-state area of Missouri, Illinois, Indiana and Iowa. To address the safety skid issue created by the four-year-old Novachip surface that was beginning to polish, the project included the surface treatment of more than 100 lane miles of urban highway with traffic volumes from 100,000 to 140,000 vehicles per day. Type II micro surfacing was applied to 18 miles of urban interstate ranging between six and eight lanes, including nine miles of I-270 from I-170 to the Mississippi River and nine miles of I-70 from I-170 to East Grand Avenue.
The project began less than a month after the bid was submitted and employed mostly local subcontractors for the pay items that included milling, asphalt and concrete patching, hot-mix asphalt concrete (HMAC) overlays, rumble strips, traffic control and striping items. Micro-Surfacing Inc. was able to overcome summer traffic control and coordination obstacles that were further magnified by work hour restrictions, nearly 100-degree air temperatures and 120-degree pavement temperatures, consecutive ramp closure restrictions on 86 separate on/off ramps and lane closure restrictions during St. Louis Cardinal game nights.
By mid-July, Micro-Surfacing Inc. had finished the patching work and began applying micro surfacing treatments following the Missouri Standard Specification book, which calls for a two-pass, 30-pound total application of asphalt emulsion micro surfacing on 746,937 square yards of roadway. To improve friction, air-cooled blast furnace slag aggregate was used. One or more crews worked 70 nights between June and October to complete the project on time and under budget with no accidents or work-related injuries.
"In these hard economic times when money is in short supply to maintain our road and bridges, a quality micro surfacing application is a way to lengthen the life of our pavements in a cost-effective manner," stated Dave Bauer, Missouri Department of Transportation Regional Engineer. "I believe that Micro-Surfacing Inc.'s quality work will preserve these pavements for years to come."
ISSA's annual President's Award is presented in recognition of contracting achievements, which exemplify the highest quality of workmanship, and compliance with the best standards of practice. Roadway projects submitted for consideration are judged on the merits of utility, appearance, schedule completion, customer satisfaction and safety.