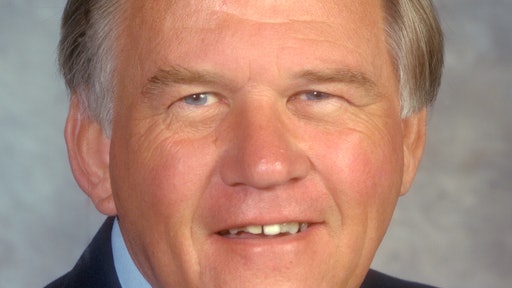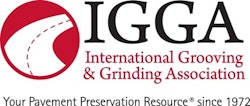 The International Grooving and Grinding Association (IGGA) – a non-profit organization dedicated to serving as the leading promotional and technical resource for acceptance of diamond grinding and grooving as well as pavement preservation and restoration – has announced the winners of its annual awards program.
Presented at its annual awards banquet, held in Marco Island, Fla., on Nov. 27, the purpose of the program is to honor individuals and companies/organizations for lasting contributions made to the grooving, grinding and concrete pavement preservation/restoration industry.
Operator of the Year
The Operator of the Year (Iron Man) Award was presented to Larry Meyer, diamond grinding superintendent & operator, Interstate Improvement, Inc. of Faribault, Minn. The purpose of this award is to recognize the men and women who work in the field for their leadership with special emphasis on his/her dedication to quality and getting the job done right.
Meyer has worked at Interstate Improvement since 2005 as a key diamond grinding superintendent. Having worked on more than 80 projects in 20 different states, he has an aggregate contract value of more than $150,000,000. He was awarded the Operator of the Year Award for his exceptional work ethic and achievements in completing quality work both timely and within budgets.
"It is a great honor to be given this kind of recognition by IGGA as the Operator of the Year," said Meyer. "In all of my years of being in this industry, my performance has been a result of my love for this work. Real work success, I believe, is best measured by the amount of fulfillment or joy that you get after the job is done – and when the work is done right, when the deadline is met and the client is satisfied. Whatever accomplishment I have in my job I give credit to Interstate Improvement for giving me the opportunity and always believing that I can deliver; my team, for supporting my work principles; and to my wife and children for their understanding of the nature of my job."
According to Jeremy Gibbs, President of Interstate Improvement, Meyer is seen as one of the most valued employees. "He has an extraordinary work ethic and is committed to providing the best customer service to our customers that both meets their needs and exceeds their expectations. Larry has earned the respect and loyalty of his employees because of his extreme dedication to the company and the diamond grinding industry," said Gibbs.
Promoter of the Year
The 2012 Concrete Pavement Restoration (CPR) Promoter of the Year Award was presented to Matt Zeller, executive director of the Concrete Paving Association of Minnesota (CPAM), for his promotional efforts over the years as well as his work on grinding and saw slurry in Minnesota this year. The award recognizes an individual or company for exemplary efforts towards promoting diamond grooving, grinding and CPR.
According to Terry Kraemer, President, Diamond Surface, Inc., Zeller led the charge on getting a bill introduced into legislation and signed into law that allowed for the placement of grinding/saw slurry along the slopes of roadways in Minnesota, rather than having to haul it off site for disposal. "This legislation allowed our industry to go back to common sense practices and saved the taxpayers of Minnesota millions of dollars," said Kraemer. "This was no easy battle but Matt's tenacity has provided new language that will be in effect in Minnesota Department of Transportation's (MnDOT) special provisions that will allow us to use this legislation beginning in 2013. The language is sensible, protects the environment, and will allow us to be a more competitive industry going forward. Without his hard work, I don't believe we could have accomplished this."
Zeller has been with CPAM since 2001 and has more than 20 years of experience in the concrete paving industry. He holds responsibilities for running the day-to-day operations, directing promotional efforts and working with MnDOT to develop policies in support of quality concrete pavement.
Government Official of the Year
This year, Tom Yager, distinguished research associate at the NASA Langley Research Center, has been selected to receive the Government Official of the Year Award for his decades of commitment towards the efforts to improve aircraft ground handling performance in adverse weather, specifically with diamond grooved pavement surfaces. The Government/Public Official of the Year Award recognizes leadership in transportation activities with special emphasis on grooving, grinding and CPR.
In 1963, Yager began his career with NASA Langley Research Center in the Structural Dynamics Branch, where he now serves as a distinguished research associate. In his role, he has been involved with several multi-agency/organization programs evaluating aircraft ground handling performance. Yager earned his Bachelor of Science in engineering science from the University of Portland, Ore. He has authored and/or co-authored more than 130 technical reports, journal articles and conference/workshop papers documenting NASA career activities and accomplishments. Further, Yager has been recognized for several industry awards such as the NASA Exception Engineering Achievement Medal in 1990 and 1997 and the Space Technology Hall of Fame Award for Safety Grooving in 1990. Yager's instrumental work has paved the way for several organizations to enlist his help and knowledge including the National Transportation Safety Board, Federal Aviation Administration, Federal Highway Administration, Transport Canada, International American Society for Testing and Materials, Society for Automotive Engineering, Transportation Research Board and the International Civil Aviation Organization.
"Recognition by the IGGA for my work promoting pavement grooving and grinding is an honor to me," said Yager. "I started doing NASA research on grooved pavements in 1964 here at Langley. Back then, we were interested in minimizing tire hydroplaning only on wet runways during aircraft landing and aborted takeoff operations. From here, this technology spun-off to highways and walkways. I understand that currently, in just the U.S., there are nearly 1,000 runways with transverse grooving installed to improve aircraft wet pavement braking performance."
Companies in this article