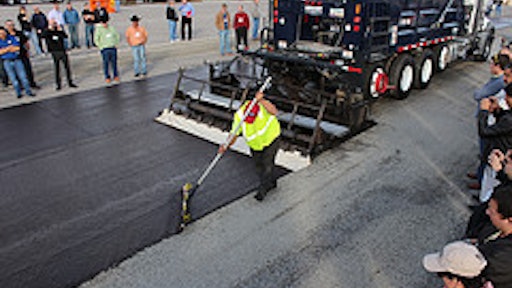 The International Slurry Surfacing Association (ISSA) held its 28th annual Slurry Systems Workshop (SSWS) at the Texas Station Hotel & Casino in Las Vegas, January 22 – 25, 2013.
The four-day workshop included speakers discussing topics ranging from Marketing for Pavement Preservation Contractors and Getting Started with Social Media to hands on sessions covering Micro-Surfacing Hand Mixes and Slurry/Micro Calibration.
Speakers included: motivational speaker Wally Adamchik (FireStarter Consultanting); Ryan Terry (Terry Asphalt Materials); Howie Snyder (Vance Brothers Inc.); Blaine Hone (VSS Macropaver); Larry Tompkins (Ergon Asphalt & Emulsions Inc.); Debbi Deep (MWV Specialty Chemicals); Jason Bergkamp (Bergkamp Inc.) and over thirty more industry experts.
The workshop was organized by the ISSA SSWS Committee: Rex Eberly (Ballou Pavement Solutions), Chair; Jason Bergkamp (Bergkamp Inc.); Sallie Houston (Valley Slurry Seal); Chuck Ingram (Slurry Pavers); Mark McCollough (Missouri Petroleum); Brad Pearce (Viking Construction); Stephan Romanchak (Ergon Asphalt & Emulsions); Howie Snyder (Vance Brothers) and Rich Wenthe (MWV Asphalt Innovations).
"This workshop is great," says Chuck Ingram, sales manager for Slurry Pavers Inc. and SSWS Outdoor Demo Coordinator. "I always look forward to the demos and hands on experience each year."
The attendance at the SSWS included 60 government officials, representing 29 municipalities, and 260 industry attendees, representing 8 countries and 32 different states within the US.
Full information and updates on ISSA are available online at slurry.org.