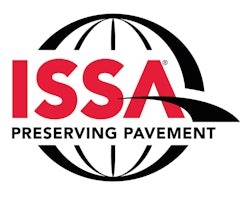 The International Slurry Surfacing Association (ISSA) has named Christine Deneuvillers President for the 2014 – 2015 year. Christine is Technical Manager in charge of the Campus for Science and Techniques Laboratories, Colas S.A., the World's leading private road laboratory, located near Paris, France. Ms. Deneuvillers, a chemical engineer, has been working for over 25 years at the Colas Group, a global leader in the construction and maintenance of transport infrastructure. The Campus Laboratories have a workforce of 50 research specialists and engineers dedicated to road technologies and innovations. Christine began her career in resins in 1988 and then moved on to road construction at the end of 1994 as the head of an asphalt binders and emulsions team at the Colas Central Laboratory. She was then put in charge of the "Applications and Surface Techniques" divisions, which undertake studies on two main types of applications: wearing courses such as surface dressings and Micro Surfacing, along with composites such as road marking and high skid resistance systems. She was tapped to become Laboratory manager in 2007 and was also appointed Technical Manager in 2010. A great number of research projects have been performed by her teams, with a priority focus on sustainable development, including efficient preservation techniques. 
 
Ms. Deneuvillers won the French Engineer of the Year award given out by the French government for her work on bio-products in 2006. She has been Chairwoman of the European normalization committee dealing with Micro Surfacing and Slurry Seals since 2011. She is also the mother of two and has been a member of the ISSA Board since 2006, and an active attendee of ISSA conventions since 1998. 
 
In addition to naming Christine Deneuvillers as President, ISSA has appointed Rusty Price, Intermountain Slurry Seal, Salt Lake City, Utah as Vice President; Carter Dabney, Slurry Pavers, Inc. as Secretary; and Eric Reimschiissel of American Pavement Preservation as Treasurer. Doug Ford, Pavement Coatings Company, is Immediate Past President. Additional Directors elected to the ISSA 2014 – 2015 Board of Directors are: Technical Director Bob Jerman, MWV Specialty Chemicals; Director Scott Bergkamp, Bergkamp Inc.; Director Rex Eberly, Bergkamp, Inc.; Director Rich Francis, Southwest 
Slurry Seal Inc.; Director Doug Hogue, VSS Macropaver; Director Howie Snyder, Vance Brothers, Inc.; Director Larry Tomkins, Ergon Asphalt & Emulsions Inc.; and Director Dave Welborn, MWV Specialty Chemicals.