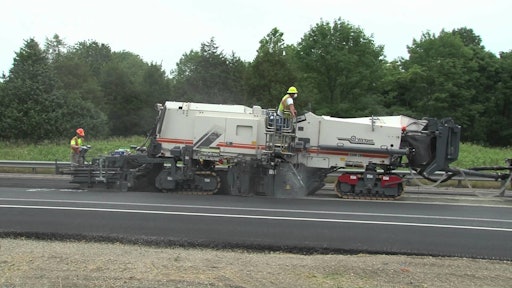 The revolutionary pavement-recycling project the Virginia Department of Transportation (VDOT) conducted on Interstate 81 to rebuild a section of the roadway is performing "well" after three years of high-volume truck traffic, according to a new VDOT research report.
The environmentally friendly paving methods saved millions of dollars by recycling existing road material back into the new pavement and road structure and reduced the project's estimated construction time by about two-thirds.
The 2011 project cost $10.2 million. VDOT used three pavement-recycling processes to rehabilitate a 3.66-mile portion of southbound I-81 in Augusta County, the first time the three methods were used together on a single interstate reconstruction project in the nation.
"This project firmly illustrates how VDOT is employing the 'reduce, reuse, recycle' principle as a serious and cost-saving method for rehabilitating Virginia's roads," said Virginia Secretary of Transportation Aubrey Layne, Jr. "These significant results show how we reduced emissions, costs and the raw materials needed to rebuild a road that will stand up to today's traffic."
"The I-81 project demonstrates that pavement recycling is viable on high-volume, high-priority routes," said VDOT Commissioner Charlie Kilpatrick. "As we rebuild more of our aging interstates and other routes, VDOT continues to use these innovative pavement-recycling techniques as a standard option for improving our roads to keep Virginia moving." 
Research results:
After monitoring the construction of the I-81 segment, VDOT's research arm, the Virginia Center for Transportation Innovation and Research (VCTIR), analyzed the roadway's performance and found that "field performance tests demonstrated that the [rehabilitated] section…continues to perform well after nearly three years of high-volume interstate traffic."
The report recommends that VDOT should "pursue in-place pavement recycling as a pavement rehabilitation technique…where it is most suitable."
PROJECT BACKGROUND
High volumes of traffic and the elements exact a toll on the nation's highways. Innovations and research in pavement design and materials, however, are extending the service life of these roads.
The section of southbound I-81 that VDOT chose to restore via pavement recycling originally was constructed at least 40 years ago. State transportation agencies traditionally maintain the driving surface of an asphalt pavement by milling and repaving it. On this section of highway, the underlying layers also needed to be rebuilt because of substantial deterioration that had developed over the years. The new section, between exits 217 and 213, included new drainage systems as well. 
Pavement-recycling methods:
The three pavement-recycling processes VDOT used on this project were performed on site, or "in place," within or near the roadbed. They are known in the paving industry as:
Cold in-place recycling,
Cold central-plant recycling and
Full-depth reclamation.
Cold in-place recycling uses a machine to pulverize asphalt layers to a depth of about two to six inches below the surface. The process then strengthens and compacts the reconstituted material on top of the road's foundation before applying an asphalt overlay for the driving surface. 
Cold central-plant recycling sends milled asphalt from the top layers of the roadway to a nearby facility for processing before it is put back in the road prior to the final fresh asphalt overlay. 
Full-depth reclamation corrects severe structural deficiencies and defects deep within the pavement structure.
Right-lane rehabilitation:
On this stretch of I-81, VDOT restored the right lane, from the asphalt driving surface down through its foundation, using cold central-plant recycling and full-depth reclamation. Since most heavy traffic uses the right lane, it had more underlying deterioration than the left lane.
The full-depth reclamation strengthened and compacted the right lane's 12-inch underlying foundation (comprised of compacted aggregate and subgrade soil). VCTIR had worked with VDOT to analyze the performance of three earlier pilot projects employing this process before using it on I-81; VCTIR subsequently published a research report with the results.
Construction in the right lane, using both recycling processes, was completed in less than 20 work days.
Left-lane rehabilitation:
Because deterioration in the left lane was less severe, that lane required only treatment to the surface and underlying asphalt layers using cold in-place recycling.
Construction on the left lane was completed in three work days.
Work-zone traffic management:
To keep road crews and motorists safe in the project's complex work zone, a unique traffic-management plan detoured cars onto U.S. 11 to bypass the construction, while large trucks continued to use one lane of southbound I-81 while work was under way in the other lane.
VDOT alerted motorists to the construction several hundred miles from the project via on-road message boards, websites and other communication tools. The research report also recommended continued use of such effective detours for certain highway projects.
 Other benefits:
Savings on the I-81 pavement-recycling project went beyond time, money and materials. It saved fuel because reusing existing pavement and other roadbed materials "in place" reduced the need to transport as much material to the construction site.
Reducing construction time increased safety for drivers and road workers on the project by minimizing work-zone congestion. This section of rebuilt pavement is stronger from the bottom to the top, extending its service life and reducing the need for further complex maintenance for many years.
VDOT estimated the pavement-recycling project reduced production of carbon dioxide by approximately 960 tons for the materials alone (reductions in motorist delays were not included). These estimates also included reductions in the use of both new, or virgin, aggregate by 44,400 tons and asphalt binder by 385 tons.
Recognition:
Following completion of the project, the transportation industry honored VDOT with several state and national awards for its innovative planning, design and construction. 
More information: