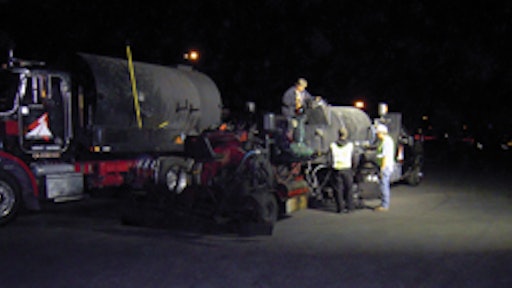 With a focus on versatility and a goal of perfection, there wasn't much to prevent Sikes Asphalt Group from successfully completing a monster sealcoating and pavement repair job for Union Pacific Railroad last summer.
And nothing did. In 14 days, working 12-hour shifts around the clock, Jake Sikes and his six-person crew cleaned and cracksealed 2.7 million sq. ft. of parking lot pavement, performed 23,000 sq. ft. of remove-and-replace repairs, placed a fabric and overlay on 110,000 sq. ft., and then sealcoated the whole job. Twice.
"It was actually really hard but a really fun job," Sikes says. "And Union Pacific was blown away by how fast we finished and by how fast we worked day and night."
The Sikes Asphalt Group's ability to undertake and complete a job like this is rooted in Jake Sikes' approach to business: build relationships, run a versatile operation, and perform quality work.
"Since we're a smaller operation we probably have a better handle on everything that goes on and everything that we can do," Sikes says. "Everyone wears several hats and is trained on several jobs. We give people the opportunity to get on a machine here and there so we don't have just one guy who runs the sealcoating machine. A few people can do it, so if someone doesn't show up we can put someone else on that part of the job and we don't get slowed down."
Planning and preparation
Sikes decided the best way to tackle the Union Pacific job was to hit it hard for 14 consecutive days and nights, running 24 hours a day with two 12-hour shifts. "We continually worked as a unit as opposed to having guys spread out over the property doing different things," he says. "I find that the more you keep everybody together the more productive you are. When you have two guys over here and two guys over there nothing ever gets done."
Communication was facilitated with Motorola radios that hooked to the belt and had an earpiece. "We outfitted the whole crew with them, and it turned out to be a huge advantage on a job this big," Sikes says. "The more I work on this large a scale the more I wish I had communication just like a SWAT team does."
Sikes says that even though the company employs only seven people to handle all the work, the versatility of employees and the right mix and flexibility of equipment enable his crews to handle big jobs confidently. He says his goal on all jobs is to try to have the entire company and crew operate as if it's a team. "We're all in this together," he says. "No one is special and that includes me."
Sikes says that his crew worked long hours but was compensated for their extra effort. In addition to an hourly rate ranging from $18 to $24, the crew piled up a huge amount of overtime, plus he paid them a flat bonus. "All the guys are used to a rigorous schedule because we only have a small window to make this business work - four or five months max, so they know how to work hard and work efficiently."
Among other early decisions that proved crucial:
Having SealMaster of Vajello, CA, drop a 4,300-gal. bulk tank with pre-mixed sealer saved time on the jobsite. Overall the supplier delivered 90,000 gal. of AM acrylic-modified sealer daily, sometimes twice a day. ("Had I used just bulk material I'd have been sitting around watching the agitator turn.")
Having Wine Country On-Site Fleet Maintenance at the jobsite to service the equipment in case something broke, but more importantly to keep the equipment running smoothly and efficiently by constantly changing out the squeegee, spray tips, and interchanged spray systems
Notbuying a second sealcoating buggy (which created some problems that resulted in an even better solution)
Subcontracting the striping of 125 truck bays and 4,500 stalls to Sierra Striping, Sacramento, which freed Sikes up to focus on repair and sealcoating
For the Union Pacific job Sikes divided the parking lot into four large sections. Each section required pavement repairs, cracksealing, sealcoating, and striping, but only one section required paving. Working with the client Sikes decided to shut down one section at a time, leaving the paving section for last. Then he established a staging area, which he does on every job.
The staging area, which Sikes relocated as the job progressed so crew and trucks didn't have to travel far to reach it, contained a 4,300-gal. bulk storage drop tank supplied by SealMaster, two 2007 Peterbilt 10-wheelers with Swaploader beds, a 1993 Peterbilt 3,000-gal. sealer tank truck, a 300-gal. squeegee/spray buggy, a 2002 Ford F-350 XLT with Switch-N-Go bed with a custom-made service body and a 500-gal. sealer tank, a custom-made 10-ft. squeegee/9 ½-ft. spray bar with hydraulic lift, a 2008 Bomag 814 Propaver, Ingersoll-Rand DD-15 and DD-24 rollers, Crafco's EZ Pour 200 melter/applicator, multiple debris boxes and equipment trailers, a 2006 Caterpillar 248B skid steer with grinder and sweeper attachments, a 2008 Ingersoll-Rand L-6 light tower, and a 40-ft. motor home that served as the on-site command center.
In addition the staging area contained all materials, cracksealing equipment, a water truck, tools, 100 spray tips, 300 ft. of squeegee rubber, Masonite shields to protect buildings and fences from overspray, and served as the on-site mechanic's shop. The site also was the location for Sikes Asphalt's Ford E-450 Superduty "mobile office" (formerly an ambulance) with flashers and strobe lights, a coffee pot (well used during the Pacific Union job), a PA loudspeaker system that can be heard over equipment, tablet computers customers can use to sign the contract on site using a stylus and the laptop screen, and mobile printers. Information from laptop computers in the field is synced to the server in the office giving everyone in the network access to the information - all of which enables Sikes to stay in the field, on the job, and also be aware of the office activities. Sikes can guide his crew, alert traffic of safety precautions, show a client a slide show of Sikes Asphalt services, create a bid, print an invoice, or take a lunch break.
"You can never plan enough in this business and you always have to have a backup plan because nothing ever goes the way you thought it was going to go," Sikes says. "We planned for a solid week before we went out to the job and that included cleaning the insides of the sealcoating tanks and making sure the pumps were rebuilt and ready to go. We basically planned it as if everything was going to go wrong. I was pretty amazed really at what we were able to accomplish. It went better than I ever thought it would."
Preparing the pavement
Before they could begin the sealcoating work, the focus of the job, Sikes Asphalt had to prepare the site. As Sikes says, "Prep is everything in this business, and that includes cleaning the pavement."
So he hired a subcontractor with a Tennant 800 sweeper to lead the cleaning. It was supported by two skid steers with broom attachments. Four debris boxes on trucks were staged throughout the area, and the skid steers and the Tennant filled them up. Once that was done Sikes Asphalt hooked Billy Goat blowers to the back of a van and drove at 10 mph back-and-forth across the pavement to clear it of fine particles.
Cracksealing was next, and the crew applied three pallets of cold patch material to spider web cracks and five pallets of hot pour material on larger cracks. The crew cleaned most cracks with a compressor and hand wand, adding a wheeled propane torch for those cracks containing vegetation. Initially Sikes' three-person cracksealing crew sealed in the traditional way using the EZ Pour 200 melter/applicator rented from Tri-American, Milpitas, CA. They pulled the melter/applicator on a trailer, but after only a little while watching it Sikes realized the cracksealing operation was moving too slowly. So he asked Tri-American to come out and watch the process and possibly make a suggestion.
"I try not to reinvent the wheel so I asked for Tri-American's input, and they had a great idea," Sikes says. "Instead of pulling the trailer behind a truck we put a hitch on a CAT 248 skid steer bucket and pulled it with that. That way the skid steer operator faced the crew and could move along with the crew at the appropriate pace without someone telling him it was time to move," Sikes says. "It helped keep things moving steadily and smoothly."
Sealcoating By far the biggest part of the Union Pacific job was the sealcoating. Sikes Asphalt applied the first coat by squeegee and the second coat by spray, eventually sealcoating more than 5 million sq. ft. of pavement.
"I sealcoat just like you would pave, as many straight pulls as possible," Sikes says. "We always squeegee the first coat and spray the second coat. That hides any squeegee lines and gives a nice finish to the surface. This job looked like an overlay when we were finished."
Sikes Asphalt ran three pieces of sealcoating equipment simultaneously on the job. The sealcoating fleet included a 500-gal. tank on with a 40-ft. hose and hand wand and a 9 ½-ft. spray bar on the Switch-n-Go truck body. The tank features a hydraulic chain-driven agitator and a quantity control lever to control material application. A 300-gal. SealMaster squeegee/spray buggy handled tight areas and edges. A 1993 Peterbilt 3,000-gal. sealer tanker that would fill up from the holding tank would deliver material to both the buggy and 500-gal. tank wherever they were on the job.
Sikes' initial plan, as he was bidding and immediately after he was awarded the job, was to buy a second squeegee/spray buggy because he essentially had two machines that could spray but only one that could squeegee.
"We came very close to buying and running two buggies out there, but then I realized I already had a 500-gal. tank, almost double the volume of the 300 we were looking at, which would provide almost double the coverage of the buggy."
So rather than buy a new piece of equipment Sikes decided to modify his 500-gal. spray tank. He contacted N.I. Wilson and asked them to design a 10-ft. squeegee he could attach to his spray truck. Wilson did and brought the squeegee and all its hydraulics to Sikes, who turned it over to Anthony Terry, Wine Country On-Site Fleet Maintenance, his mechanic on the jobsite. Terry fabricated a hydraulic lift so the operator could raise and lower the squeegee and spray bar, added a seat on the side of the truck so the operator could see better, and Sikes had a 500-gal. squeegee machine that in a matter of minutes could be switched to a spray truck by unhooking the squeegee and hooking up the spray bar.
"We moved the 3,000-gal. truck around according to where it was needed," Sikes says. "The driver on the sealcoating buggy radioed the driver of the 3,000-gal. tanker to drive the tanker close to the area where the other two machines were working to save time."
He says that to reduce handwork and improve the sealcoat finish the 500-gal. tanker and 300-gal. buggy worked in tandem throughout the job, the buggy staggered behind the larger truck.
"That approach became important partly because of the temperature and how fast the sealer was drying," Sikes says. "We were putting it down pretty thick and because it was drying pretty fast we didn't want to leave any windrows out there, off the ends of the squeegee, so we staggered the two machines a little bit and they continually followed each other throughout the job."
He says working the two machines in tandem was also effective at the end of a pull when the 500-gal. machine turned around to make the next pass. "It's easier at the end of the pull, when the truck turns around, for the buggy to clean up behind him," Sikes says. "Once the truck is repositioned the buggy is 50 or 60 ft. behind him and just stays right there on a constant path for long, straight pulls."
He says that on their best day they placed more than 14,000 gal. of sealer. "The first day we started sealcoating we put a guy on a sealcoating machine and he squeegeed all day long with the 300-gal. buggy. It was so big an area that he just did the edges and put down 150,000 to 160,000 ft."
Sikes says the key to their success was largely in the planning and in his employees, who he credits extensively. But having a good process and plan, and making that plan work, were essential to getting the job done in 14 days.
"We thought a lot of stuff through and were ready for just about anything," he says. "We had so many new spray tips out there we just replaced the tips instead of cleaning them. We had four screens on the truck, and if one got clogged we just replaced it right away, putting the bad ones in a bucket to clean and new tips on and then we were right back at it."
Filling both the buggy and the truck with sealer was fast, too, relying on a quick coupler from the 300-gal. tanker. "It was just like NASCAR out there, it really was," Sikes says. "We filled it up and we were off, just like a pit stop." Fuel was handled the same way using large-funnel motorcycle gas cans.
A diversified operation
Like many pavement maintenance contractors, Jake Sikes started small, using a bucket, a broom, and a borrowed car to sealcoat residential driveways. That was 1994. He worked his way up to sealcoating by hand from 55-gal. drums, eventually building himself his first tank. As the sealcoating grew he added a paver, roller, and small dump truck, enabling him to offer small paving and repair work.
Today cracksealing and sealcoating account for 40% of annual sales, paving, grading, and excavation make up another 40%; and the remaining 20% is split evenly between concrete work and chip seals. Work is split 70% commercial and 30% high-end residential.
"Now we're very diversified," he says of the company today. "We can change our hats at a moment's notice."
In 2008 he typically ran a crew of seven, down from 20 employees in 2005 when Sikes Asphalt did a lot more work. But after a close look at the 2005 books Sikes realized he wasn't generating more profit. "We did a lot more volume but we never kept the money," Sikes says. "I basically just turned dollars."
So he scaled back, and now he's got a profitable, successful, and in-demand pavement maintenance operation that is versatile enough to handle both small jobs and huge jobs, like the one completed in 2008 for Union Pacific Railroad.
To learn more about Sikes Asphalt Group and the Union Pacific job read our online exclusive article.